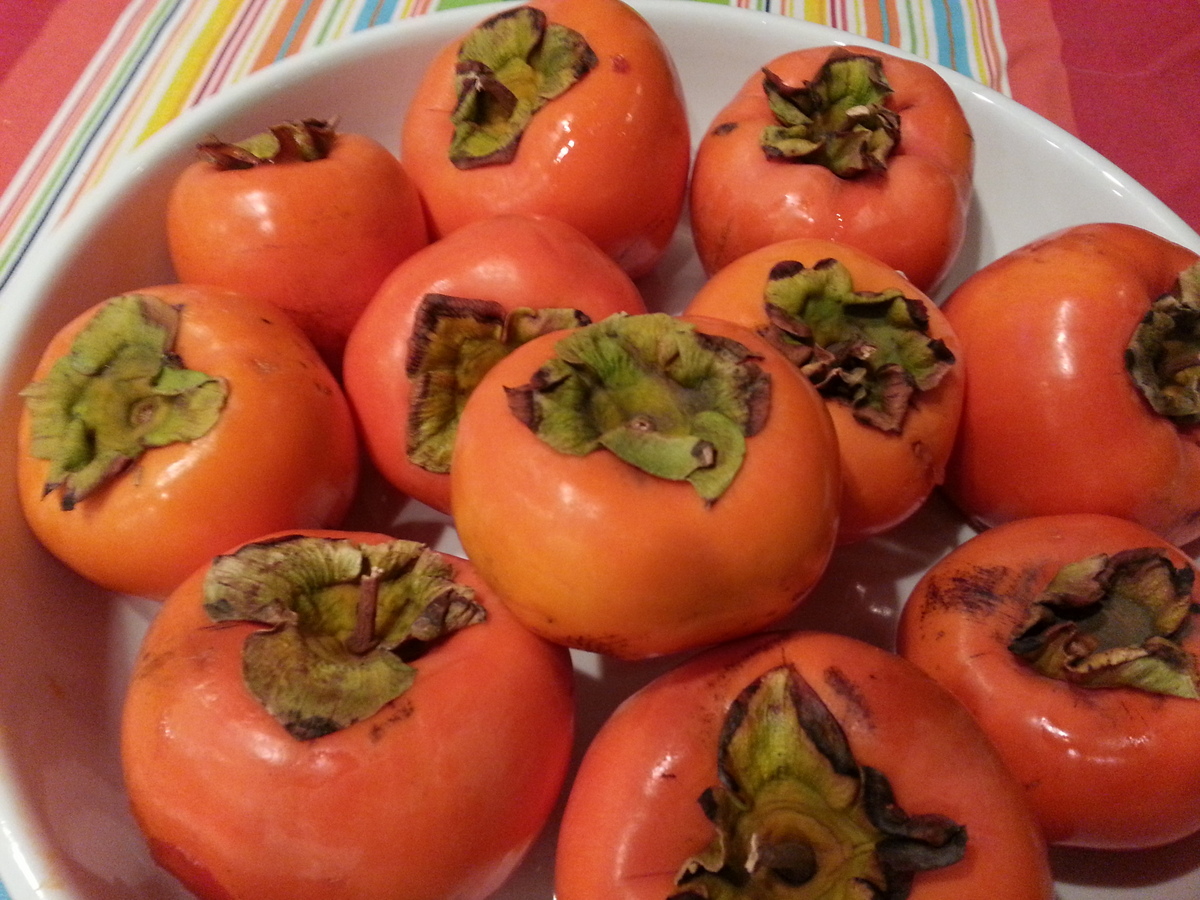 You either love them or hate them, but you have to admit, they make a pretty sight.  So when we were given a big basket of persimmons, we ogled it for a few days until its contents got shmushingly ripe and we actually had to figure out how to use them!  Our friend Ann came to the rescue with several recipes that make great use of this seasonal fruit, and although we're not always a fan of persimmon in, say, a bread or a cake, these three caught our attention.  Ann is somewhat of a persimmon expert, having helped plant her friend's orchard years ago.  She has picking rights now and has collected persimmon recipes ever since, so she graciously shared a few of her favorites with us.
If persimmon pudding is a traditional dish for you, try it Ann's way, baked rather than steamed in a pudding mold, and see if you don't agree that it's quite delicious…cozy and yummy for Christmas. 
The persimmon with green beans dish was a surprise…it's an unexpected juxtaposition of ingredients but, as Ann says, "a home run!"
And if you love to serve chutney as a side dish with meat or roast chicken, this recipe allows the persimmon to strut its bright orange stuff and make a big flashy display.
If none of these fail to get you up and cooking, take a few tips from daughter Amanda:  add the very ripe persimmon pulp to Greek yogurt for breakfast, or lop off the top of the fruit and freeze the whole persimmon; when you scoop it out you'll have extraordinary sorbet!
Persimmon Pudding
(Allrecipes.com)
2 cups Hachiya persimmon pulp
1/2 teaspoon baking soda
2 1/2 cups white sugar
2 eggs, beaten
2 cups all-purpose flour
2 teaspoons baking powder
½ teaspoon ground cinnamon
¼ teaspoon vanilla
1 pinch salt
2 ½ cups milk
4 tablespoons melted butter
whipped cream or caramel sauce for serving (optional)

       Preheat oven to 325 degrees F.
Butter a 9 x 13″ baking pan.
In a mixing bowl, combine persimmon pulp, baking soda, sugar, and eggs. Mix well.  Add flour, baking powder, cinnamon, vanilla, salt, milk, and melted butter. Stir to combine.
Pour into baking pan and bake for 55 minutes. The pudding will rise, but will fall when removed from oven.
Serve warm with whipped cream or caramel sauce. Serves 8.
Sauteed Persimmons and Green Beans with Chives
(Gourmet Magazine, November 1994)
This is Ann's all-time favorite!
1 1/2 pounds green beans, trimmed and cut diagonally into 1/2-inch pieces
3 tablespoons olive oil
3 ripe Fuyu* persimmons (about 1 pound), cut into 1/4-inch-thick slices and each slice cut into 1-inch pieces
1/2 cup 1-inch pieces fresh chives
*available at specialty produce markets
In a pot of boiling salted water cook beans until just tender, 2 to 4 minutes, and drain. Plunge beans into a bowl of ice cold water to stop the cooking.  Then drain.  Beans may be prepared up to this point 1 day ahead and chilled, covered.
In a large heavy skillet heat oil over moderately high heat until hot but not smoking, and sauté persimmons until lightly browned and softened, about 4 minutes. Add beans and 1/4 cup chives and sauté, stirring gently, until hot.
Transfer mixture to a platter and sprinkle remaining 1/4 cup chives on top.
Spicy Persimmon Chutney 
(adapted from Bon Appetit, November 2001 by Ann and her friend Sandy)
1 cup chopped onion
1 cup chopped onion
1 tablespoon minced fresh ginger
1 ½ cups apple cider vinegar
½ cup brown sugar
¾  cup white sugar
¼  cup lemon juice
1 large Granny Smith apple – peeled, cored, and chopped
1 cup golden raisins
1 green chili, seeded and minced
1 tablespoon lemon zest
1 teaspoon ground coriander seed
1/8 teaspoon ground cloves
4  Fuyu persimmons, peeled and chopped
       In a medium sauté pan, sauté onion and ginger.
In a large saucepan, combine chopped onion and ginger, the apple cider vinegar, sugars, lemon juice, chopped apple, golden raisins, chili, lemon zest, coriander, and cloves.  Bring to boil over medium heat, stirring occasionally.  Reduce heat to medium-low and simmer until mixture thickens, stirring frequently, about 25 minutes.  Add the persimmons and simmer until the persimmons are tender – about 5 to 10 minutes.  Remove from heat and let cool completely.
       Cover and refrigerate. May be made a day or two ahead.