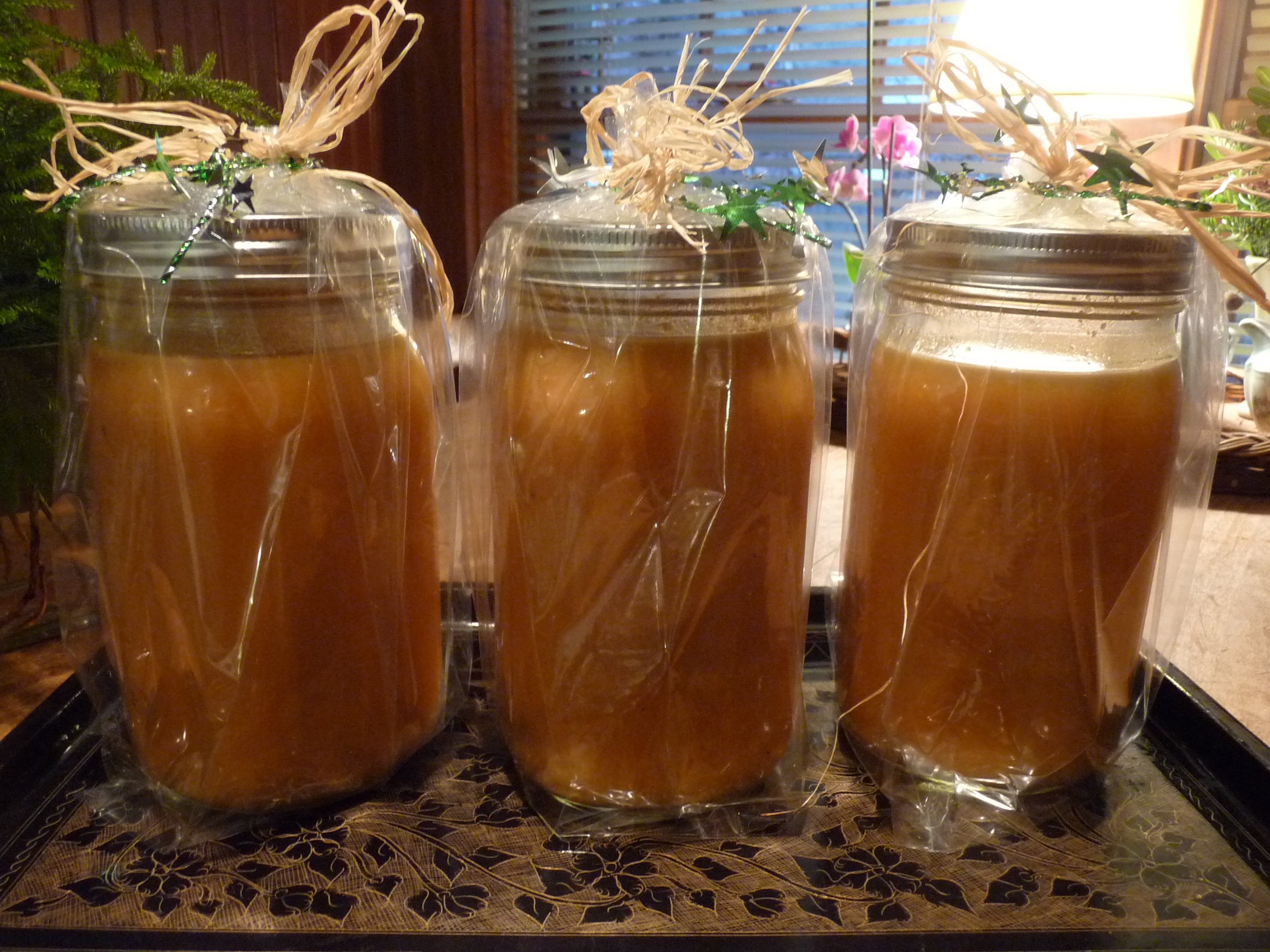 If you want to get us anything cashmere, we won't object.  But buying stuff just for the sake of it or being part of a mob fighting its way through Walmart, well,  that doesn't feel particularly satisfying, does it?  How about a gift from the heart of your home, the kitchen?  It doesn't have to be the usual cookies or chocolate (although sometimes that's definitely called for).  Our good friend Patty reminds us to think about simple foods during a season of so much richness, gifts that are always welcome for lunch or dinner amidst the frenzy of shopping and decorating.   How about your favorite soup, pasta sauce, granola, or applesauce?  Use your imagination.  All you need are some wide-mouth mason jars and a little ribbon.  Friends will be delighted when you show up on their doorstep with any of those delectable treats.
Here's a suggestion from Patty, a recipe for a warm and comforting soup that looks festive and tastes divine:

Patty's Golden Harvest Soup
This recipe doubles easily and can be frozen until you're ready to deliver it.
2 tablespoons olive oil
2 leeks, white part only, chopped
8 large carrots, peeled and chopped into small pieces
2 medium turnips, peeled and chopped into large pieces
2 medium red potatoes, peeled and chopped into medium pieces
6 – 8 cups homemade chicken broth (may substitute low-sodium chicken broth)
Salt and pepper to taste
2 teaspoons balsamic vinegar (optional)
Sour cream or plain yogurt (optional)
Dill, chopped (optional)
In a large soup pot, warm two tablespoons of olive oil over medium heat.  Add leeks and slowly sauté until translucent, but not brown.
Add the carrots, turnips, potatoes, and broth; bring to a boil.  Lower heat, cover, and simmer until vegetables are soft, about 45 minutes.  Add salt, pepper, and balsamic vinegar to taste, if using.
Cool slightly.   Puree with immersion blender or in batches in a food processor.   Allow some chunks to remain – you don't want "baby food."
To Serve:
Correct seasoning and add a dash of balsamic vinegar to taste.  Swirling in a small amount of yogurt or sour cream with a toothpick, and garnishing with chopped dill makes an appealing presentation.
To Freeze:
If storing in glass jars, store in wide-mouthed mason jars only.  Jars with "shoulders" may crack in freezer.