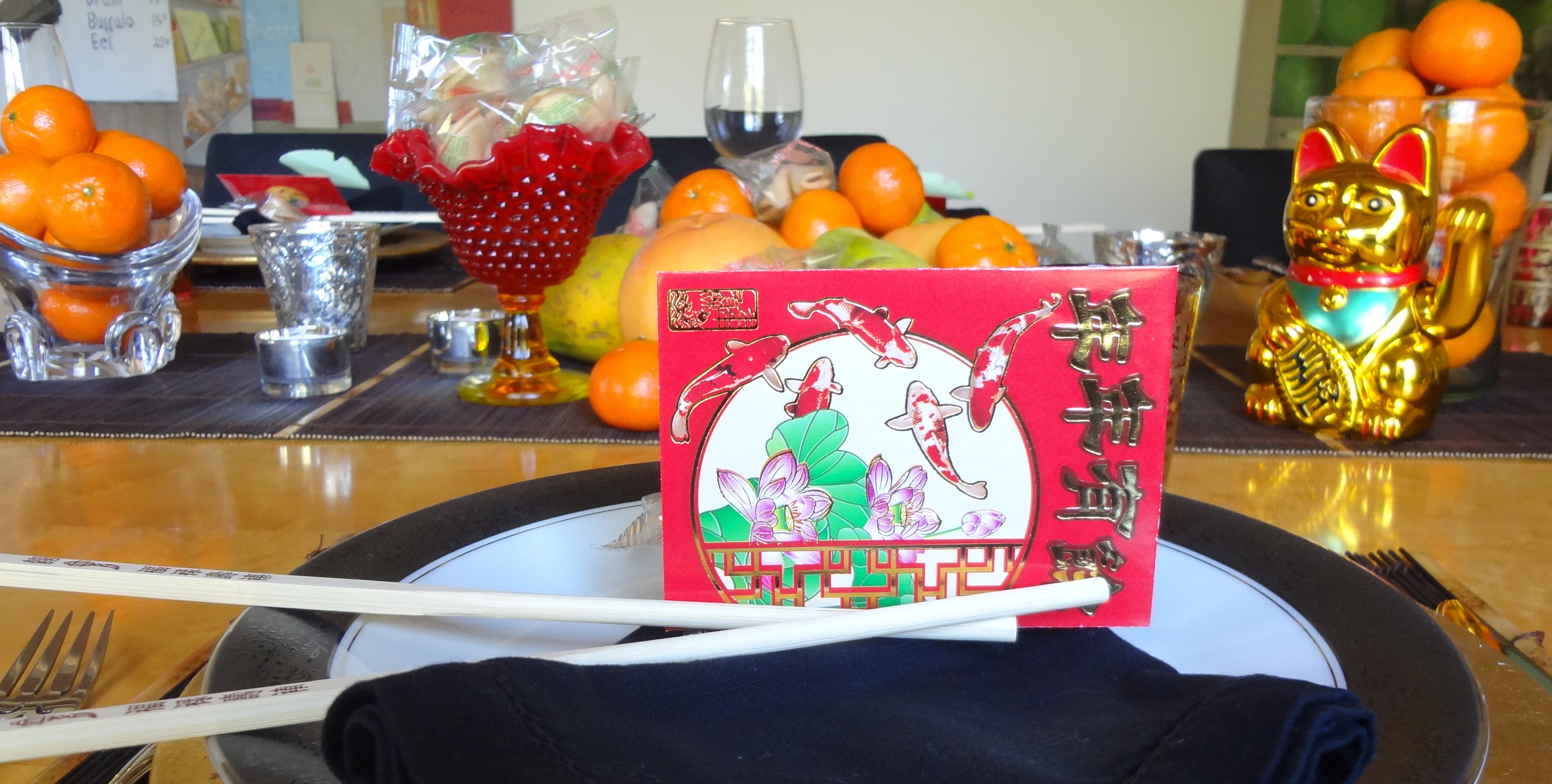 It's the year of the horse, but when we say "gong-yi-fa-choi" we're literally wishing you a year of joy and prosperity.  No horses involved…
In fact, what used to be a very ethnic and regional holiday has been spreading in popularity.  There are Asian food markets in every town, there are lanterns and chopsticks for sale at malls everywhere, and there is a successful international cellphone company named Red Pocket Mobile that features that Chinese emblem of prosperity, the red envelope, as their logo! (full disclosure, the company is owned by Rhona's son!  Had to get in a plug there!)
Of course, we see all around us the evidence of the growing Chinese influence in our country.  But we here at Food and Friendship think the rise in popularity of all things Chinese has nothing to do with our national debt — in our humble opinion it's all about the food.  As our American palates have gotten accustomed to a variety of Chinese dishes, we've gone from the early staples of Cantonese menus (who hasn't ordered chicken chow mein or sweet and sour pork?) to Mandarin, Szechuan, and Hunan specialties, a bit spicier and more layered in flavor.
A few years ago, Joan and Rhona, with their families, took a trip to China and were surprised at how much they enjoyed even the most unusual of dishes at some of the finer restaurants.  We'll talk more about that in a future post.  But today we want to tell you about the timely Chinese dinner Joan recently served to honor her friends, Carole and Cliff, who were visiting from Oregon.  Here's the menu and two fantastic appetizers our friend Jeanne brought.
Menu
Appetizers:
Hoisin Beef and Scallion Rolls
Hunanese Doughless Dumplings in Tangerine Sauce
Main Course:
Asian Marinated Tri Tip
Grilled Red Peppers with Balsamic Vinegar Glaze
Snow Peas with Sesame Oil and Black Sesame Seeds (Ina Garten)
Brown Rice Stir Fry with Edamame and Walnuts (Kristen from Flagstone Pantry brought this amazing dish.  More on Kristen in future post).
Pickled Carrots (see our post)
Dessert:
Cornmeal Pound Cake with whipped cream
Hoisin Beef and Scallion Rolls

(adapted from finecooking.com)
Yields about 40 rolls.
To make slicing the beef easier, freeze the cooked and cooled steak for about half an hour first.
½ cup soy sauce
½ cup oil; more for cooking
3 cloves garlic, crushed
½ cup chopped fresh ginger
Freshly ground black pepper
1 pound flank steak, trimmed of fat
Freshly ground black pepper
Dash of Chinese chili paste (optional)
½ cup hoisin sauce
1 bunch scallions, white and pale green parts only, cut into 2-inch julienne
In a shallow dish, mix the soy sauce, oil, garlic, ginger, pepper, and chili paste.  Add the beef and marinate overnight in the refrigerator, turning once.
Heat the broiler.  Pat the marinated meat dry and broil steak, about 4 inches from the heat, until rare, 5 to 6 minutes per side.  Let cool completely and then slice very thinly on the bias, across the grain of the meat.  Trim the slices to get approximately 2 x 4-inch strips.
Brush a thin layer of hoisin sauce on each strip of beef.  Lay a small bundle of scallion julienne at one end and roll up securely.  Arrange on trays, seam side down, cover tightly with a plastic wrap (be sure the plastic is in close contact with the beef), and refrigerate until serving. 
Hunanese Doughless Dumplings in Tangerine Sauce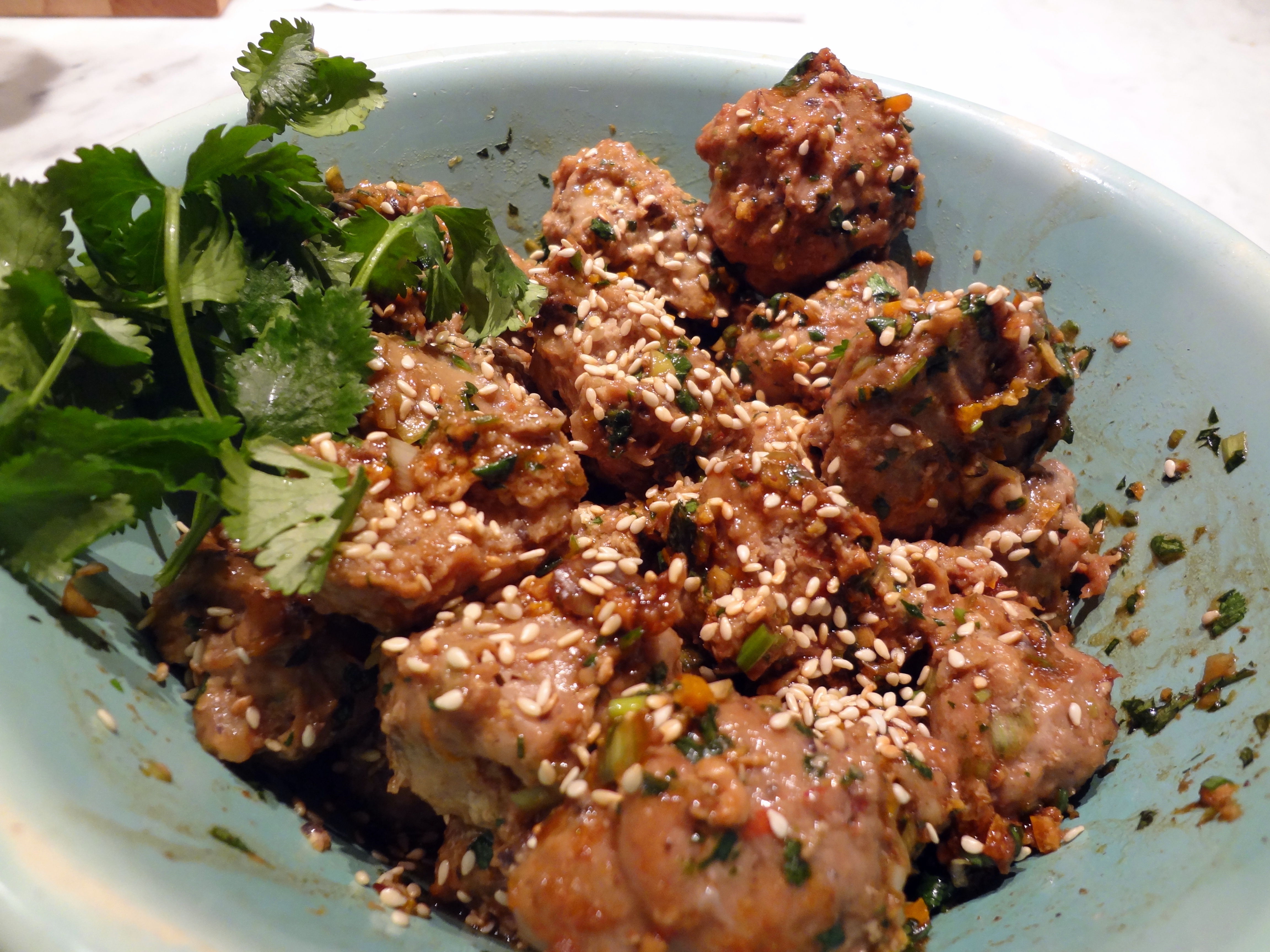 (adapted by Jeanne Carr from a Hugh Carpenter recipe)
Makes 30 appetizers
Filling:
1 pound raw shrimp, shelled, or 1/2 pound raw shrimp, shelled and 1/2 pound ground turkey or pork
6 water chestnuts, finely minced
2 green onions, finely minced
4 dried black mushrooms, softened in hot water and stems removed
1 tablespoon cornstarch
1 tablespoon light soy sauce
1 teaspoon sesame seed oil
2 teaspoons dry sherry
½ teaspoon chili paste
¼ teaspoon kosher salt
1 egg white

Dressing:
2 tablespoons light soy sauce
1 teaspoon hoisin sauce
¼ teaspoon chili paste
½ teaspoon white sugar
2 teaspoons vinegar
2 teaspoons sesame oil
3 thin slices fresh ginger, minced
1 clove garlic, finely minced
1 teaspoon fresh tangerine peel, finely minced
2 tablespoons cilantro or parsley
2 tablespoons green onions

2 tablespoons white sesame seeds, toasted in a dry skillet, for garnish
 Preheat oven to 350 degrees F.
To make the filling:
In a food processor, add all the filling ingredients except for the egg white and pulse to combine.  In a small bowl, lightly whip egg white until foamy and add to the food processor.  Pulse briefly to incorporate.
Form small meatballs and bake for 10 minutes or until cooked through. 
To make the dressing:
In a medium bowl, add all the ingredients and mix to combine. 
To serve: 
Add cooked meatballs to the dressing and toss to coat thoroughly.  Sprinkle with the sesame seeds and serve at once.