…but everybody's talking about it.  From the halls of science and academia to the New York Times and of course, Dr. Oz, we learn that most of us are sleep deprived, getting six hours sleep a night or less, instead of the necessary eight.
There are all sorts of suggestions on how best to get more sleep, but we like the ones that encourage a Mediterranean diet and a nightly dose of foods that curb cravings but are slow to digest.  Both increase the chances of getting a good night's sleep, which in turn helps stave off weight gain, high blood pressure, memory loss, heart disease, cognitive dysfunction, and a host of other ills.
Blah.  blah. blah… yawn.
Bottom line: if you're hungry at night, try one of these to help you sleep:
Bowl of cereal and 1/2 cup of milk
Half a peanut butter or turkey sandwich
A few spoonfuls of cottage cheese
Several handfuls of popcorn
A cup of Greek yogurt with a drop of honey and a few slices of banana
Surprisingly, cherry juice.  It's tart and increases the melatonin in your body, which makes you feel tired.
And here's a recipe for a Mediterranean staple that's great for breakfast or lunch, but when eaten at least four hours before bedtime, fits the profile for a sleep-inducing tryptophan/carbohydrate mix. You can vary the ingredients, depending on the season.  We use potatoes in winter, eggplant in spring, always served with crusty bread to dip into the sauce.
Shakshuka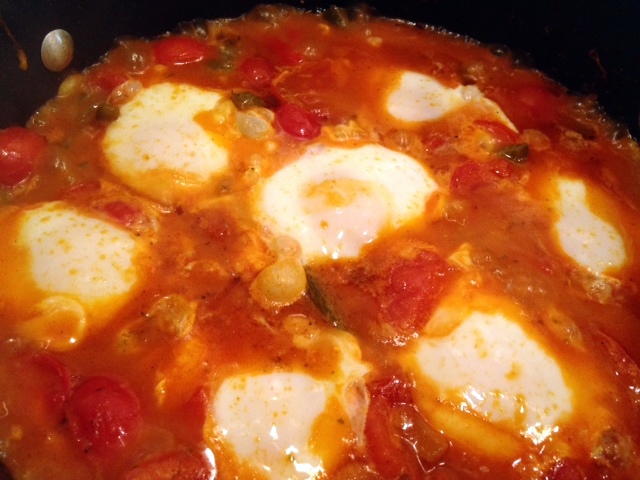 (adapted from Jerusalem by Yotam Ottolenghi and Sami Tamimi)
(photo courtesy of Laurie H)

Serves 4 to 6
2 tablespoons extra-virgin olive oil
1 to 2 tablespoons harissa (available in Middle Eastern specialty stores or your grocery international food aisle)
2 teaspoons tomato paste
2 large red peppers, seeded and cut into 1/4-inch dice (can substitute potatoes or eggplant, peeled and diced)
4 cloves garlic, finely chopped
1 teaspoon ground cumin
5 large very ripe tomatoes, chopped, or 1 (28-ounce) can whole tomatoes with juices, coarsely chopped
4 large eggs, plus 4 egg yolks
salt
1 pound feta cheese (Trader Joe's carries delicious Israeli feta)
2 teaspoons fresh parsley, chopped
Heat the olive oil in a large frying pan over medium heat and add the harissa, tomato paste, peppers, garlic, cumin, and salt. Stir and cook over medium heat for about 8 minutes to allow the peppers (or potatoes or eggplant) to soften.  Add the tomatoes, bring to a gentle simmer, and cook for another 10 minutes until the sauce is thickened.
Make 8 little dips in the sauce. Gently crack eggs over the tomatoes into the little dips.  Do the same with the yolks.  Simmer gently for 8 to 10 minutes until the whites are set but the yolks are still runny.  (You can cover the pan with a lid to hasten the process, and cook as you would poached eggs, but don't let the yolks set.)
Sprinkle with fresh parsley.
Our friend Laurie's serving suggestion: Put a slice of feta in each person's bowl, then spoon on the tomato and egg.  You can crumble feta on the top as well, and serve with crusty white bread.
There are many ways to make shakshuka.  Check out this New York Times link to see a video on a variation:
http://www.nytimes.com/recipes/1014721/shakshuka-with-feta.html
Sweet dreams!