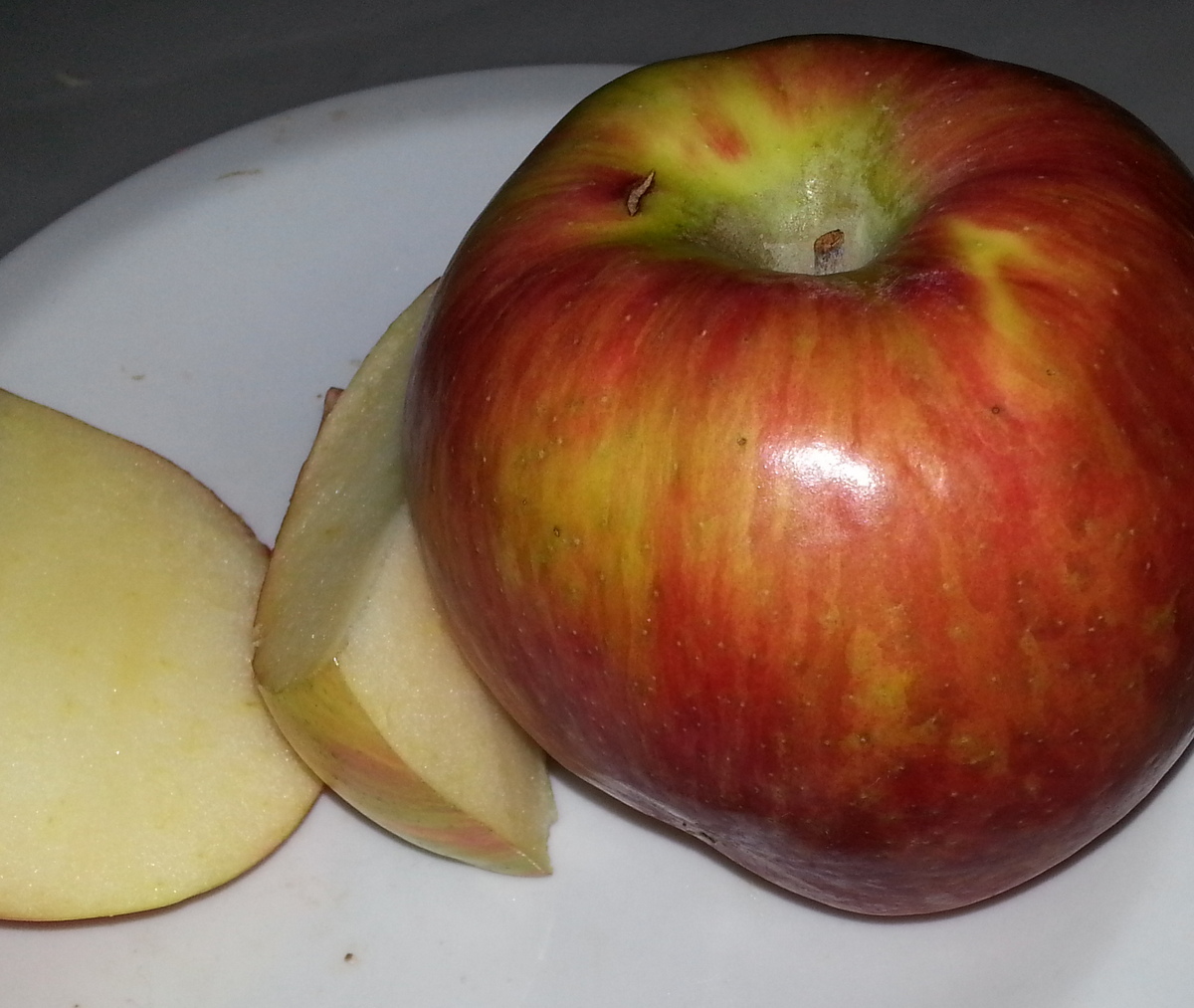 Let's just say that after the holidays, whether we make diet-related resolutions or not, we're probably ready for some healthier fare.  If juice cleanses or smoothies with spinach and kale are not your style, how about a simple chick pea soup, a dairy-free cinnamon chai, or an easy vegetable braise instead?  Check out our "non-detox-but-still-good-for-you" ideas below.
And while you're shopping the post-holiday sales, try to resist the leftover coconut cupcakes or caramel pecan candy from merchants or well-meaning friends [You know who you are!].  Instead, reach for a package of slow roasted seaweed or crisp peas.  Salty and light as air, they'll satisfy your cravings without the extra calories.
Special thanks to Lisa and Joseph for telling us about honey crisp apples, in season now and available at your local markets or Trader Joe's, for those of you interested in keeping the doctor away.
World's Best Braised Green Cabbage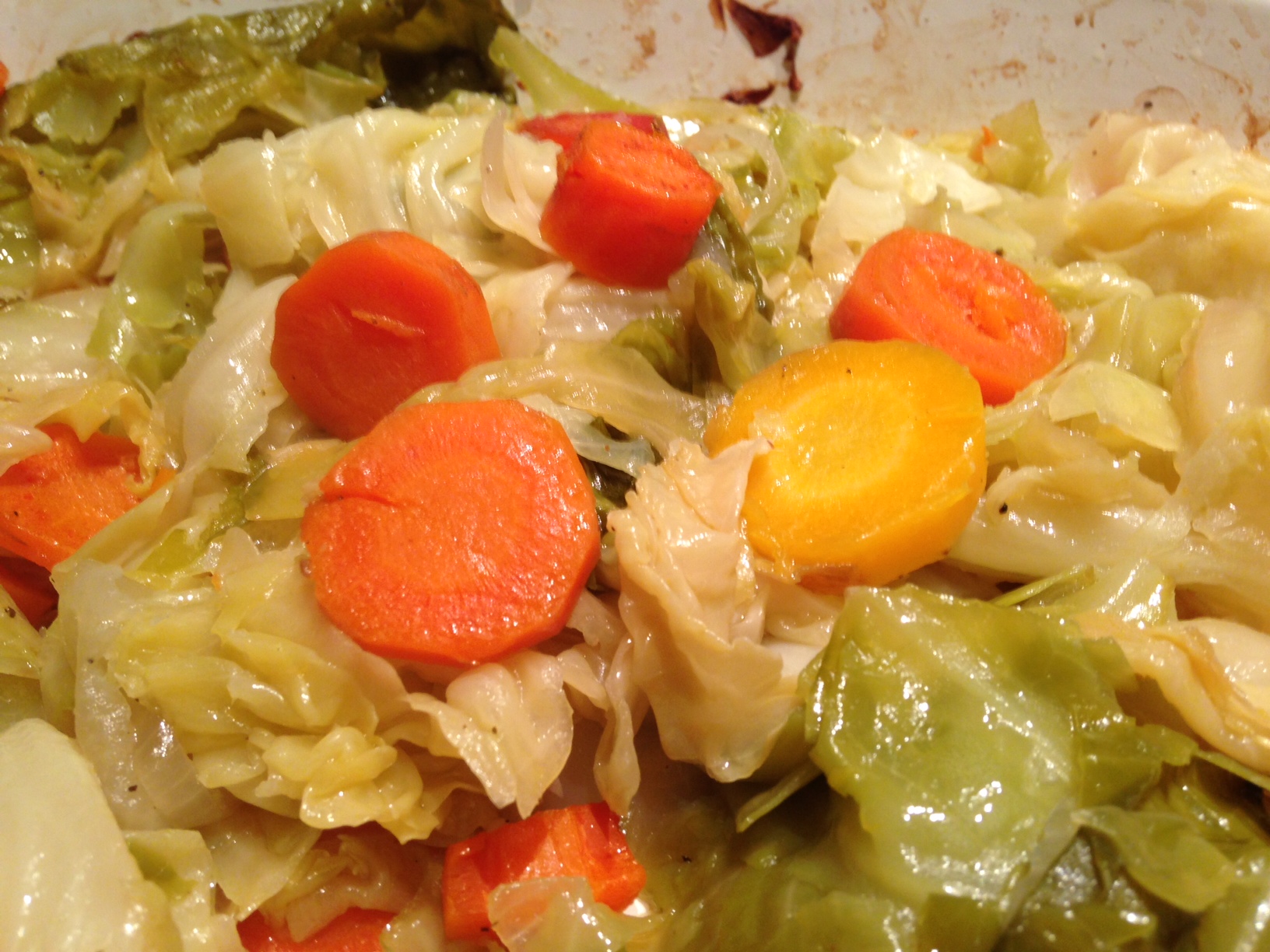 (adapted from All About Braising by Molly Stevens)
So easy to make and deliciously satisfying too; we find ourselves returning to this recipe again and again.
1 medium head green cabbage (about 2 pounds)
1 large yellow onion (about 8 ounces), thickly sliced
1 large carrot, cut into 1/4-inch rounds
1/4 cup chicken stock, homemade or store-bought, or water
1/4 cup extra-virgin olive oil
Coarse salt and freshly ground black pepper
1/8 teaspoon crushed red pepper flakes, or to taste
Fleur de sel or coarse salt
Heat the oven to 325 degrees.  Lightly oil a large gratin dish or baking dish (9 by 13-inch).
Trim the cabbage and cut into 8 wedges.  Arrange the wedges in the baking dish; they may overlap some, but do your best to make a single layer.
Scatter the onion and carrot.  Then drizzle the oil and stock (or water) over the whole thing.  Season with salt, pepper, and red pepper flakes.  Cover tightly with foil, and slide into the middle of the oven to braise until the vegetables are completely tender, about 2 hours.  Turn the cabbage wedges with tongs after an hour.  If the dish is drying out, add a few tablespoons of water.
Once the cabbage is completely tender, remove the foil, increase the oven temperature to 400 degrees, and roast until the vegetables begin to brown, another 15 minutes or so.  Serve warm or at room temperature, sprinkled with fleur de sel or coarse salt.
Carrot, Orange, and Ginger Soup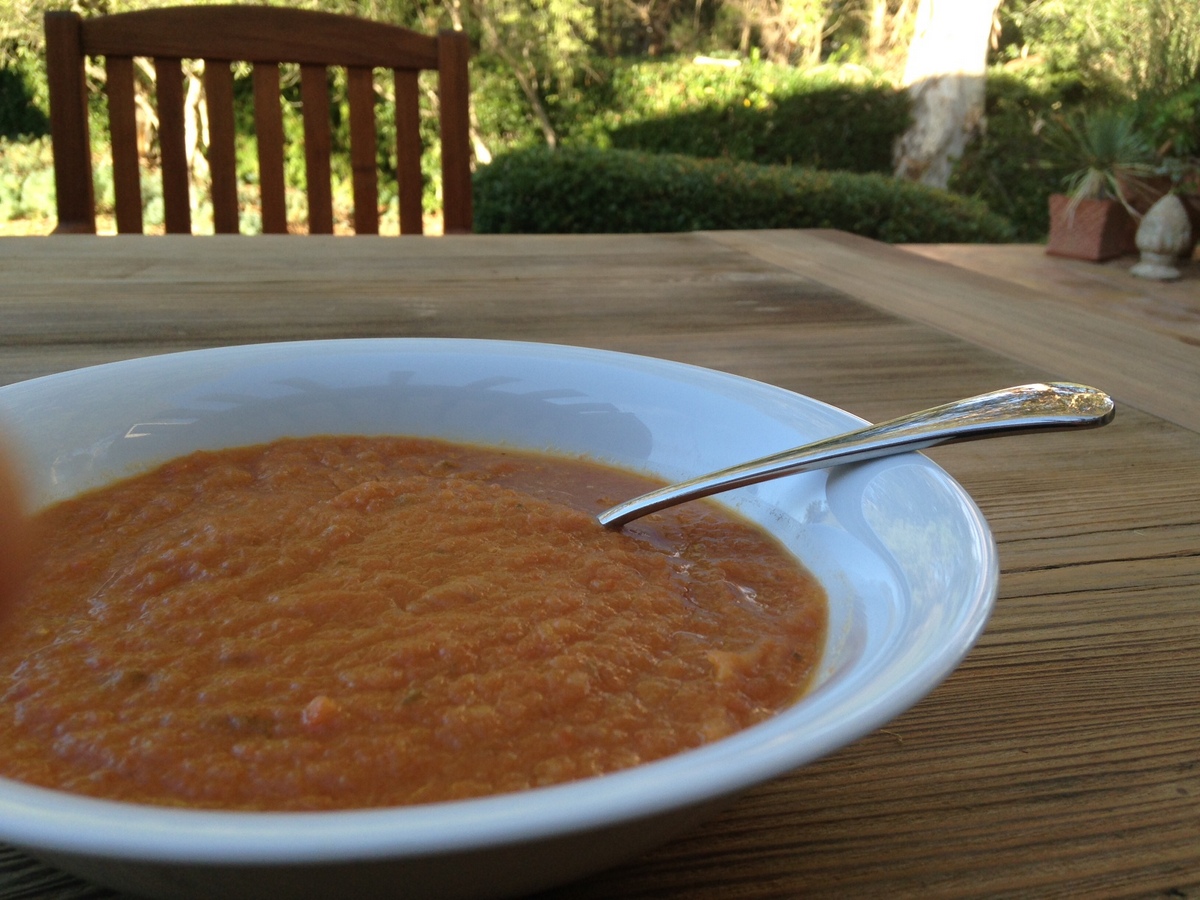 (adapted from Love Soup, by Anna Thomas)
Ginger is a natural detoxifying agent and digestive aid, but here it adds a little spice to warm up the carrots without dominating the flavors.  Feel free to add more if you like more heat.
2 tablespoons unsalted butter or olive oil
2 large yellow onions, peeled and coarsely chopped
2 pounds carrots, peeled and thinly sliced (about 5 cups)
1 stalk celery, trimmed and sliced
2 1/2 cups water
2 1/2 cups vegetable broth (Kitchen Basics makes a good one if you don't have homemade available.)
1 1/2 tablespoons peeled and minced fresh ginger, plus more to taste
3/4 teaspoon sea salt, plus more to taste
zest and juice of 1 orange
1 to 2 tablespoons fresh lemon juice
1 to 2  teaspoons sugar, if needed
Optional garnish:
orange zest
fruity green olive oil
parsley or cilantro leaves
Melt the butter or heat the olive oil in a medium (about 5 quart capacity) soup pot and cook the onions in it with a big pinch of salt, stirring often over medium heat until they are golden brown; this will take about half an hour, but check after 15 minutes so the onions don't burn.
Add the sliced carrots and celery, water, vegetable broth, minced ginger, and half a teaspoon of salt.
Cover, lower the heat, and let simmer for 40 to 50 minutes until all the vegetables are completely soft.
Lightly grate the zest, then juice the orange; you should have about half a cup of juice.  Add juice and zest to the soup.
Puree the soup with an immersion blender or regular blender (in batches) until it is perfectly smooth.
Stir a tablespoon of lemon juice into the soup and taste it. Add more lemon juice, a tiny bit at a time, until you like the sweet-tart balance and can still clearly taste the carrots and ginger.  Correct the seasoning with more salt and a touch of sugar if needed.
When serving the soup, you can stir a pinch of the grated orange zest into each bowl, then drizzle some olive oil on top and scatter fresh parsley or cilantro leaves over it.