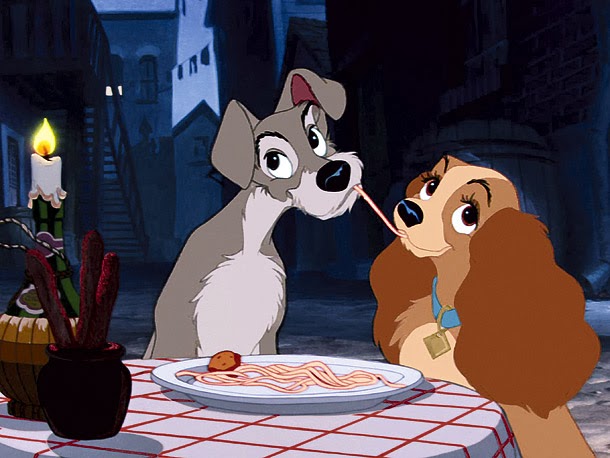 A few years ago, we attended a 40th anniversary celebration where there were 10 couples, all of whom had been married for many years. The meal was lovely, the conversation easy.  Then, at some point during dessert, the question came up: "How did you meet?"  So we went around the room, each of us telling our stories. 
"She was new at the office and I saw her filing papers, wearing a black mini-skirt …"
"He had this Porsche…"
"I saw this drop-dead-gorgeous blonde who moved in next door…"
"He came over to see what was in our fridge and he had the sweetest smile …"
As we shared our memories of those first encounters, certain themes began to emerge… short skirts, sports cars, and next-door-neighbors appeared more than once in the narratives!  But the most interesting thing was to watch how our facial expressions changed as we each took a little time trip to where we first began.  Eyes misted, voices became subdued, and shy smiles appeared on even the least sentimental among us.   That night we all went home feeling strangely giddy and yes, a little young again.
Whether you're 18 or 81, and no matter how you feel about Valentine's Day, it's hard to ignore a day set aside just for romance.
How did you meet your sweetheart? 
Our favorite Italian restaurant is planning a special pasta for Valentine's Day:  linguine con l'aragosta alla diavola…. silky pasta in a spicy tomato sauce with a half lobster tail on the side! 
If you're looking for a romantic dinner without cooking it yourself, Pane E Vino has you covered.  If not, we do.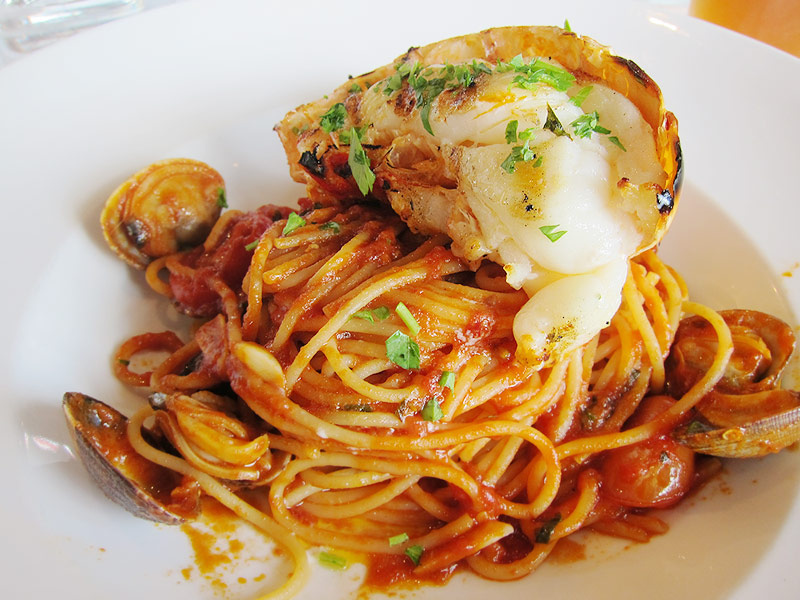 Linguine con L'arogosta alla Diavola for two
(This recipe will make more sauce than you need for two people, but you can use the extra sauce for serving, or freeze it for another use.)
2 lobster tails, in shell
1/4 cup extra-virgin olive oil
8 garlic cloves, peeled and coarsely mashed
2 35-ounce cans San Marzano tomatoes, with their liquid, seeded and crushed
1 1/2 teaspoons dried crushed red pepper
1 teaspoon dried oregano
1 teaspoon fresh oregano, chopped
pinch of kosher salt
1 pound linguine
(additional assorted shellfish, optional)
Boil a big pot of water and then boil or steam the lobster tails for about 5 minutes, or just until they turn pink.  Don't overcook here or the lobster will be rubbery.
Heat olive oil in a deep pan, large enough to hold the lobster pieces, over medium heat. Add the garlic cloves and cook, stirring gently until lightly browned, about 3 minutes.  Pour in the tomatoes.  Add the crushed red pepper and dried oregano, then season lightly with salt.  Bring to a boil, then simmer for 10 minutes. Stir in the fresh oregano and then gently add the lobster into the sauce.  Continue to simmer for about 5 minutes. (If the sauce becomes too thick, after you cook the pasta you can ladle in a little of the pasta cooking water.)  Keep the sauce and lobster warm over very low heat while you cook the pasta.  (If you are adding additional shellfish, like clams or mussels, add it here.)
Boil another big pot of water, stir in the linguine, and cook until done, about 6 minutes.  Drain the pasta, reserving about a cup of pasta water, and return pasta to the pot.  Spoon the liquid portion of the lobster sauce over the pasta, leaving enough in the pan to keep the lobster moist.  Bring the sauce and pasta to a boil, stirring gently to coat the pasta with the sauce.  At this point you can taste it and add salt if necessary.
Divide the linguine into your two bowls and top each with a lobster tail.  You can spoon some of the extra sauce (and extra shellfish if using) over each serving and serve immediately.