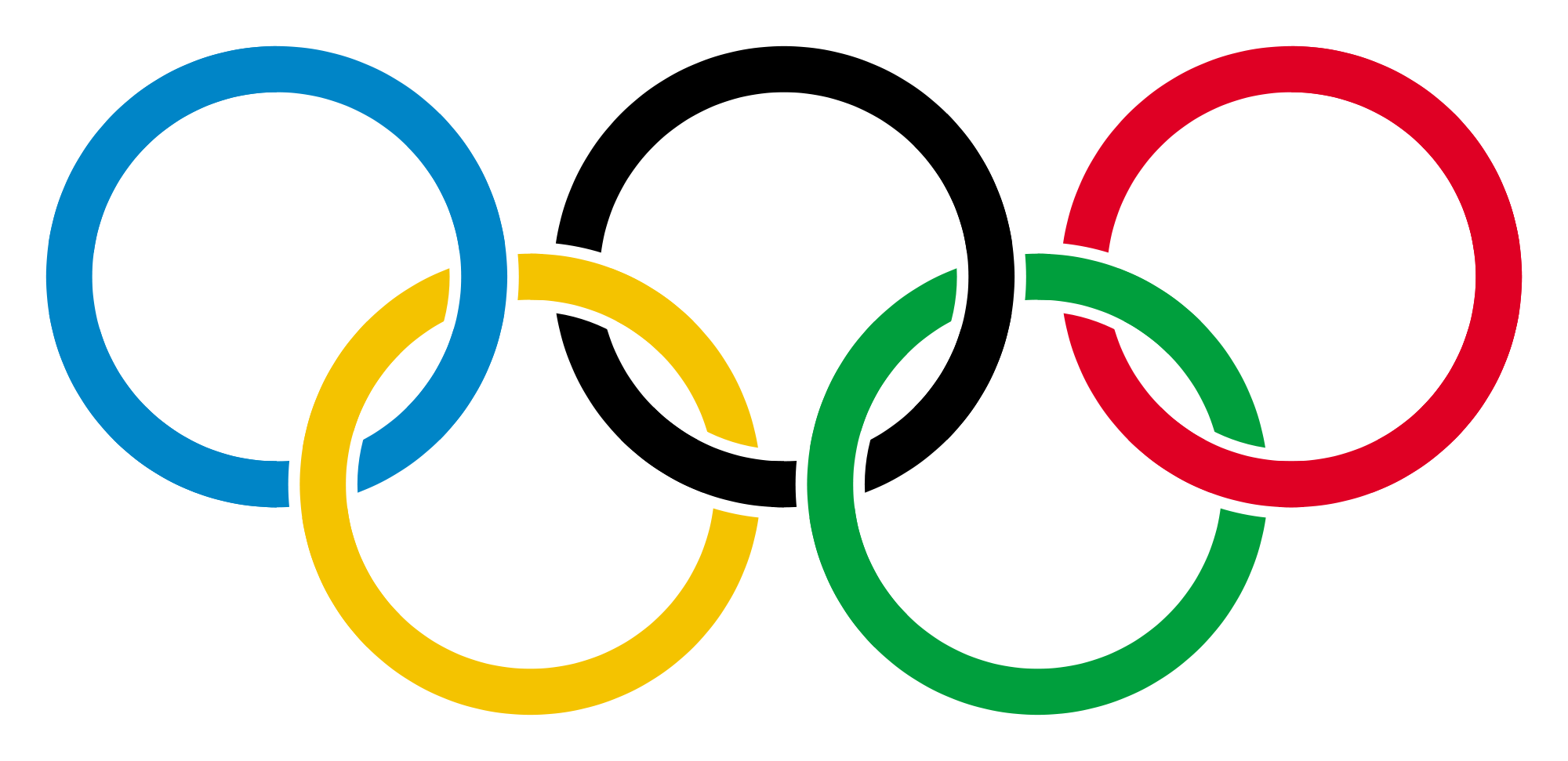 The hotels may be bugged and the water undrinkable, the snow may be absent and the gay rights unthinkable.  But the Olympics are ON,  and we're all, like, GO USA!
Those Russians, always full of surprises.  Are they with us?  Against us?  Who can say.  But they make a mean bowl of borscht, and blini that melt in your mouth.  Here's how:
Beet Borscht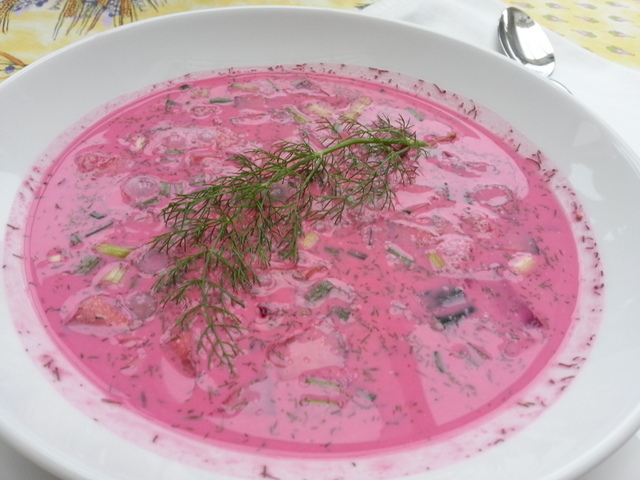 (adapted from Barefoot Contessa at Home, by Ina Garten)
Despite the fact that it's winter and  a hot soup might be more welcome at this time of year, we're sharing a recipe today for cold borscht, often a summer soup, but so traditionally Russian and so pretty that we couldn't resist!  We think Ina Garten's version is the easiest and most modern (she uses yogurt in addition to the traditional sour cream).
5 medium fresh beets (about 2 pounds without tops)
kosher salt
2 cups chicken stock
1/2 cup plain yogurt
1/4 cup sugar
2 tablespoons freshly squeezed lemon juice
2 teaspoons champagne vinegar
1 1/2 teaspoons freshly ground black pepper
2 cups medium-diced English cucumber
1/2 cup chopped scallions, white and green parts
2 tablespoons chopped fresh dill, plus extra for serving
for garnish:  sour cream or creme fraiche, and dill sprigs
Place the beets in a large pot of boiling salted water and cook uncovered until the beets are tender, 30 to 40 minutes.  Remove the beets to a bowl with a slotted spoon and set aside to cool.  Strain the cooking liquid through a fine sieve and also set aside to cool.
In a large bowl, whisk together 1 1/2 cups of the beet cooking liquid, the chicken stock, sour cream, yogurt, sugar, lemon juice, vinegar, 1 tablespoon salt, and the pepper.  Peel the cooled beets with a small knife or rub the skins off with your hands (it will be messy but wearing rubber gloves for the task really helps!)
Cut the beets in a small to medium dice.  Add the beets, cucumber, scallions, and dill to the soup.  Cover with plastic wrap and chill for at least 4 hours or overnight.  Season to taste and serve cold with a sprig of fresh dill.
Blini
(adapted from The Russian Tea Room Cookbook, by Faith Stewart-Gordon and Nika Hazelton)
According to our sources at The Russian Tearoom in New York, "…the ancient Slavics worshipped the sun, hoping it would return and rescue them from the cold darkness of winter."  They made blini in the sun's golden image (little round buckwheat pancakes), and ate them to keep warm.  Especially during the week before Lent, called Myaslanitza or Butter Week, everyone gorged on blini and other dairy products since they would soon be giving them up until Easter.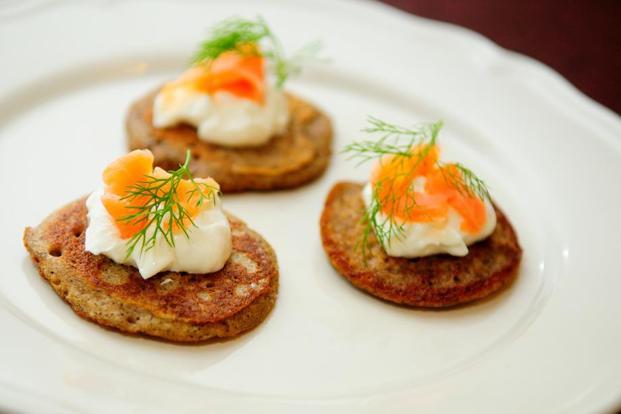 1 1/3 cups sifted all-purpose flour
1 1/3 cups sifted buckwheat flour
4 teaspoons active dry yeast
1/4 cup sugar
1/2 teaspoon salt
2 2/3 cups milk
1/2 cup butter, cut into small pieces
4 eggs, lightly beaten
Optional toppings:
melted butter, smoked salmon, caviar, sour cream or creme fraiche
In a large bowl, combine white flour, buckwheat flour, yeast, sugar, and salt.  In a small, heavy saucepan, combine milk and butter.  Heat mixture over low heat only until milk is warm and the butter has melted.  Stir frequently to speed up the melting of the butter; the milk must not be boiling.  Stir milk mixture into flour mixture and combine well; then stir in the eggs.
Using an electric mixer at low speed, beat for about 1 minute or until smooth, scraping the sides of the bowl as needed (Or you can do this by hand, beating energetically for 3 to 5 minutes.)  Cover bowl and set to rise in a warm place for about 1 1/2 hours, or until mixture is about doubled in volume and bubbly.
Preheat a griddle.  Using pan spray or a very small amount of melted butter, cover the pan with a light film.  Stir batter and for a 4-inch blini, spoon about 3 tablespoons batter onto the griddle.  Cook as you would pancakes, about 50 seconds until the bottom is browned and the edges are bubbly, then flip the blini over and cook another 30 seconds until browned.
Keep the cooked blini warm in a low oven (175 degrees).  When ready to serve, you can brush a little butter on the blini and top with a small mound of smoked salmon or caviar or simply a spoonful of sour cream or creme fraiche.
Moscow Mule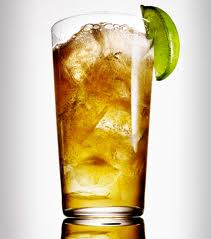 Russians love their vodka and so do we.  Created by the owner of the Cock 'n' Bull restaurant in Los Angeles and John Martin from Smirnoff (a vodka that had its origins in 1860's Russia), we think this cocktail could go a long way toward easing east-west tensions or simply relaxing some sore Olympic muscles.
1.5 ounces Smirnoff Black Vodka (or vodka of your choice)
1 ounce ginger beer
1 ounce simple syrup
.75 ounce lime juice
Crystallized ginger  or lime wedge for garnish
Shake with ice and strain into a chilled highball glass filled with ice.  Garnish with a lime wheel and candied ginger.