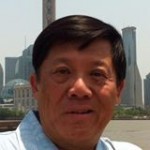 My dentist is a foodie.  Dr. Lee not only loves to cook, he also plans every meal for his family, and when he's not planning or cooking, he's frequenting the farmers markets for the best seasonal produce, or talking to chefs to get inspiration for his next feast.  His recipes have appeared in Bon Appetit and Gourmet magazines.  In fact, it's not unusual for me to walk out after my yearly dental appointment with a shiny pink toothbrush and a new way to cook chicken!
Here's his take on clam chowder and a sensational version of roast chicken that is great with rice.  Happy National Dentist Day, Dr. Lee!
Hearty Corn and Clam Chowder
3 bacon slices, chopped
1 cup chopped onion
1 cup chopped celery
1 carrot, peeled, chopped
2 teaspoons dried thyme
1 large bay leaf
1 pound red-skinned potatoes, peeled, cut into 1/2-inch pieces
1 8-ounce bottle clam juice
1 cup whole milk
1 15-ounce can creamed corn
2 6.5-ounce cans chopped clams
Saute bacon in heavy medium pot over medium heat until fat begins to render, about 3 minutes.  Add onion, celery and carrot and saute until vegetables begin to soften, about 8 minutes.  Add thyme and bay leaf, stir 30 seconds.  Add potatoes, clam juice and milk.  Cover pot, reduce heat to medium-low and simmer until potatoes are tender, about 20 minutes.  Add corn and clams with juices; simmer about 2 minutes.  Season soup to taste and salt and pepper and serve.
Beer-basted Chicken with Asian Flavors
1  3 1/2-to 4-pound chicken
1 12-ounce can beer
6 green onions, chopped
1/2 cup soy sauce
1/4 cup fresh lemon juice
2 tablespoons golden brown sugar, lightly packed
2 tablespoons chopped peeled fresh ginger
1 tablespoon chopped garlic
1 tablespoon sesame oil
Combine all ingredients in heavy large resealable plastic bag.  Refrigerate 1 hour and up to 1 day, turning bag occasionally.
Preheat oven to 350 degrees F.  Place chicken and marinade in 13x9x2-inch baking pan.  Roast chicken until juices run clear when thigh is pierced, basting occasionally, about 1 hour 20 minutes.
Transfer chicken to platter.  Pour pan juices into medium saucepan; spoon off fat and discard.  Boil until sauce is reduced to 1 cup, about 6 minutes.  Serve chicken with sauce.