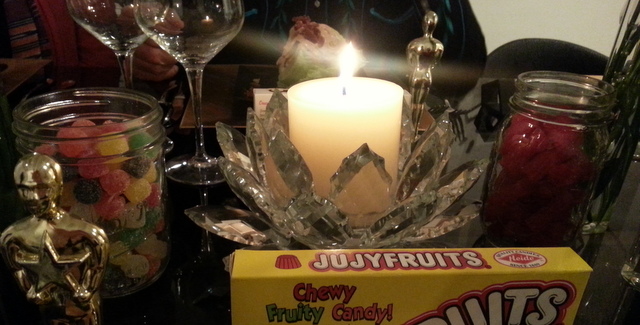 Wolfgang Puck and Vanity Fair have nothing on us.  Their Oscar parties may have been celebrity-laden and boasted klieg lights and haute cuisine, but ours had heart... and blue jello with astronauts floating in it (to symbolize Gravity, get it?)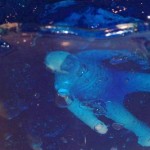 We had HER-shey's chocolate cake, and Dallas Buyers Club's Tex-Mex chicken, we had Nebraska corn relish, and ribs that took 12 years to make (well, 2 days).  We had Captain Phillips' baked salami (you can think about that one) and American Hustle champagne cocktails.  We had Frozen yogurt and Blue Jasmine rice.
And we had fun, a sort of pre-Oscar excuse to get together to celebrate the March birthdays in our group. 
Who was your pick to win?   Since our party was the night before, last night we were very happy to just grab our popcorn and enjoy the parade of fashion and fabulous while we stayed cozy in our jammies.
Grilled Corn and Green Chile Relish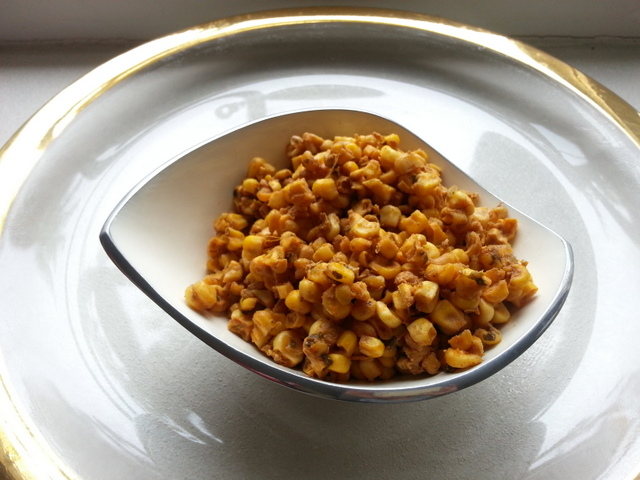 (adapted from a recipe by Bobby Flay)

6 ears grilled corn, kernels removed
2 poblano chiles, grilled, peeled, seeded and finely diced
1 small red onion, finely diced
2 limes, juiced
1 tablespoon honey
4 tablespoons canola oil
1 tablespoon finely chopped fresh cilantro or parsley leaves
Kosher salt
Freshly ground black pepper
Combine the corn, chiles, onion, lime juice, honey, oil and cilantro or parsley  in a medium bowl and season with salt and pepper. Let the relish sit at room temperature for at least 30 minutes before serving. The relish can be made 8 hours in advance and refrigerated. Bring to room temperature before serving.
Hershey's Chocolate Cake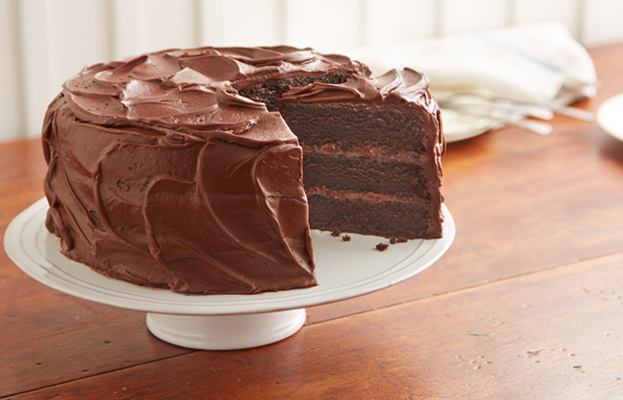 (adapted from hersheys.com)
Although this photo shows a 3-layer cake, the recipe below is for 2 layers.  However, it can easily be adapted by just using 3 cake pans and making the layers thinner.
2 eggs
1 cup milk
1/2 cup vegetable oil
2 teaspoons vanilla extract
1 cup boiling water
2 cups sugar
1-3/4 cups all-purpose flour
3/4 cup Hershey's (or other good brand) cocoa
1-1/2 teaspoons baking powder
1-1/2 teaspoons baking soda
1 teaspoon salt
Heat oven to 350°F.  Coat the bottoms of two 9-inch round baking pans with cooking spray (or grease with butter and flour). If you have parchment paper, you could also line the bottoms of the pans with the parchment after spraying.  (We keep pre-cut rounds on hand.)
Combine eggs, milk, oil and vanilla in the bowl of a mixer and beat on medium for 2 minutes.
Sift together sugar, flour, cocoa, baking powder, baking soda and salt into a large bowl and then slowly add it to the egg mixture just until combined.
Stir in boiling water (batter will be thin). Pour batter evenly into prepared pans.
Bake 30 to 35 minutes or until wooden pick inserted in center comes out clean.
Cool 10 minutes; remove from pans to wire racks and remove parchments. Cool completely.
Frost with "PERFECTLY CHOCOLATE" CHOCOLATE FROSTING" – see recipe below.
10 to 12 servings.
(VARIATIONS:
ONE-PAN CAKE: Grease and flour 13x9x2-inch baking pan. Heat oven to 350° F. Pour batter into prepared pan. Bake 35 to 40 minutes. Cool completely. Frost.
BUNDT CAKE: Grease and flour 12-cup fluted tube pan. Heat oven to 350°F. Pour batter into prepared pan. Bake 50 to 55 minutes. Cool 15 minutes; remove from pan to wire rack. Cool completely. Frost.
CUPCAKES: Line muffin cups (2-1/2 inches in diameter) with paper bake cups. Heat oven to 350°F. Fill cups 2/3 full with batter. Bake 22 to 25 minutes. Cool completely. Frost. About 30 cupcakes.)
"PERFECTLY CHOCOLATE" CHOCOLATE FROSTING
1/2 cup (1 stick) butter
2/3 cup Hershey's cocoa
3 cups powdered sugar
1/3 cup milk
1 teaspoon vanilla extract
Melt butter. Stir in cocoa. Alternately add powdered sugar and milk, beating to spreading consistency.
Add small amount additional milk, if needed. Stir in vanilla.
Makes about 2 cups frosting.
To assemble:
Putting the flat side of one layer down on your platter, frost the top; then put on the second layer and frost the top and sides.
Save
Save
Save