We don't mean to be flip; we know the news from Eastern Europe isn't good.  Maybe it's all the wine from Passover talking or the deviled eggs from Easter, but never let it be said that we at Food and Friendship don't have our finger on the pulse of current events.
We hear you, Ukraine.  You're having a tough time over there.  We are concerned.  So while soldiers are amassing on your borders, while our Secretary of State and our Vice President are flying back and forth, while world leaders are discussing and negotiating, posturing and threatening . . .
can we interest you in some Chicken Kiev?
Chicken Kiev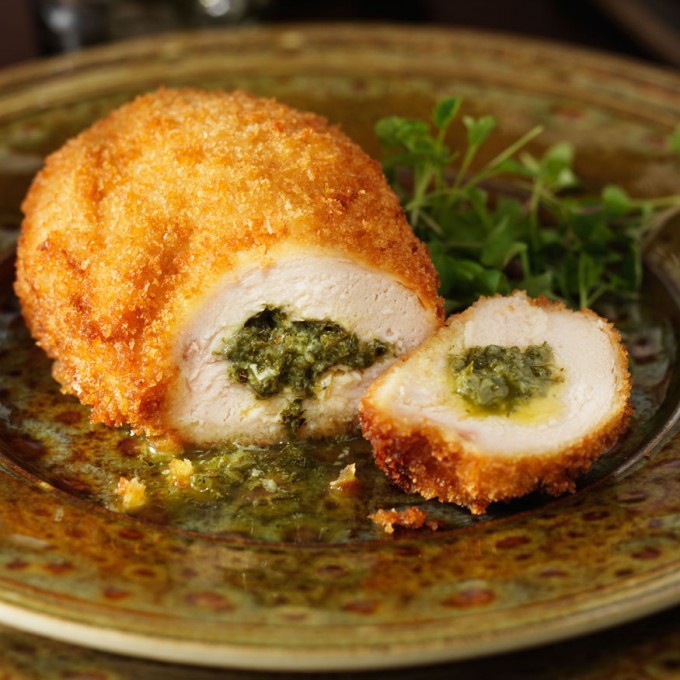 (serves 4)
Following up on our previous post of crispy chicken cutlets, we thought we'd expand the notion a little and "add on," turning those same cutlets into a dish known as the pinnacle of Russian cooking and named for the capital city of the Ukraine.  Some version of this has been served in restaurants, homes, and palaces since the 1800's; here we adapt the recipe from the reknowned Russian Tea Room in New York City, where they've been serving it for half a century and where people come from all over the world to have a taste of old Europe.
Chicken Kiev is basically breaded chicken cutlets stuffed with herb butter and usually deep fried, although we suggest baking them here.  It's delicious either way, but be sure to leave enough time for refrigerating the butter and cutlets before cooking.  
6 boneless, skinless chicken breasts
1 cup flour
3 eggs, beaten
2 cups bread crumbs, plain or seasoned
(Canola or vegetable oil, if frying)
2 tablespoons butter for top, if baking
Herb Butter:
6 tablespoons unsalted or sweetened butter, softened
2 garlic cloves, finely minced
2 tablespoons finely chopped parsley
2 tablespoons finely chopped tarragon
2 tablespoons finely chopped chives
1/2 teaspoon lemon zest
juice of 1/2 lemon
1/4 teaspoon kosher salt
1/8 teaspoon black pepper
Put the chicken breasts between 2 pieces of wax paper and pound them with a mallet until very thin (about 1/8-inch), especially at the edges.  Refrigerate while making the herb butter.
Prepare the herb butter:
Put the pound of butter in a bowl of an electric mixer fitted with the paddle attachment.   Add the chopped herbs, salt, pepper, lemon zest, and lemon juice, and mix until fully incorporated.  With a rubber spatula, turn butter mixture onto a piece of wax paper; then, using your hands and the wax paper, shape the butter into a roll or log, wrap it up tightly and refrigerate or freeze until hardened.
Prepare 3 shallow plates, one with flour, one with the beaten eggs, and one with the bread crumbs.
Remove chicken breasts from refrigerator and sprinkle each with salt and pepper.
Remove the herb butter from the refrigerator, slice into 6 equal portions, and place one pat of butter on each flattened chicken breast.  Starting with the wide end, roll the chicken up tightly around the butter, tucking in the sides as you go.  This is the tricky part — it's important to seal the butter in tightly or it will ooze out during cooking.
Lightly dip each chicken roll first into the flour, then into the beaten eggs, gently shaking off the excess after each.  Then dip each chicken roll into the bread crumbs, shaking off excess and coating the cutlets evenly.  Place the chicken rolls on a plate and refrigerate for one to two hours.
[If you are frying, fill large pan about 3 or 4 inches up the sides with oil and warm over medium-high until about 325 degrees F.  Carefully fry the coated chicken rolls 2 or 3 at a time, turning twice, until golden brown.  Make sure the cutlets don't touch each other during frying.  Turn twice, using tongs and trying not to pierce the skin of the chicken.  Drain on paper towels.  Transfer to a baking dish and bake an additional 10 to 15 minutes.  Do not overcook.]
If you are baking, preheat oven to 375 degrees F.  Lightly oil a 9 x 13-inch baking dish and carefully put in the chicken roll-ups.  Dot the chicken pieces with additional butter and cook for about 30 minutes, until the outside is golden and the chicken is cooked through.
Remove carefully with tongs and serve chicken immediately on a bed of rice with seasonal vegetables.  Be careful when you cut into the chicken as the butter may squirt out!