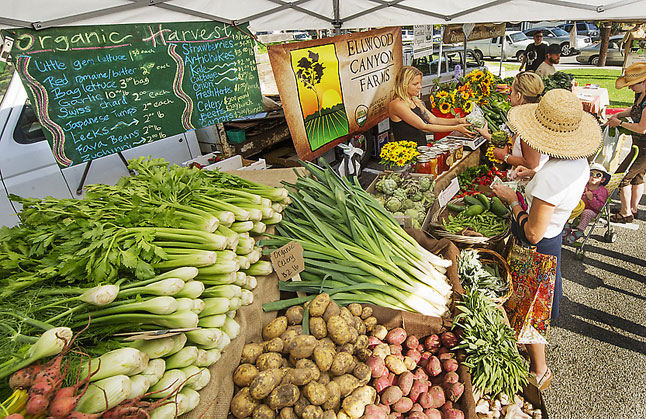 Last month my daughter Jessica and I spent a marvelous day at the Altadena Farmer's Market, a gem of a market located in the Alta Loma park in LA and adjacent to its non-profit sponsor, the Altadena Community Garden.  This beautifully curated market has received lots of media attention, including write-ups in the Los Angeles Times, the LA Weekly, and Bon Appetit, and the market recently walked away with the New Business of the Year award from the Altadena Chamber of Commerce.  Why all the fuss about a market 90 minutes away from our beautiful Santa Barbara?  We're celebrating the news that my younger daughter, Elizabeth, who has managed the market for two years, recently took over ownership.  Add our very own Ellwood Farms from Goleta and Bliss Premium Avocadoes from Carpinteria, and you have a small Santa Barbara enclave that gathers every Wednesday from 4 to 8 pm.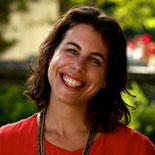 We couldn't be prouder of Elizabeth.  A passionate advocate for food justice and an ardent supporter of urban/suburban farmers, Elizabeth has  helped shepherd many farmers at her market through the regulatory process required before they can sell their goods.  The Wednesday we visited, we joined a Chef Walkabout with Jessica Koslow, the owner of Sqirl restaurant in Silver Lake.  Jessica, who originally sold her fabulous jams at the Altadena Farmer's market, is a rising star in the LA food scene.  As we moved through the market, she encouraged us to experiment with unfamiliar vegetables, and Ellwood Farm's kohlrabi caught my attention.  Jessica taught me that this stout alien-looking vegetable is in the Brassica family (like cabbage, broccoli, cauliflower) and suggested thinking of it much like broccoli; perhaps puréeing it with a potato for a delicious side dish.
So I went home and fearlessly made a green soup with the kohlrabi, pretending it was broccoli, adding cabbage and lots of carrots, using chicken broth instead of vegetable broth and voilà – a delicious soup.  With the abundance of green vegetables in markets this spring, we encourage you to be fearless too.
And while you're experimenting with seasonal veggies, we thought we'd share a spring jam recipe from Chef Jessica Kaslow.  If you're ever in Silver Lake for breakfast or lunch we encourage you to eat at Sqirl.
Joan
Blue-Barb Jam

Try Sqirl's simple sweet-tart jam using blueberries and rhubarb for a seasonal treat.
1 pound rhubarb stalks, cut into 1-inch pieces
1 pound blueberries
3 cups sugar
2 tablespoons fresh lemon juice
Pinch of salt
In a large saucepan, combine all of the ingredients. Cook over moderately high heat, stirring constantly and skimming off any foam, until the berries have burst and the rhubarb is soft, 12 minutes. Remove from the heat.
Using a wooden spoon, mash the rhubarb and berries against the side of the pan. Simmer over moderate heat, stirring occasionally, until thickened, 10 minutes. Pour the jam into jars and let cool completely; refrigerate until well chilled.  The jam can be refrigerated for up to 2 weeks.