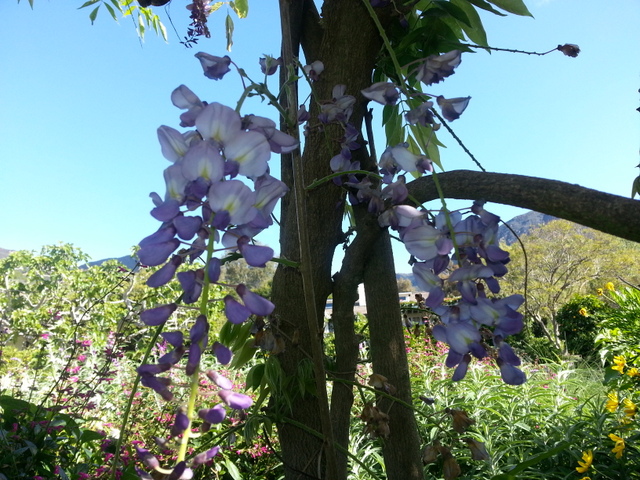 In his later years, the beloved sportscaster, Red Barber, used to have a regular Friday morning interview on NPR with Bob Edwards.  Speaking from his Tallahassee, Florida home, he'd often start the conversation off with a charming observation of the latest goings on in his garden:  "The dogwoods are in bloom" or "The azaleas are starting to show their color."
Further up the coast, Rhona's mother, Lil, would often announce the arrival of spring by bursting into her Katharine Hepburn imitation.  She'd say in her best New England accent, "Hello Mutha, Hello Fatha — the calla lilies are in bloom agaaaain."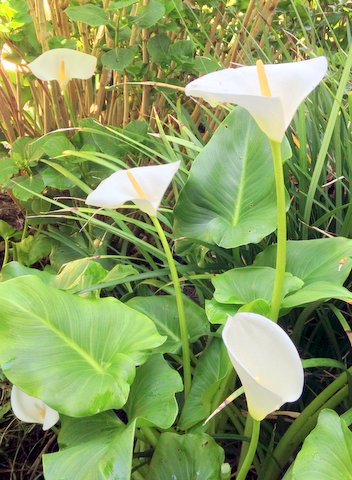 We're conjuring up Red and Mom this week as we notice that the wisteria and the calla lilies are indeed in bloom again.  We're luxuriating in the seasonal explosion of our Santa Barbara gardens, nowhere better displayed than The San Ysidro Ranch, where JFK and Jackie honeymooned all those years ago, and where, these days, you can see the miracle of spring in this famous hotel's vegetable and flower gardens.
One of our morning walks has always been up to Mountain Drive where we never fail to admire the grounds of this place and spend a few moments talking to Brent, the young man in charge of the gardens at the Ranch.  We ooh and aah over the amazing state of the organic herbs and vegetables they grow and then use in their Stonehouse Restaurant.  And we come away inspired.  The beans, kale, spinach, carrots… it's all perfectly maintained and beautifully displayed.  Here's a recipe adapted from the Stonehouse, one of Conde Nast Traveler's top 50 restaurants in the country.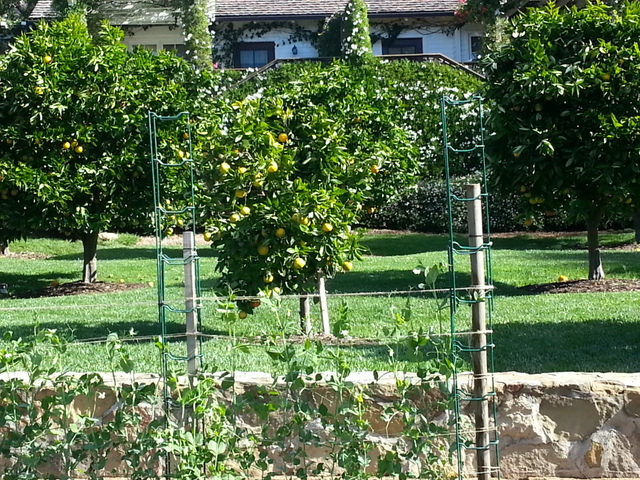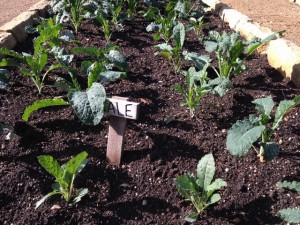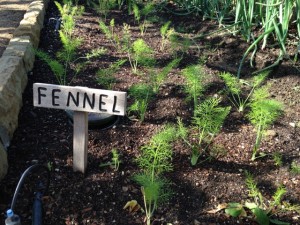 Warm Spinach Salad with Applewood Bacon
(adapted from Stonehouse Restaurant)
(serves 4)
2 bunches fresh spinach, trimmed and rinsed
1 tablespoon olive oil
1/2 cup applewood bacon, julienned or large diced
1 red onion, thinly sliced
1 cup mushrooms, thinly sliced (white, chanterelle, morel, shiitake, oyster, cremini combination)
1 tablespoon minced garlic
1/4 cup sherry wine vinegar
1 cup chicken stock
1 cup heavy cream
1 tablespoon chopped fresh thyme
1 tablespoon whole grain mustard
1 tablespoon pure maple syrup
1 teaspoon freshly ground black pepper
salt to taste
Tear spinach into bite-sized pieces; set aside in a large bowl.
Heat olive oil in medium-sized saute pan.  Add bacon and fry until crisp.   Add red onion, mushrooms and garlic; cook for 5 minutes.  Add vinegar and cook until reduced by half.
Add chicken stock and cook until reduced by half.  Slowly add cream and bring to a boil; stir in thyme, mustard, maple syrup, and pepper.  Season with salt.
Toss warm dressing with spinach and divide among 4 plates.