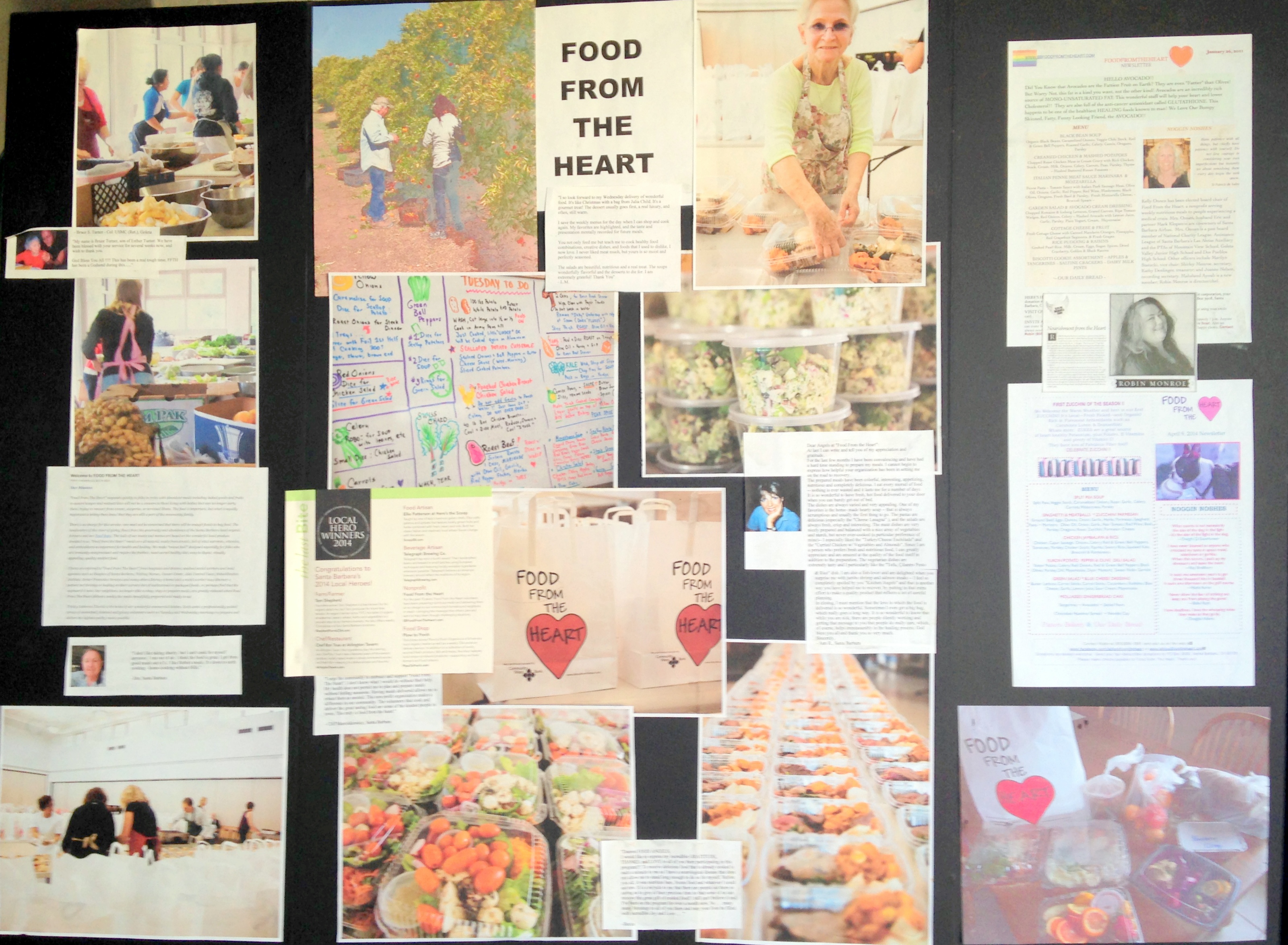 Santa Barbara may be considered a world-class destination known for its miles of beautiful beaches, award-winning wineries and cutting-edge restaurants, but for those of us who live here, Santa Barbara feels more like a small town community.  We take pride in our surroundings and we look out for each other.  That's the philosophy of a wonderful Santa Barbara organization called Food from the Heart.  Created in 1999 to serve anyone in crisis, they deliver nourishing, nutritious, and appetizing meals to our neighbors going through difficult times.  It's a true community operation: farmers share their produce, volunteers harvest backyard gardens, and once a week, dedicated volunteers join chef Aaron Casale to prepare a week's worth of food for approximately 150 homebound and acutely ill local residents.  Kelly Omen, Food from the Heart's Board Chair, tells us that their Executive Director, Robin Monroe, works miracles every week, procuring the food, coordinating their loyal volunteers, and developing the recipes for the week based upon the supplies she's acquired.
A few weeks ago, we were invited to their first fundraising event, a night of wine tasting and appetizers at the tasting rooms of Margerum, Au Bon Climat, and the Grassini Family Vineyards.  Wine flowed and the delicious hors d'oeuvres donated by the Wine Cask, C'est Cheese, Aaron Casale Catering, Chocolate Gallery, Chocolats du CaliBressan, and Jessica Foster Confections were perfect accompaniments.  Kelly generously shared our favorite appetizer of the evening: dates stuffed with mascarpone cheese and wrapped in bacon.  Who could resist that?
If you're interested in supporting this worthwhile organization by making a donation, or perhaps rolling up your sleeves and joining them in the kitchen, visit their website at sbfoodfromtheheart.com
Bacon-Wrapped Stuffed Dates
24 Medjool Dates
1 pound Applewood Smoked Bacon
1 pint Mascarpone Cheese
Preheat oven to 350 degrees.
Cut slit in date, remove seed. Use teaspoon or piping bag to push in 1/2 teaspoon cheese into each date. Cut bacon slices in half. Wrap each date with piece of bacon.
Bake on tray with parchment paper or non-stick spray or silpat liner for 15 minutes.
Serve warm or room temperature.