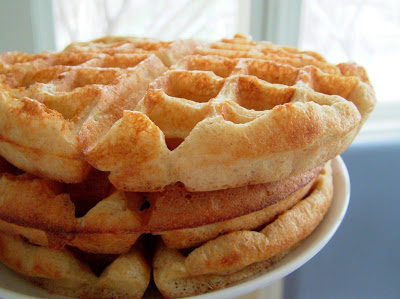 There's a famous recipe for yeast waffles that… wait… hold on, keep reading … don't be deterred by the mention of yeast; this is not a difficult recipe.  It's easy.  You don't have to do anything with the yeast except put it in a bowl.  And then leave it overnight on your kitchen counter; you don't even need to put it in the fridge.
Next morning, just add eggs and baking soda and the waffle batter is done.  Deliciously amazing!
I first heard about this from my niece, Julie, who was visiting and said her friend's mom had made them but she didn't have the recipe with her.  I knew Marian Cunningham would know what to do, so I consulted my wall of cookbooks and there it was.  Her classic Breakfast Book raved about it, citing an early Fannie Farmer cookbook as its first incarnation.   The waffles came out as advertised – "crisp on the outside and delicate on the inside."
These are perfect for when you have house guests and don't want to fuss in the mornings.  Just plug in your waffle maker and you're ready to go.
Raised Waffles
(makes about 8 waffles)
(adapted from The Breakfast Book by Marion Cunningham)
1/2 cup warm water
1 package dry yeast
2 cups milk, warmed
1 stick butter, melted
1 teaspoon salt
1 teaspoon sugar
2 cups all-purpose flour
2 eggs
1/4 teaspoon baking soda
Use a large mixing bowl because the batter will rise to double in size as it sits.  Put the water in the mixing bowl and sprinkle in the yeast.  Let stand to dissolve for 5 minutes.
Add the milk, butter, salt, sugar, and flour to the yeast mixture and beat until smooth and blended (you can use a hand beater or an electric one, just so you get the lumps out).  Cover the bowl with plastic wrap and let stand overnight at room temperature.
In the morning, preheat your waffle maker.  Just before cooking the waffles, beat the eggs into the batter, add the baking soda, and stir until well-mixed.  The batter will be very thin.  Pour about 1/2  to 3/4 cup of batter into a very hot waffle iron.  Bake the waffles until they are golden and crisp.
The batter will keep well for several days in the refrigerator.