We walked for hours and hours on this trip, immersing ourselves in the art and history of the cities we visited.  But when it was time to take a break,  we often turned our attention from architecture to food, and when it was time for dessert, we zeroed in on apple strudel, a specialty of the region.
It began as a lark, trying to find the one strudel that was the best of the best, one that combined crisp homemade dough with hot cooked apples that melted in our mouths, usually served with vanilla sauce.  What a burden!  We sampled the strudel at the New York Cafe in Budapest, at Cafe Central in Vienna, at the jazz club in Prague, and in various venues in Berlin.
Each of us had our favorite.  Joan found hers early on in a small Budapest cafe and was chasing that taste for the rest of the trip; none quite measured up to it. For Rhona, it was at the cafe inside the Berlin Reichstag (Parliament) where it all came together in a burst of perfection!  We asked our waiter there for the recipe and although he said it was officially a secret, he did sit down with us and type it out on our phone.  Turns out that version had yeast and so was more of an apple cake (streuselkuchen), but here's our traditional strudel recipe, a mixture of our friend Sue's Hungarian grandmother's and our Berlin waiter's.
Go ahead and inhale that aroma; we dare you to wait until dessert before taking a bite!
Apfelstrudel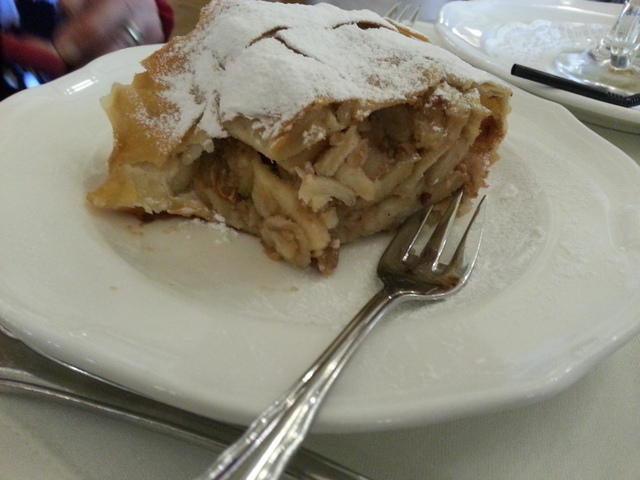 Makes 2 small strudels
Dough:
2 1/2 cups all-purpose flour, plus 1/4 cup for sprinkling
1/4 teaspoon salt
1 1/4 cups cold water
Filling:
1 1/2 cups finely chopped breadcrumbs (some recipes use flour, but breadcrumbs are traditional)
1/4 cup sugar
1 tablespoon cinnamon
4 cups apples, peeled, cored, sliced (Use a mixture of tangy and sweet varieties, if possible)
1 cup golden raisins (optional)
1/2 pound butter, melted over low heat.
1/2 cup powdered sugar
Vanilla Sauce, optional  (see our Vanilla Sauce recipe linked here .)
To make the dough:
Combine flour and salt, sifting the two together in a ceramic or glass bowl or the bowl of your electric mixer.   Add water and mix as for a pastry.  (We use the dough hook on the electric mixer).  Knead the dough until it is smooth and comes off the bowl easily, about 15 minutes.  Divide the dough in half and, if possible, let it rest in an oiled bowl overnight.
Next day, roll out each piece on a floured surface until it's very thin.  This is the most important part.  (We use a large table covered with a clean cloth and sprinkled with flour so we can roll out the pieces into as large a rectangle as possible.  Using the tablecloth to move the dough as you roll it out thin is easier than moving the dough.)  Use the rolling pin to stretch the dough from the center out until it's about double the original size.
To make the filling:
Shake breadcrumbs onto the dough.   Sprinkle with sugar and cinnamon.  Spread apples (and raisins if using) over the top.
To roll up the dough, fold it over at the short sides first.  Again, using the tablecloth to help, gently roll the dough lengthwise to form a long tube.  Coat a sheet pan with non-stick spray and then put the long roll onto the sheet pan in an s-shape.  Brush the strudel with melted butter, then score the top at 1-inch intervals to let the steam escape.
Preheat oven to 400 degrees.  Bake for about 10 minutes, then lower temperature to 350 degrees for about another 30 minutes until lightly browned.
Let the strudel cool a bit before cutting it into pieces, then sprinkle with powdered sugar.  Best served when still warm from the oven with vanilla sauce on the side.  Can be frozen and reheated.