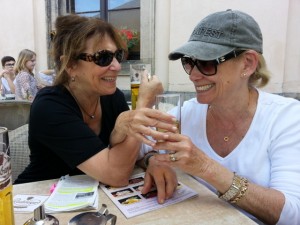 And finally, there's this:
After three weeks of traveling together, we can safely say that this friendship is solid!   Although we've been friends for many years, it is a whole different thing to be traveling companions.  Over the course of this trip we went to the opera in Budapest, drank beer in Dresden, shopped the markets and pedestrian malls of Vienna, and experienced the awe and gut-wrenching disbelief of history made real.  We have seen each other in the early morning and the dark of night, in the rain, without makeup, wearing the same three pairs of pants over and over, and still, still, when it came time to go our separate ways, in the deep underground of the Berlin subway, we could barely bring ourselves to leave.  We asked a passing young man to take our picture in order to capture the end of our journey, and although he had just taken a bite of his sausage roll and was rushing to catch his train, he happily obliged, even offering us a bite of his sandwich!  We laughed til we cried, and then in a flash, our two trains arrived and we said goodbye.  "See you back home!"
The previous week on our second evening in Prague, while walking across the Charles Bridge, we ran into our dear friends from Santa Barbara, Pam and Richard, and although we'd known they were traveling there too, we didn't expect to bump into them that night on the crowded bridge.  We were like high school kids, screaming and hugging as if we'd not seen each other in decades.  The next night, we all six met for dinner and it was magical.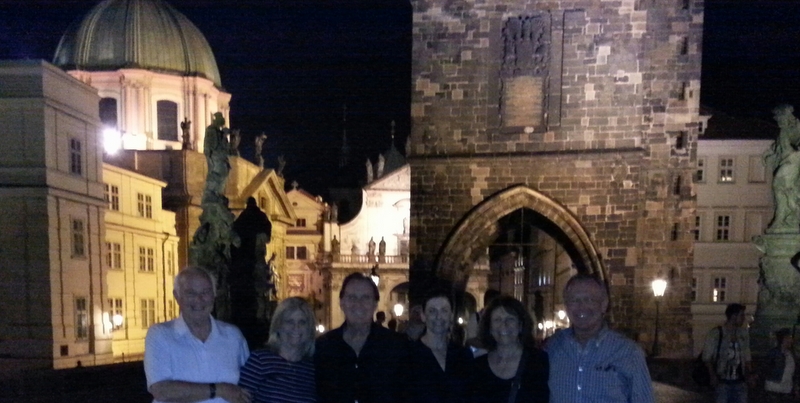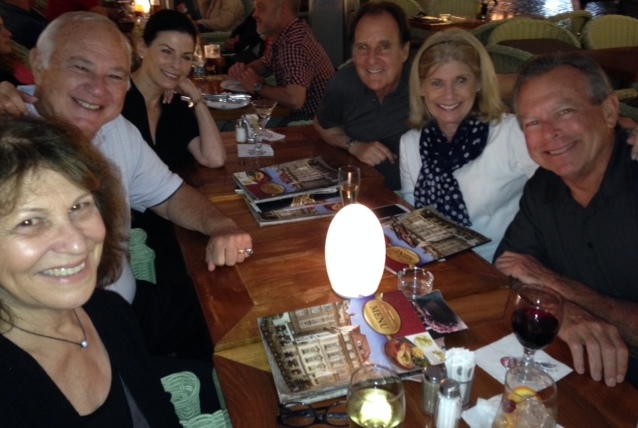 One of the most charming takeaways from this trip was the closeness that developed between our two Steves.  Of course, they also have known each other for years but it was delightful watching them discover they had more in common than they ever thought [read: jazz, beer-tasting, bargains].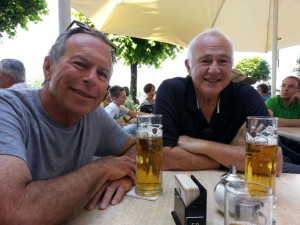 Food and friendship is how we frame this blog, and as time goes on and we continue to find things to share, we are brought back to our mission:  to stress the importance of connection and how it helps us stay vital.  Whether we're celebrating a close girlfriend's milestone birthday in Paris or a sister's in Portland, whether we're toasting the upcoming wedding of a dear friend's daughter, or knowing day-to-day that we're there for each other, we value those connections more and more as we get older.
It doesn't matter whether we travel or stay right in our own backyards; if we can get together for a meal with people we love, then, at least for the moment, all is right with our world.