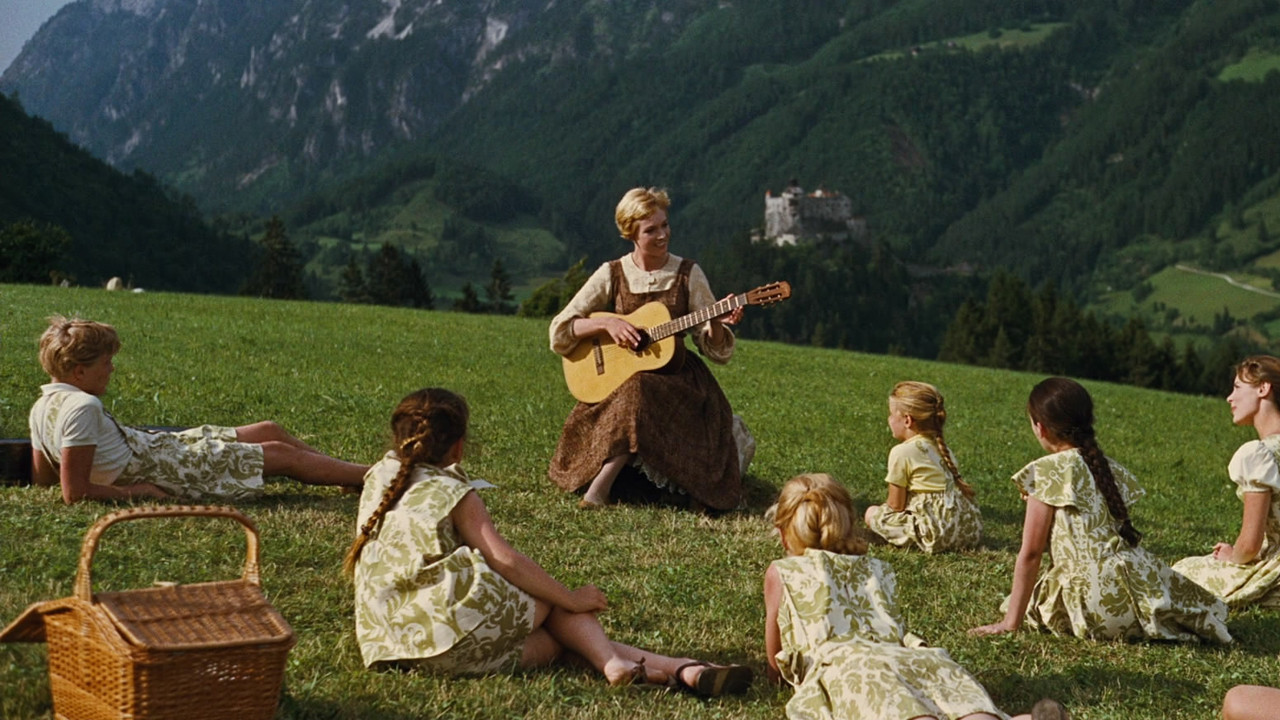 "Wild geese that fly with the moon on their wings … doorbells and sleigh bells and schnitzel with noodles…"
Sound familiar?
Austria is famous for their schnitzel and we definitely had our fill on this trip, although we were told that no Austrian worth his lederhosen would ever serve it with noodles.  Instead, warm potato salad came with the dish and it was usually a generous enough portion to share.
From our favorite Austrian chef, Wolfgang Puck, we get a lovely recipe for the real thing, crisp on the outside and tender on the inside, definitely one of our favorite things.
Wiener Schnitzel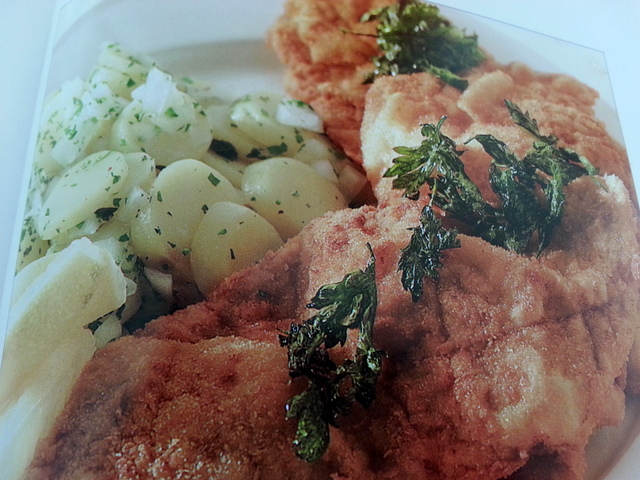 (adapted from Wolfgang Puck)
serves 4
Peanut oil for deep-frying
1 cup all-purpose flour
2 eggs, beaten with 2 tablespoons cold water
4 cups panko or plain dry bread crumbs
4 veal scaloppine 8 ounces each (You can substitute pork or chicken pounded very thin, but veal is the classic dish.)
salt, pepper
2 lemons, cut into wedges
1 cup whole Italian parsley leaves, rinsed and dried
In a deep heavy skillet, preheat about 3 inches of oil to 375 degrees.
Put the flour, egg mixture, and bread crumbs or panko in each of three shallow pie plates.  Season the scaloppine on both sides with salt and pepper. One by one, dredge the scaloppine in flour to coat evenly, shaking off excess, then dip into egg mixture, then turn them in the panko or bread crumbs to coat evenly.
(optional) Using the tip of a sharp knife, lightly score the breading about 4 times  in a crosshatch pattern to help secure the breadcrumbs coating.
Gently slip each scaloppine into the hot oil and deep-fry until golden on both sides, about 3 minutes.  Remove with a wire skimmer or slotted spoon, and transfer to paper towels to drain.
(optional) As soon as the schnitzels are done frying, put the parsley into the hot oil and fry until dark green and crisp, about 20 seconds.  Remove with a slotted spoon and drain on paper towels.
Place a schnitzel on each plate, then garnish with fried parsley leaves (if using) and lemon wedges.  Place warm potato salad on the plate and serve immediately.
Warm Potato Salad
1 cup Champagne vinegar
1/4 cup peanut oil
3 tablespoons sugar
2 1/2 tablespoons kosher salt
1 tablespoon finely chopped fresh thyme leaves
1/2 teaspoon freshly ground black pepper
1 small yellow onion, cut into 1/4-inch dice
1 pound fingerling potatoes, washed (You can also use Yukon Gold)
3 whole peeled garlic cloves
3 sprigs of fresh parsley (optional)
In a glass or ceramic mixing bowl, combine the vinegar, oil, sugar, 1/2 tablespoon kosher salt, and thyme, pepper, and onion.  Whisk until well blended and set aside.
In a large saucepan, combine potatoes, garlic, parsley, and remaining 2 tablespoons salt.  Add enough cold water to cover the potatoes completely.  Bring the water to a boil over high heat, then reduce heat to simmer until potatoes are just tender enough to be pierced easily with a knife, about 8 to 10 minutes.  Don't overcook them!
Drain the potatoes; when they are cool enough to handle, cut them crosswise into 1/4 inch-thick round slices, add them to the bowl containing the dressing, and toss thoroughly but gently.  Let them marinate for at least 20 minutes before serving.