Here in Santa Barbara, we're fortunate to have many fabulous Italian restaurants.  Some specialize in menus from the southern region of Italy, from Naples and Sicily, and some from the northern part, outside Venice.  Pane e Vino Trattoria has been a local favorite for many years; we never tire of Pietro Bernardi's dishes – he prepares them like they do in his northern home town of Asolo.
Pane e Vino's Insalata Capuccina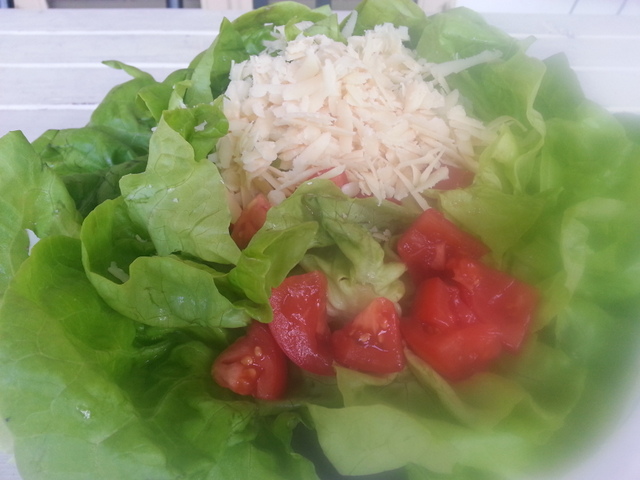 This is a salad we've never seen anywhere else.  It couldn't be simpler, but it tastes delicious and always puts on a great show at the table.  Serve a sharp knife with it to cut through all that flavorful lettuce.
One whole butter lettuce (sometimes called Boston or bibb)
1 heirloom or very ripe red tomato, coarsely chopped
1/2 cup asiago cheese, grated or shaved
Basic Italian Vinaigrette
3 garlic cloves, minced
1/4 cup white wine vinegar
1 teaspoon Dijon mustard
3/4 cup extra-virgin olive oil
Salt and freshly ground black pepper to taste
First make the dressing:  Combine the garlic, vinegar, and mustard in a small bowl. Add the olive oil in a slow, steady stream while whisking constantly until all the oil is incorporated. Season with salt and pepper and refrigerate in an airtight container until ready to use or up to 1 week.
Then prepare the salad:  Open the lettuce from the inside out so the leaves are spread out over the plate.  Then simply put the tomatoes on top and then the grated cheese.  Pour dressing over the whole thing, to taste, starting with 1/2 cup.