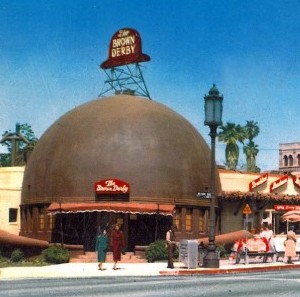 The Brown Derby was a cherished LA landmark restaurant back in the day.  It was the place to see and be seen.   One of their signature dishes was the Cobb Salad, which is now found on almost every lunch menu, but actually was created right there in Hollywood.  As the story goes, the owner, Bob Cobb, made it up on the spot for a special customer who came by after hours. He finely chopped up a bunch of leftover ingredients in the fridge and added a simple French vinaigrette.  The resulting concoction became so popular it took on a life of its own.
Their famous version, the original, is what is called "composed" – that is, the ingredients are arranged in adjacent lines.  We prefer it tossed, but you can certainly present it composed and then toss it at the table.  Also, we've substituted radicchio for the very bitter chicory in the original.
The recipe calls for a cooked chicken breast but if you want a quick version of this, simply get one already cooked at your local market and then chop away.
The Brown Derby Cobb Salad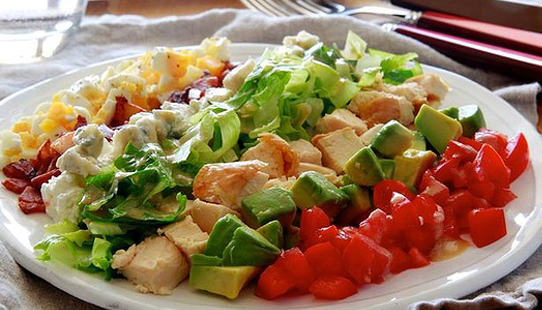 1 cup chopped iceberg lettuce leaves, washed and spun dry
1 cup chopped radicchio leaves, washed and spun dry
1 cup tender sprigs of watercress, washed and spun dry
1 pound cooked chicken or turkey breast, finely chopped
2 medium-sized, ripe tomatoes, peeled, seeded and finely chopped
1 avocado, peeled, seeded and finely chopped
½ cup crumbled blue cheese (about 2 ½ ounces)
6 strips bacon, cooked crisp, drained, and crumbled
3 hard boiled eggs, peeled and finely chopped
2 tablespoons snipped fresh chives, for garnish (optional)
½ cup The Hollywood Brown Derby French Dressing (recipe below)
The Brown Derby French Dressing
2 tablespoons of water
2 tablespoons red wine vinegar
1 tablespoon freshly squeezed lemon juice
½ teaspoon Worcestershire sauce
½ teaspoon salt, or to taste
½ teaspoon minced garlic (one clove)
¼ teaspoon of sugar
1/8 teaspoon of freshly ground black pepper, or to taste
1/8 teaspoon dry mustard
1/3 cup vegetable oil
2 tablespoons olive oil
First, cook your bacon; easiest way is in the oven (350 degrees F for about 35 minutes) or microwave on paper towels (6 minutes).
Next, hard boil your eggs (put them in a pot of cold water, bring to a boil, then turn off the heat, cover and let stand for 15 minutes) and peel them.
While the bacon and eggs are cooking, whisk together the ingredients for the dressing and set aside.
Chop the lettuces and put them in a bowl.  Chop the bacon, egg, chicken or turkey, tomatoes, avocado, and chives.  We like to put each ingredient in a separate small bowl until we're ready to assemble the salad.
Toss the lettuces with the dressing.  Then arrange the other ingredients on top in rows, garnish with chives if using, and serve with extra dressing.  (Or you can toss the whole thing together and serve it that way.)