We've been making this classic Silver Palate salad for years.  Great to take to a potluck or make for dinner one night and have plenty left over for lunch the next day.  We added a little basil olive oil at the end which gives the salad a lovely summery taste.  Feel free to grill the chicken if you prefer, but we like having the broth left over to use for summer soups.
Mediterranean Chicken Salad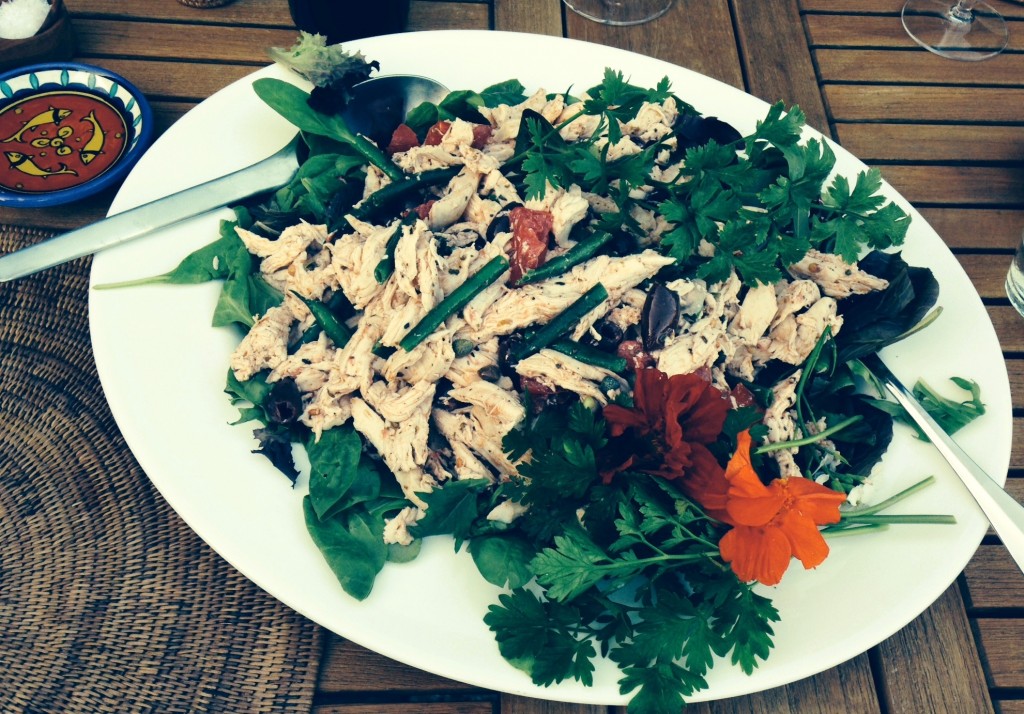 1 medium-sized yellow onion, peeled and quartered
2 carrots, peeled and chopped
1 leek, white part only, well rinsed and sliced
1 bay leaf
6 parsley sprigs
12 black peppercorns
4 whole cloves
Salt, to taste
3 whole chicken breasts, skin on
1/2 cup extra-virgin olive oil
1 1/2 teaspoons dried oregano
Juice of one lemon
1-2 tablespoons basil oil
3/4 cup black olives, preferably niçoise or kalamata
2 tablespoons capers
8 cherry tomatoes, halved, or 2 medium-sized tomatoes, cut into wedges
Freshly ground pepper to taste
1/4 pound green beans, blanched and shocked in cold water
Measure 4 quarts water into a large heavy pot.  Add the onion, carrots, leek, thyme, bay leaf, parsley, peppercorns, cloves and salt. Bring to a boil, reduce heat and simmer, uncovered for 15 minutes.
Add the chicken breasts, return to a boil, reduce the heat and simmer, partially covered, until the chicken is done, about 20 minutes. Remove the pot from the heat and let the chicken cool in the broth.
Remove the chicken (saving the broth for soup) discard the skin, and pull the meat from the bones. Tear the meat into large pieces and combine in a bowl with the olive oil and oregano. Cover and let stand at room temperature for one hour.
Add all the remaining ingredients except the green beans, toss and season with salt and pepper.  To prevent discoloring, add the green beans just before serving.