We've resisted putting up too many posts about salads because, after all, what is a salad if not merely a lot of stuff thrown together?  But it is summer, our gardens and markets are full of produce, and none of us is in the mood for anything heavy, so here's one way to "throw stuff together" that might just be an interesting and delicious way to enjoy your summer meals.  Stay tuned for more.
Thai Beef Salad
(adapted from Martha Stewart)
Martha Stewart's recipe was our inspiration for this salad.  We  added our own touches:  marinating the steak in a little soy sauce, olive oil, and garlic to add another layer of flavor, and tossing in avocados for texture and variety.  Feel free to "throw in" fresh seasonal ingredients you enjoy:  cherry tomatoes, julienned red, orange, or yellow peppers, or snow peas would all work well with this salad.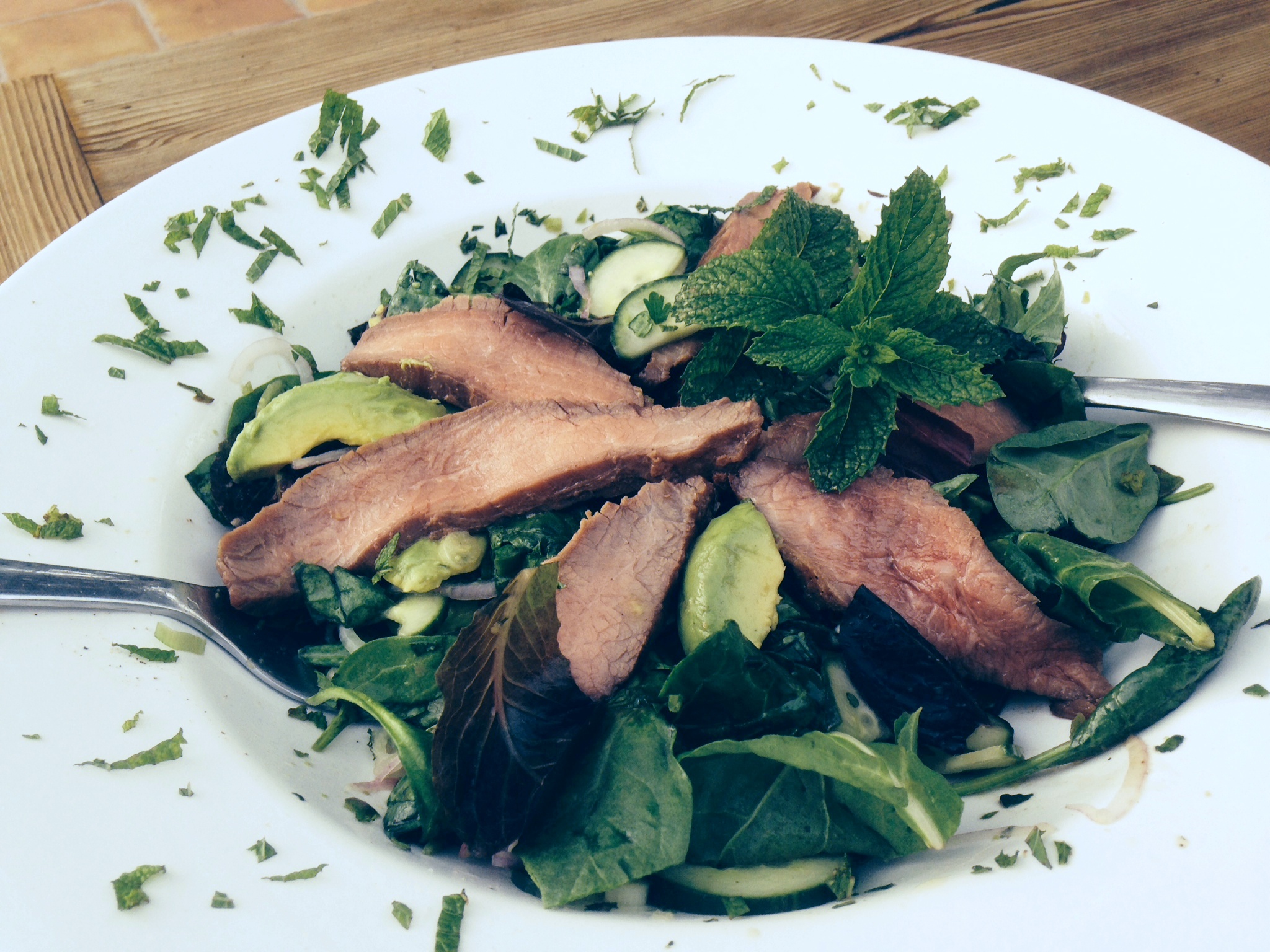 3 tablespoons soy sauce
3 tablespoons olive oil
2 cloves garlic, peeled and sliced
½ teaspoon kosher salt
Freshly ground pepper
1 boneless sirloin steak (1 ½ pounds)
6 tablespoons fresh lime juice (about 3 limes)
2 ½ tablespoons Thai or Asian fish sauce (nam pla)
1 fresh serrano chile (about 1 tablespoon), seeded and finely chopped
1 teaspoon sugar
2 teaspoons fresh cilantro or parsley, finely chopped
2 teaspoons fresh mint, finely chopped
4 scallions, white and pale-green parts only, thinly sliced on the diagonal
3 shallots or ½ red onion, thinly sliced into rings
1 English cucumber,  halved lengthwise and cut into ¼-inch-thick slices
12 ounces baby arugula or mixed salad greens  (about 5 cups)
1 large avocado or 2 small avocados, peeled and sliced into ½ inch wedges.
½ cup unsalted peanuts, coarsely chopped or ½ cup slivered almonds (optional)
Mix soy sauce, olive oil, garlic, salt and pepper in a 9 x 9-inch Pyrex dish.  Add the steak and marinate for at least one hour and up to six hours.  Remove steak from refrigerator 30 minutes before grilling.
Make dressing by whisking together lime juice, fish sauce, chile, and sugar in a small bowl until sugar dissolves.  Stir in cilantro or parsley and mint.  Set aside.
Toss together scallions, shallots, cucumbers, and arugula in a large bowl.  Put sliced avocado(s) in a small bowl and toss with one tablespoon of the dressing to keep them from turning brown; set aside.
Remove steak from marinade and pat dry with paper towels.  Coat the grill with oil to avoid steak sticking and then preheat the grill until very hot.  Place the steak on the grill.  Each side should take approximately 2 to 4 minutes depending on your preference.  Use a meat thermometer to test for desired doneness:  120 degrees F for rare, 125 degrees F for medium-rare, and 130 degrees F for medium.  Transfer steak to a cutting board and let stand at least 5 minutes.  Cut steak across the grain into ¼-inch-thick slices.

Add the avocados to the bowl of greens, drizzle with 3 tablespoons of dressing and toss lightly.  Arrange the steak slices on the salad greens.  Add more dressing to taste.  Sprinkle with peanuts or almonds if using.