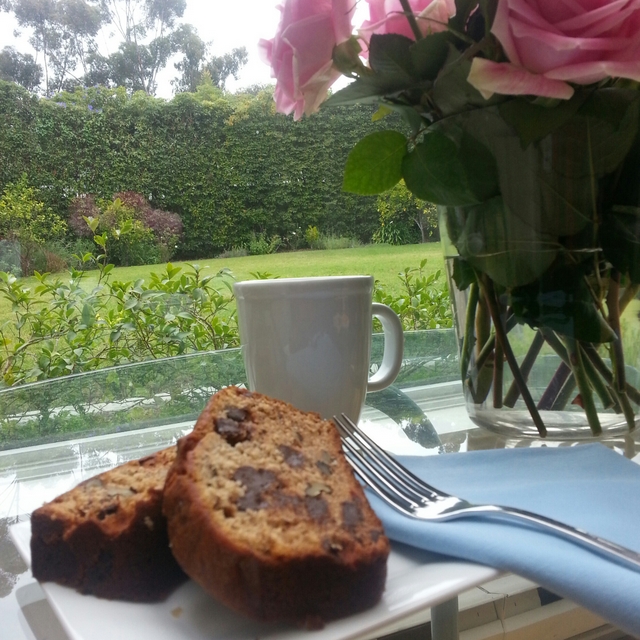 When my husband and his siblings were growing up, they had a cook named Ruth.  All of them still remember the joy they felt coming home from school on those days when the aroma of Ruthie's freshly-baked banana bread would fill the house and they knew they were in for a special treat.
Everyone has a favorite banana bread: maybe it's the one you grew up with, or the one you made for your children when they were growing up; maybe it's your grandmother's recipe, or the one you fashioned together on your own, based on your family's tastes.
Here are three of our entries, one from Addie, a fabulous young baker from Portland whose banana bread is so rich and tasty you'd never know it was vegan and gluten-free.  Another is one I've been making for a long time, cobbled together from many of my favorites; it includes chocolate chips and walnuts, which are optional, since many people like their banana bread pure and simple.  And the third is Ruthie's, an homage to childhood and memories of home.
Vegan Gluten-Free Banana Bread
3 cups mashed bananas
2/3 cup brown sugar
½ cup maple sugar
1 cup vegetable oil
1 2/2 containers Tofutti sour cream
2 teaspoons vanilla
4 cups Bob's Red Mill Gluten-free Pancake Mix
2 tablespoons baking powder
Preheat oven to 350 degrees.
Mix all wet ingredients (first six) and set aside.
Spray two loaf pans with non-stick cooking oil  Line bottom of pan with parchment.
Bake for 75 minutes or until a toothpick comes out clean.
Rhona's Banana Bread
1 1/4 cups sugar
1/2 cup butter, softened to room temperature
2 eggs at room temperature
3 to  4 medium very ripe bananas
1/2 cup buttermilk
1 teaspoon vanilla
2 1/2 cups flour
1 teaspoon baking soda
1 teaspoon salt
1 cup chopped walnuts (optional)
1 cup chocolate chips (optional)
Preheat oven to 350 degrees F.  Spray bottoms of 2 8-inch loaf pans or 1 9-inch loaf pan.
Mix sugar and butter into your electric mixer.
Add eggs, bananas, buttermilk, and vanilla; beat with paddle attachment on medium speed until smooth.  (If the mixture doesn't look smooth at this point, don't worry; keep going!)
Sift flour, baking soda, and salt and add to the bowl.  Then add nuts and chocolate chips if using, and mix gently until just combined.
Pour batter into pan(s).
Bake 8-inch loaves 1 hour, 9-inch loaf a little longer, about 1 1/4 hours until toothpick inserted in center comes out clean.
Cool 10 minutes.  Loosen sides of loaves from pan and remove to cooling rack.
Cool about an hour before slicing.
Ruthie's Banana Bread
1 1/4 cups sugar
1/2 cup unsalted butter, softened
2 eggs
1 teaspoon baking soda
4 tablespoons sour cream
1 cup mashed bananas (about 2 – 3 ripe bananas)
1 1/2 cups flour
1 teaspoon vanilla
1/4 teaspoon salt (optional)
Preheat oven to 350 degrees F.
Prepare loaf pans, either 1 or 2 large ones or 4 mini ones.  Coat pans with nonstick spray or use paper towel to spread softened butter on pans then dust with flour, shaking off excess.
Dissolve baking soda in sour cream in small bowl (or in the bowl of your electric mixer).
Cream butter and sugar together until fluffy.
Add eggs one at a time until well-incorporated.
Add sour cream mixture to butter mixture and mix.
Add bananas and flour and salt alternately.  Add vanilla.  You may also add chocolate chips, chopped nuts, and raisins.
Pour batter into pans and bake for 45 minutes (for large loaf pans) and 30 minutes (for mini-loaf pans) or until toothpick inserted in center comes out clean.