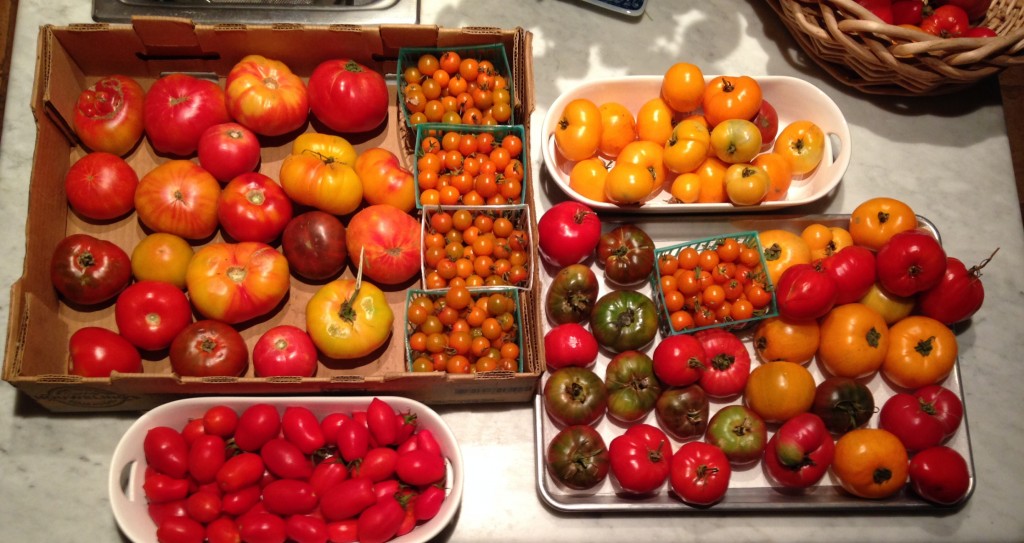 Last week I answered the call to head down to the Hollywood Farmers' Market and help my daughter Elizabeth with the annual Tomato Tasting Festival:  five hours of slicing and serving the most amazing collection of tomatoes ever assembled in one small space.  Eight to ten vendors participated, including some of our own local and dependable vendors:  Beylik Family Farms, Tutti Frutti Farms, and John Givens Farm.  Our merry group of volunteers happily put together tasting plates filled with workhorse beauties like Early Girl, Beefsteak, Big Beef, and the sweet as candy Sun Gold and Red Cherry.  We interspersed them with exquisite heirloom favorites like Cherokee Purple, Green and Red Zebra, and Brandywine and intriguing new varieties with exotic names, such as Mango, Pineapple, Ananas, Marvel Stripe, Chocolate, Russian, and Japanese Tough Boy.
My reward for this farmers market adventure?  Two crates filled to the brim with luscious, flavorful tomatoes.  After a few days of Caprese salads and fresh tomatoes on everything, the race against the fruit flies began.  I could hardly keep up with these over-ripening beauties,  quickly turning them into sauces, salsas, and soups.  Finally, the crockpot came out of its summer slumber and was recruited to take on as many tomatoes as possible.  A few teaspoons of dried oregano and basil, a teaspoon or two of kosher salt, and six or so hours later:  mission accomplished!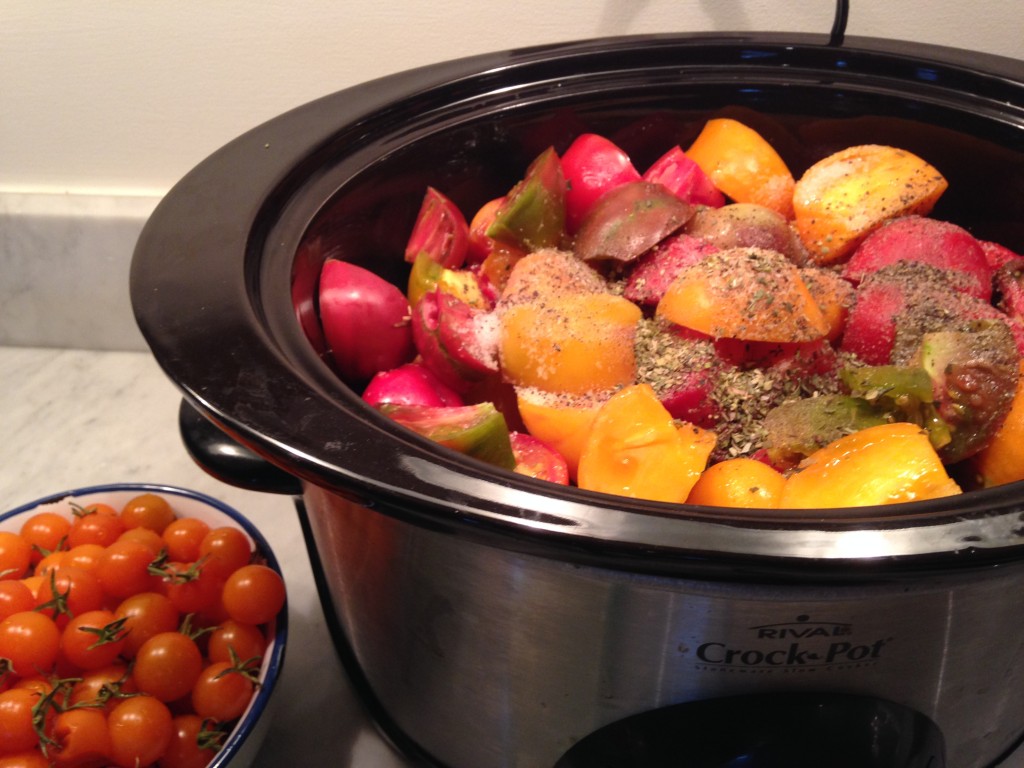 Ripe tomatoes fill all our gardens and farmers markets these final days of summer, so if you find yourself the lucky recipient of an abundance of tomatoes, here are a few tips:
1.  Fill a crockpot with tomatoes and sprinkle with a couple of teaspoons of kosher salt and a few teaspoons of your favorite dried herbs (oregano, thyme, basil), optional.  Or season only with salt to keep options open for a variety of uses.  Cook on low for six hours or until tomatoes reach desired doneness.
2.  Strain the tomatoes and save the juice to use as a broth to flavor soups and stews.
3.  Put tomatoes in a food processor and pulse to create desired texture (coarsely chopped or pureed) or put through a food mill to separate out the skins and seeds.
4.  Use tomatoes to make your favorite sauce or salsa or freeze in plastic bags for future use.
5.  Freezing tip:  place plastic bag in a loaf pan and pour tomatoes into bag.  Freeze in loaf pan and remove pan once the tomatoes are frozen.  This helps create a square and manageable shape for the freezer.