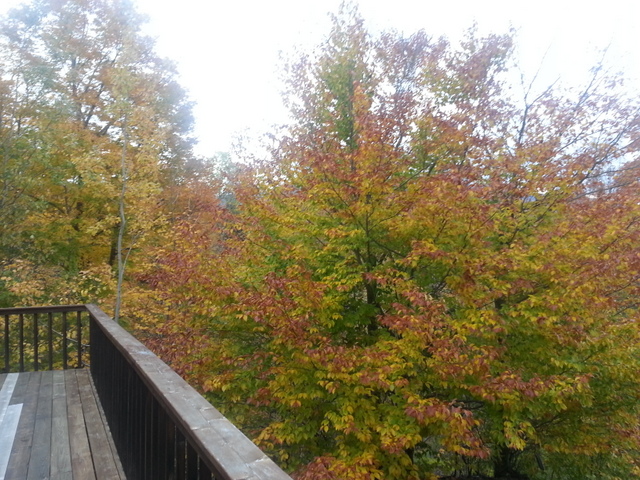 Last week, my husband and I visited family in Vermont.  Expecting autumn weather, we packed sweaters and boots, only to realize too late that shorts might have been more appropriate.  Each day brought temperatures of over 70 degrees, but since the fall colors were out in all their glory and it was, after all, New England in October, we pretended it was cold!
First night there, we gathered around the kitchen to enjoy a big pot of chili that our hostess, sister-in-law Debby, had made for us.  The easy, communal nature of the dish reminded us that some recipes are weather-proof; rain or shine, hot or cold, if you use the right spices and some delicious toppings, if you gather together a group of people who know each other oh-so-well, it's always a good time for chili.
(Rhona)
Even though it also still feels like spring here in Santa Barbara, we're getting out the slow cooker and starting to think about fall flavors.  Halloween and Thanksgiving are just around the corner so how about a nice big bowl of turkey chili to get things started?
Here's our recipe, best if made a day ahead:

Turkey Chili
Ingredients
2 - 3 pounds ground turkey
2 tablespoons vegetable oil
1 large onion, chopped
1 small green pepper, chopped (can also use yellow or red pepper)
3 garlic cloves, chopped
2 tablespoons chili powder
1 teaspoon cumin
1 teaspoon dried oregano
⅛ teaspoon cayenne (optional, for heat)
2 teaspoons salt
1 teaspoon pepper
½ teaspoon cinnamon
1 1-ounce piece dark chocolate, chopped (optional but recommended)
2 cans kidney beans, red or white or combination (or soak 1 cup of dry beans in water overnight)
1 can black beans (or soak ½ cup of dry beans in water overnight)
2 28-ounce cans Marzano tomatoes, with juice
grated cheddar cheese for topping
sour cream for topping
tortilla chips for topping
Instructions
In a medium fry pan, brown turkey, then drain and set aside.
Heat oil in large Dutch oven over medium heat.
Add onions and peppers, then cook over low heat until soft. After about 7 minutes, add garlic and continue cooking it all for another 2 minutes.
Add chili powder, cumin, oregano, salt, pepper, cinnamon and mix well.
Add chocolate, if using, and mix well.
Add the turkey and beans, and cook until meat is completely brown.
Add tomatoes, breaking them up with a fork (or pureeing them in a food processor)
Mix well. Heat through and simmer for 30 minutes.
Serve with bowls of toppings (grated cheddar, sour cream, crushed tortilla chips) perhaps with corn bread cut into wedges, served on the side.