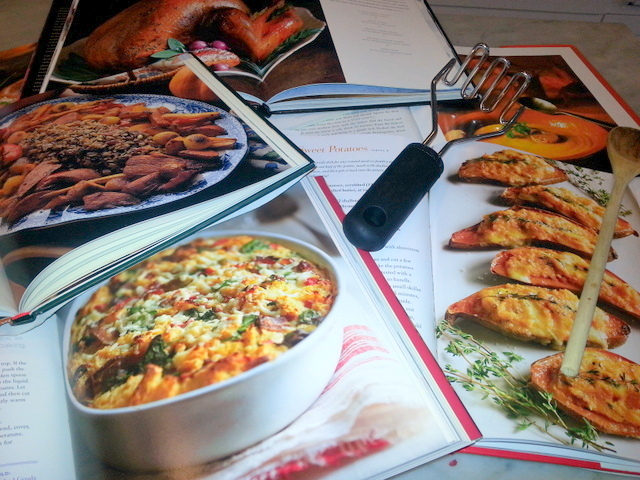 The blogosphere is abuzz with creative ideas and the cooking channel is shouting recipes from all directions.  The possibilities are endless and quite overwhelming.  There are so many variations on the theme.
But here's all you really need:
turkey with stuffing
yams or mashed potatoes
green beans
apple pie and pumpkin pie
coffee or tea
at least one other person to share your table
Here's what you do:
Roast the turkey.
Prepare a tray of stuffing.
Bake the yams.
Steam the beans.
Buy two pies and serve with coffee or tea.
Take a deep breath and allow the gratitude to take over.  This is not about Pilgrims or matching dinner plates.  This is about being with your people.  Enjoy!
Do as many dishes as you want and leave the rest for tomorrow.
Watch "Home for the Holidays" before you go to bed to allow the smiles to continue.
Take a bubble bath.
Sweet dreams.
Happy Thanksgiving!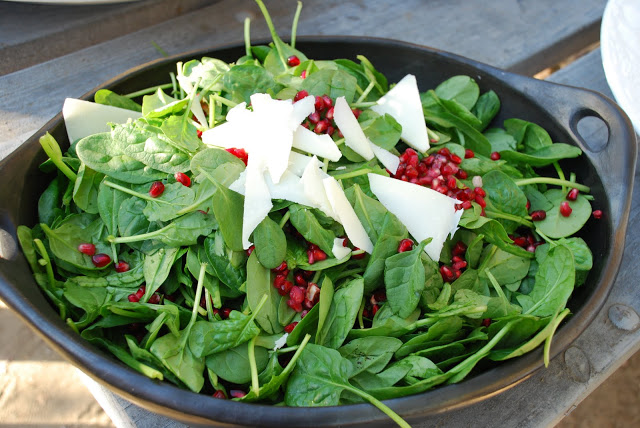 Easy and Festive Thanksgiving Salad
Simple ingredients and pretty on the plate, this spinach, pomegranate seed, and Parmesan salad takes no time to prepare.
Ingredients
7 ounces baby spinach (one bag)
½ cup pomegranate seeds
¼ cup freshly squeezed lemon juice (preferably Meyer lemon)
½ cup extra-virgin olive oil
½ teaspoon kosher salt
¼ teaspoon freshly ground black pepper
2 ounces freshly shaved Parmesan cheese
Instructions
Place the spinach and pomegranate seeds in a large flat salad bowl.
In a small bowl, whisk together the lemon juice, olive oil, salt and pepper.
Pour enough dressing on the salad to moisten as desired and toss well. Adjust salt and pepper to taste. Top with the shaved Parmesan and serve.
 
Basic No-frills Stuffing
This is probably the recipe many of our parents and grandparents used... it's traditional bread stuffing and easy to prepare the night before -- just don't stuff it into the turkey until right before roasting!
Ingredients
12 cups stale bread cubes (we use brioche and sourdough with crusts removed)
½ cup butter
1 large onion, diced
2 cups celery, diced
1½ teaspoons salt
¼ teaspoon ground black pepper
½ cup chopped parsley
¼ cup minced fresh sage (optional)
1 - 2 cups chicken (or vegetable) stock
Instructions
Put the cubed bread in a big bowl.
Melt butter in a large pot. Add onion and celery and cook on low until softened but not browned. Add to bread.
Add salt, pepper, parsley, sage and toss until combined.
Add the stock and mix well.
You can stuff this in your turkey* or bake in lightly greased casserole at 325 degrees until heated through, about 45 minutes.
*If you stuff the turkey, be sure to remove the stuffing promptly after the turkey is cooked.