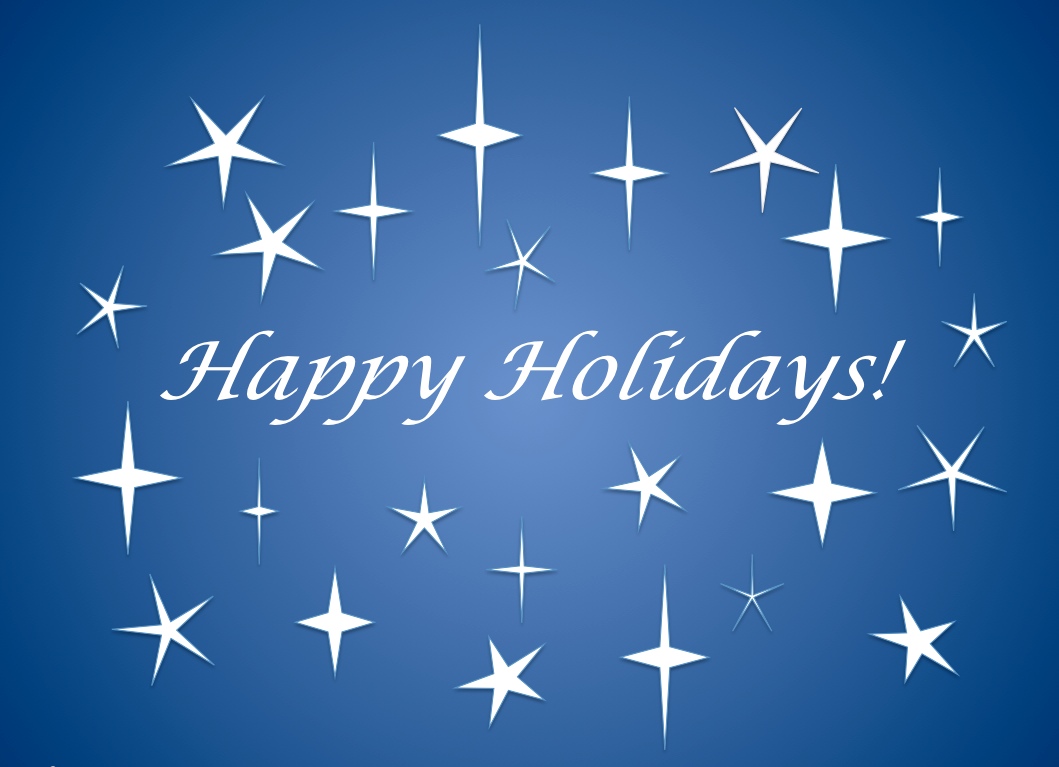 Don't be too hard on yourself if you stray from your salads and veggies for the next couple of weeks.  Everyone seems to have a favorite holiday dessert and whether you're celebrating Hanukkah this week or Christmas the week after, at some point there's going to be a cookie.
Rhona's traditional Hanukkah table is likely to include jelly doughnuts and gold-wrapped chocolate "coins," but for a delicious cookie, there's nothing like rugelach.    Layered and flaky, there are so many different kinds, some with fruit filling, some with nuts or chocolate… but the base is a rolled cream cheese dough.  Ina Garten has the easiest, most delicious recipe we've seen.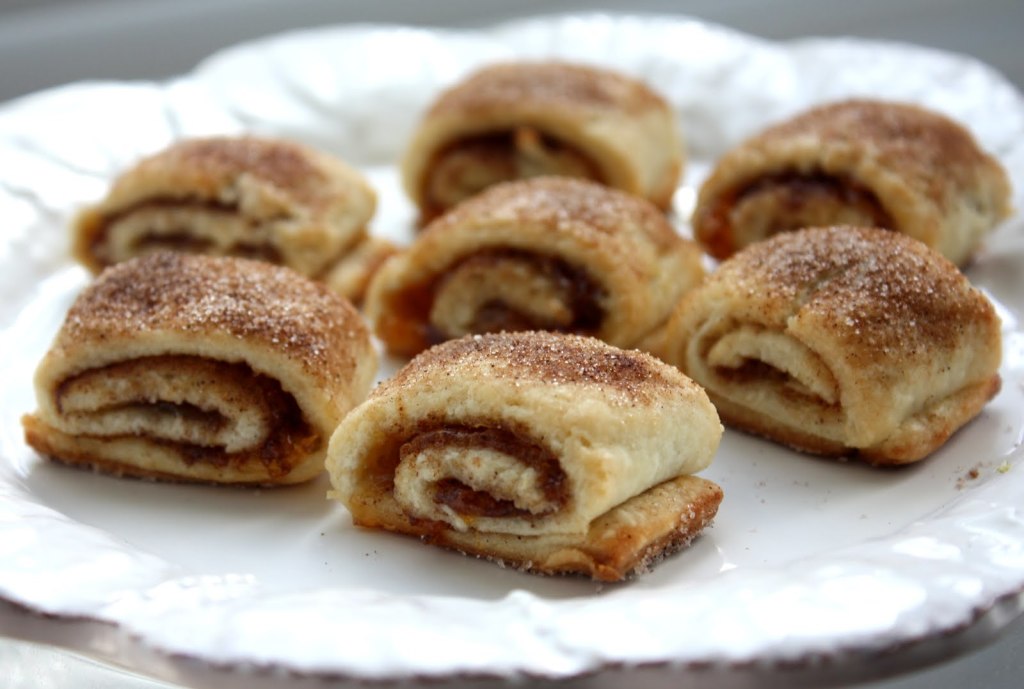 Rugelach
(from Barefoot Contessa Parties by Ina Garten)
Ingredients
8 ounces cream cheese, room temperature
½ pound unsalted butter, room temperature
¼ cup granulated sugar plus 9 tablespoons
¼ teaspoon kosher salt
1 teaspoon pure vanilla extract
2 cups all-purpose flour
¼ cup light brown sugar, packed
1½ teaspoons ground cinnamon
¾ cup raisins
1 cup walnuts, finely chopped
½ cup apricot preserves, pureed in a food processor
1 egg beaten with 1 tablespoon milk, for egg wash
Instructions
Cream the cheese and butter in the bowl of an electric mixer fitted with the paddle attachment until light. Add ¼ cup granulated sugar, the salt, and vanilla. With the mixer on low speed, add the flour and mix until just combined. Dump the dough out onto a well-floured board and roll it into a ball. Cut the ball in quarters, wrap each piece in plastic, and refrigerate for 1 hour.
To make the filling, combine 6 tablespoons of granulated sugar, the brown sugar, ½ teaspoon cinnamon, the raisins, and walnuts.
On a well-floured board, roll each ball of dough into a 9-inch circle. Spread the dough with 2 tablespoons apricot preserves and sprinkle with ½ cup of the filling. Press the filling lightly into the dough. Cut the circle into 12 equal wedges—cutting the whole circle in quarters, then each quarter into thirds. Starting with the wide edge, roll up each wedge. Place the cookies, points tucked under, on a baking sheet lined with parchment paper. Chill for 30 minutes.
Preheat the oven to 350 degrees F.
Brush each cookie with the egg wash. Combine 3 tablespoons granulated sugar and 1 teaspoon cinnamon and sprinkle on the cookies. Bake for 15 to 20 minutes, until lightly browned. Remove to a wire rack and let cool.
Joan's beautiful Christmas buffet will most certainly have a selection of her family's favorite treats: trays of Italian pine nut crisps flavored with ground fennel, peanut butter chocolate kiss cookies, snowballs, and the perfect accompaniment to a cup of hot espresso, her sesame seed cookies.  [Warning:  they're addictive!]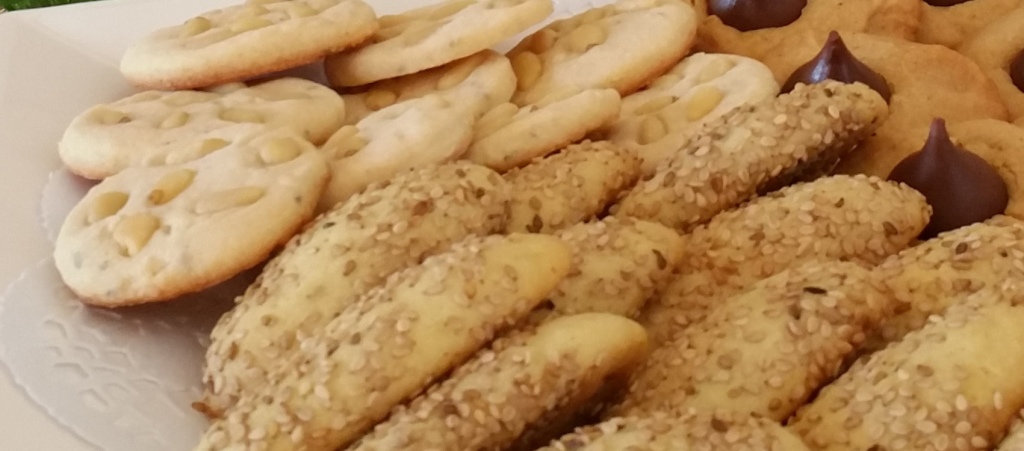 Sesame Seed Cookies
Serves:
approximately three dozen cookies
Ingredients
3½ cups all-purpose flour
2 teaspoons baking powder
¼ teaspoon salt
½ pound (2 sticks) unsalted butter, at room temperature
1 cup granulated sugar
2 large eggs, at room temperature
1 teaspoon pure vanilla extract
½ cup milk or water
1-2 cups sesame seeds
Instructions
Preheat oven to 375 degrees F.
Sift flour, baking powder, and salt together. Set aside.
In the bowl of an electric mixer fitted with a paddle attachment, cream the butter and sugar. Add the eggs one at a time and then the vanilla. Gradually add the dry ingredients and mix to form a soft dough.
Break dough into 1-inch balls and shape into a small log, about 1½ to 2 inches long by ½ inch thick.
Put the milk and the sesame seeds in separate shallow bowls or plates. Dip each log in the milk and then in the sesame seeds to coat. Place on a greased sheet pan about 1 inch apart.
Bake for 10 to 12 minutes or until the cookies are lightly browned. Cool cookies in the sheet pans for 3 to 4 minutes, then transfer to wire racks to cool completely.
We here at Food and Friendship wish you the happiest of holidays, and in that spirit, we continue our tradition of offering one of our favorite cookbooks as a gift to one person whose name we'll choose at random from everyone who comments on this post. 
Tell us YOUR favorite holiday cookie and you'll be entered to win  one of our favorite cookbooks.   
Winner will be announced here on New Year's Eve.
link