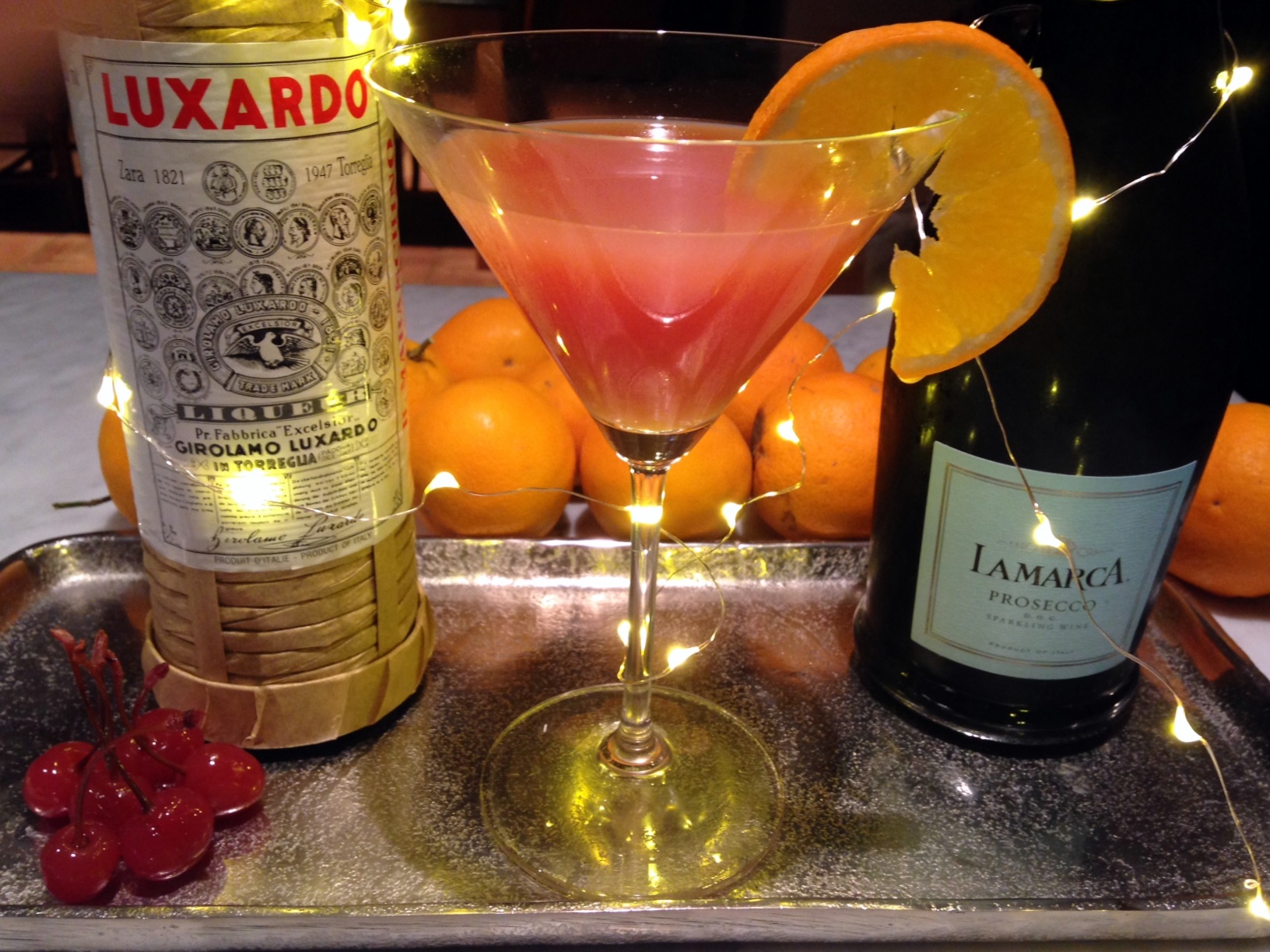 It's time to toast the new year and we're doing it with Champagne, Prosecco, or a beautiful seasonal cocktail.  Here are a few we love.
Joan's signature cocktail is a Luxardo Cranberry Orange Juice Martini (adapted from The Stranded Foodie).  The star ingredient is Luxardo, an Italian liqueur made from Marasca cherries and crushed cherry pits.  A combination of  sour cherry, bitters, and almond-like flavor gives this liqueur a distinctive taste.  Mixed with vodka and two juices, then finished with a splash of Prosecco, we love this cocktail's  just a bit bitter, just a bit sweet taste.  Joan serves individual martinis shaken in a martini glass or makes a big batch for a crowd and serves over ice in a highball glass.  Here's the recipe for one martini, but it can easily be doubled, quadrupled, etc.:
Luxardo Cranberry Orange Martini
1/2 ounce Luxardo maraschino liqueur
1 ounce of your favorite vodka
2 ounces cranberry juice cocktail
2 ounces freshly squeezed orange juice
Splash of Champagne or Prosecco
Orange slices
Maraschino cherries (soaking them in Luxardo is optional but a nice touch)
Place all ingredients (except the Champagne or Prosecco) into a cocktail shaker; add ice to fill.  Shake until chilled.  Pour into a martini glass and top with a splash of Champagne or Prosecco.  Garnish with an orange slice and a maraschino cherry and serve.
If making for a crowd, multiply recipe to the desired servings (except for the bubbly) and store in refrigerator until party time.  Serve over ice in a highball glass, top with the bubbly, and garnish with orange slice and maraschino cherry.

Our friend Patty sends us this idea from her home in New Hampshire, although she says it reminds her of being in Italy.  And it has the added beauty of containing blood oranges, our favorite seasonal fruit.  Once again, a great drink for your New Year's Eve guests!
Blood Orange Margarita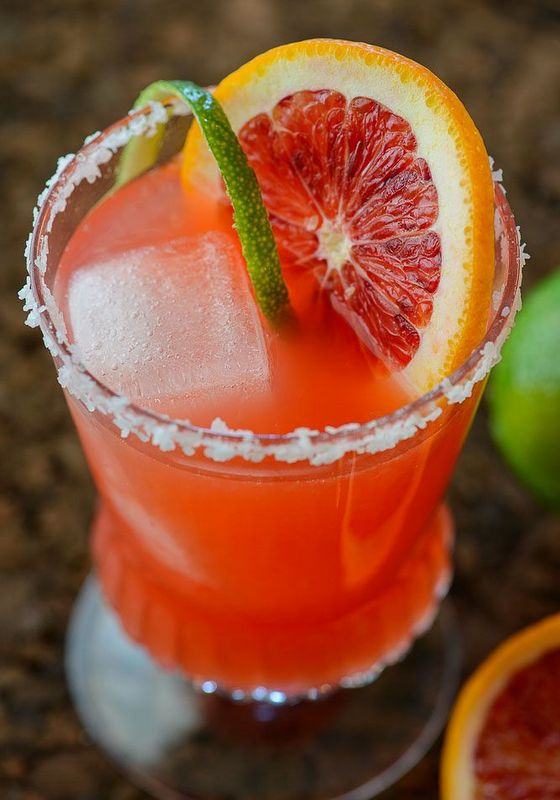 1 quart fresh blood orange juice or fresh orange juice (about 12 blood oranges or 8 large navel oranges)
1 1/2 cups fresh lime juice (about 12 limes)
1 1/2 cups Cointreau or other triple sec
3 1/2 cups silver tequila
Kosher salt
1 blood orange or orange wedge, plus 12 thin blood orange or orange slices
Ice
1 dozen small sage sprigs or leaves
In a large pitcher, mix the blood orange juice with the lime juice, Cointreau and silver tequila. Refrigerate until chilled, at least 30 minutes.
Spread a small mound of salt on a small plate. Moisten the outer rim of 12 martini glasses with the orange wedge, then dip the rims into the salt to lightly coat.
Add ice to the pitcher and stir well, then strain into the prepared glasses. Garnish each margarita with a blood orange slice and a sage sprig and serve.
If  you want to jump on the bandwagon and get ready to go to Havana, there's always the old reliable Cuba Libre which is basically rum, cola, and lime.
Or just pour an ounce of pomegranate juice in a glass, then fill with your favorite bubbly …and know that we here at Food and Friendship wish you the happiest of new years!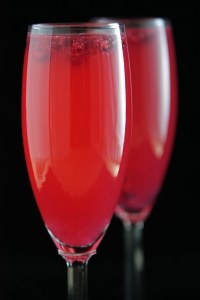 Remember, if you commented on our previous post ("Sweet Holidays …"), you're eligible to win our giveaway; we'll announce on New Year's Eve so stay tuned!