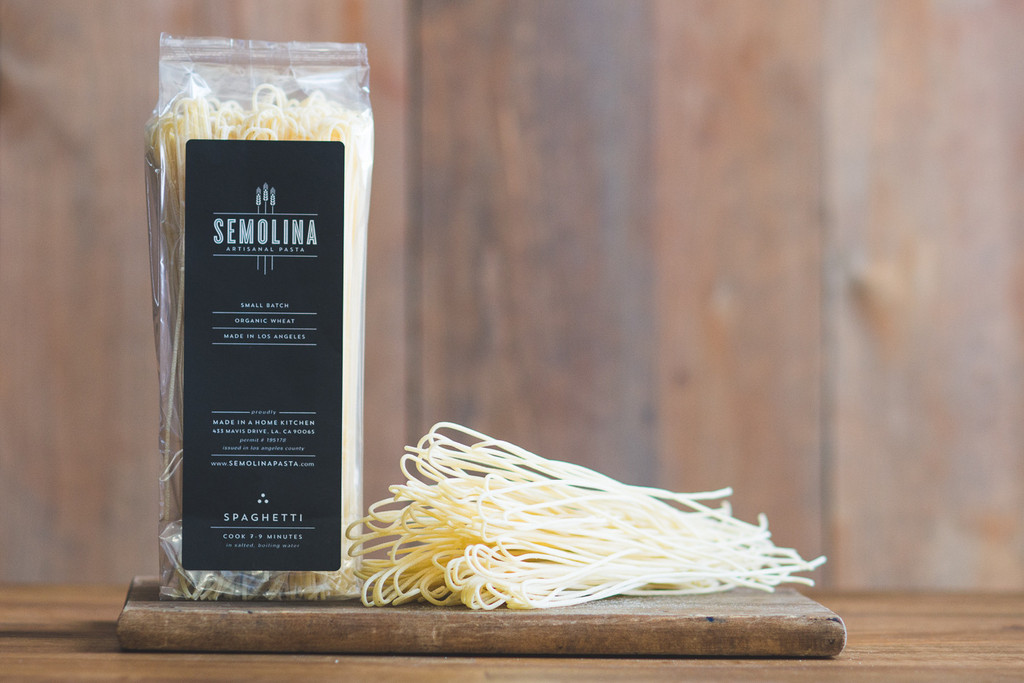 Today is National Spaghetti Day, impossible for us here at food and friendship to ignore!
Legend has it that Marco Polo brought pasta to Italy by way of his travels to China in the 13th century.  But as any true Italian will tell you, the Italians (by way of the Etruscans) were making a form of pasta way back in the third century, hundreds of years before Marco Polo's famous excursion.  Fast forward to the 20th century, Italian food is all the rage and any cook worth his apron knows that the best pasta is imported from Italy.  Well . . . .  not so fast!
This Christmas, my daughter Elizabeth brought home from her store, POP Produce at Arroyo General in Highland Park, 10 pounds of handmade pasta from Semolina Artisanal Pasta.  That might seem like an excessive amount of pasta to store in the pantry, but as an Italian family, we always have at least that much on hand.  Started by Elizabeth's friend, Leah Ferrazzani, who after many years of research and development has perfected a way of making dried pasta right here in America with organic wheat that rivals and perhaps surpasses pasta from Italy.  As Leah points out, we grow some of the finest wheat here in America and even export some to Italy for their pastas.  So why not make it locally?  (Did someone say carbon footprint?)  We're trying out her spaghetti tonight with a recipe from La Cucina Marinello, Spaghetti alla Puttanesca.  We'll keep you posted on how it turns out.

Spaghetti with Puttanesca Sauce
Ingredients
2 tablespoons plus 1 tablespoon extra-virgin olive oil
6-8 flat anchovy filets, drained and chopped, optional
3-4 garlic cloves, peeled and finely chopped
1 teaspoon crushed red pepper plus extra for serving
2 tablespoons tomato paste
¼ cup dry red wine
1 (28-ounce) can diced tomatoes, with juice
2 teaspoons dried basil
¼ cup capers, drained
25-30 pitted kalamata olives, halved
Kosher salt
Freshly ground black pepper
1 pound spaghetti or penne
Freshly grated Parmesan cheese, for serving
Instructions
In a large skillet, warm the 2 tablespoons of olive oil over low heat. Add the
anchovies and sauté, stirring with a wooden spoon until the anchovies are
dissolved. Add the garlic and red pepper and sauté for about 15 seconds until
garlic is fragrant.
Add tomato paste and red wine, stirring until paste is combined. Add the
tomatoes, increase the heat to medium-high and bring sauce to a quick boil.
Immediately lower the heat to medium-low and simmer for 8 to 10 minutes,
stirring occasionally. Add the basil, capers, and olives, reduce heat to low and
simmer for 15 to 20 minutes. Add salt and pepper to taste.
While the sauce is simmering, bring a large pot of salted water to a boil over
high heat. Add the pasta and a dash of olive oil. Cook 8 to 10 minutes until
al dente, stirring occasionally. Drain well.
Add drained pasta to the skillet. Add remaining tablespoon of oil and toss
pasta with the sauce until pasta is well coated. Serve with crushed red pepper and
Parmesan cheese.