When we asked you what your favorite holiday treats were and then chose a winner at random from your comments, we got to hear about your wonderful cookie traditions.  Here is the entry from Lindsay, our winner, who says these two, from her mom, Tricia, and her mother-in-law, Cindy, are her absolute favorites.  She was kind enough to share the recipes with us, so enjoy!
Tricia's Chocolate Chip Oatmeal Cookies with M&M's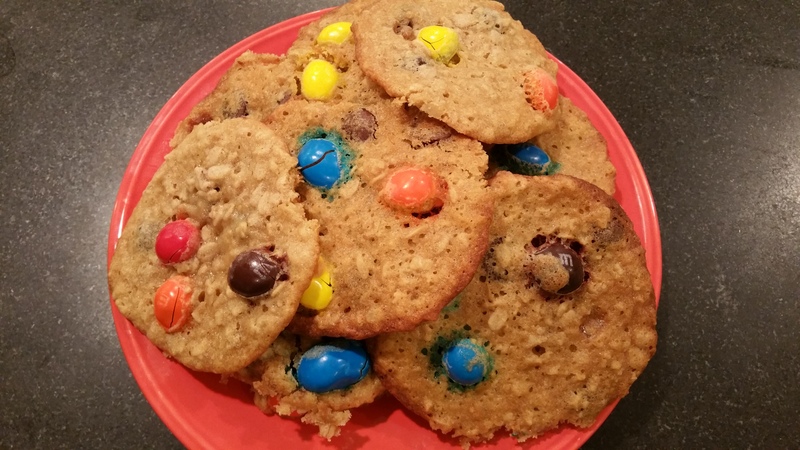 Makes approximately 2 dozen cookies.
1 cup butter (2 sticks)
3/4 cup brown sugar
3/4 cup sugar
2 eggs
1 teaspoon vanilla
1 teaspoon hot water
1 1/2 cups flour
1 teaspoon salt
1 teaspoon baking soda
2 cups uncooked oatmeal
1 cup chocolate chips
1 cup M&M's
Preheat oven to 375 degrees.
Cream butter and gradually add sugar, eggs, hot water, and vanilla.
Gradually add flour, salt, baking soda, plus other dry ingredients (oatmeal and chocolate chips).
Scoop teaspoon of dough onto cookie sheet lined with parchment paper and lightly press 1 – 3 M&M's onto each cookie.
Bake for 7 to 10 minutes, until edges just start to turn brown – they should be underdone when you remove them from the oven, as they'll continue to cook.
Let stand on pan for 5 minutes before transferring to wire rack to cool completely.
 Cindy's Ricotta Cookies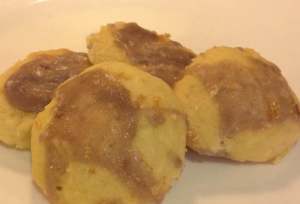 Makes approximately 4 dozen cookies.
Preheat oven to 350 degrees.
1/2 pound butter (2 sticks)
2 cups sugar
3 eggs
1 teaspoon vanilla
1 pound ricotta cheese
4 cups flour
1 teaspoon salt
1 teaspoon baking soda
ICING:
2 cups powdered sugar
2 tablespoons milk
1 teaspoon vanilla
2 tablespoons butter or margarine
2 drops food coloring (optional)
In bowl of an electric mixer, or using hand mixer, combine butter and sugar.
Add eggs, vanilla, ricotta, then gradually add flour, salt, and baking soda.
Spoon onto an ungreased cookie sheet or one lined with parchment paper.
Bake for 10 minutes.
Let stand in pan for 5 minutes, then transfer to wire rack to cool.
When completely cooled, ice the cookies and let stand to harden if you can wait that long before taking a bite!