When Ina Garten, also known as The Barefoot Contessa, sat down for an interview at the Granada Theater the other night, the place was packed to the rafters.  The evening was part of the UCSB Arts and Lectures series and since Ina is one of our inspirations in the kitchen, we couldn't miss the chance to see her in person.  Despite the large audience, we weren't disappointed… she was personable and articulate, chatting and answering questions about how she made the transition from government work to catering, and then to cookbook author and tv chef.  We all got the feeling that no one is more surprised at how her life turned out than she is, and certainly no one is more delighted!
What everyone seems to love about her style is the way she makes the most complicated dishes so accessible and so elegant.  The subject of her lemon roast chicken came up a few times, along with her dessert of berries pavlova, both easy and delicious, and both suitable for a fancy dinner party or a picnic on the beach.  That seems to be her trademark:  down to earth, simple fare, easily prepared, with lots of flavor and a beautiful presentation.  We love how dependable her recipes are; they always come out just right and we all have our favorites.  What are yours?    
Ina is on a book tour, promoting the most recent of her nine cookbooks, "Make it Ahead."  One of the recipes from this book was actually on Joan's dessert menu a few weeks ago and although Joan insists she's not a baker, this Lemon-Ginger Molasses Cake waiting in Joan's refrigerator for its debut proves otherwise.   Ina would be proud.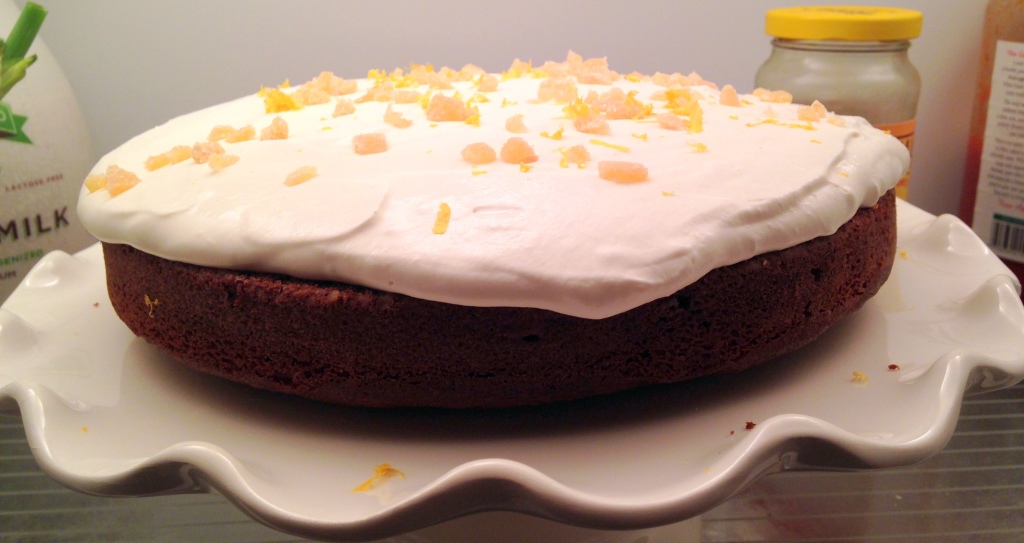 Lemon-Ginger Molasses Cake with Whipped Cream
Ingredients
¼ pound (1 stick) unsalted butter, at room temperature
½ cup light brown sugar, lightly packed
2 extra-large eggs, at room temperature
½ cup unsulphured molasses
2 teaspoons grated lemon zest, plus extra for serving
1½ cups all-purpose flour
2 teaspoons ground ginger
½ teaspoon baking soda
½ teaspoon kosher salt
½ cup whole milk
⅓ cup small-diced crystallized ginger, plus extra for serving
Whipped Cream, for serving
For the whipped cream:
1½ cups cold heavy cream
¼ cup confectioners' sugar
2 tablespoons granulated sugar
2 tablespoons creme fraiche
1 teaspoon pure vanilla extract
Instructions
Preheat the oven to 350 degrees F. Grease an 8-inch-round baking pan, line with parchment paper, then grease and flour the pan. In the bowl of an electric mixer fitted with the paddle attachment, cream the butter and sugar on medium speed for 3 to 5 minutes, until light and fluffy. Scrape down the sides with a rubber spatula. Add the eggs, one at a time, the molasses and the 2 teaspoons lemon zest and mix until combined. (The batter may look curdled.)
Sift together the flour, ground ginger, baking soda and salt. With the mixer on low, slowly add the dry ingredients, alternating with the milk, scraping down the sides. Mix until smooth. With a rubber spatula, fold in the ⅓ cup crystallized ginger.
Pour the batter into the prepared pan, smooth the top and bake for 30 to 35 minutes, until a toothpick just comes out clean. Don't over bake it! Cool in the pan for 30 minutes, turn out onto a baking rack and cool completely. Spread the top with whipped cream and sprinkle with crystallized ginger and grated lemon zest.
For the whipped cream:
Place the cream, confectioners' sugar, granulated sugar, creme fraiche and vanilla in the bowl of an electric mixer fitted with the whisk attachment. Beat on high speed, until it forms soft peaks. Refrigerate up to 4 hours before serving.