3/14 is this weekend, and in addition to celebrating both our husbands' birthdays which are also this weekend, we here at Food and Friendship are talking about our favorite mathematical constant: pi … well, pie.
Savory or sweet, there's something about a crust and a filling that's always welcome at our tables.
Daughter-in-law-to-be Dana brought several spinach pies to our Thanksgiving picnic back in November, and we slyly tucked one in the freezer for a future meal….we brought it out last week and it was just perfect for dinner with the grandkids.
Joan experimented with this one-crust, rustic apple crostata at a recent party she gave and it was a delicious ending to her dinner of chicken cacciatore (more on that in a future post!)
The idea here is to vary the fillings and to not be afraid of pie crusts; of course you can purchase them already made, but we promise, if you follow the recipe below, you'll find out how do-able it really is.  Go ahead and be brave!  It's the American way — as easy as, well, you know.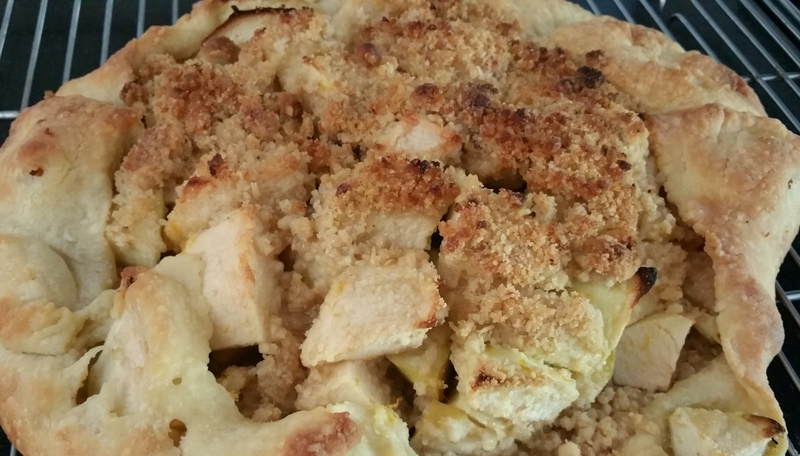 Apple Crostata
This recipe is adapted from Rick Tramonto's cookbook Osteria. Please note that the recipe for the crust is quite generous. We divided the dough and used half for this recipe and froze the other half for another time. If you wish, you can easily cut this recipe in half. We used the entire apple filling, which made for a generous and delicious crostata. Serve with Caramel Gelato or Vanilla Ice Cream.
Ingredients
4 cups all-purpose flour
2 cups (4 sticks) cold, unsalted butter, cubed
1 cup granulated sugar, plus more for sprinkling
Grated zest 1 lemon
2 large eggs
2 large egg yolks
2 quarts apple juice
⅔ cup packed light brown sugar
1 cinnamon stick
4 Granny Smith apples or other firm, tart apples, peeled, cored, and each cut into 16 wedges
Instructions
To make the dough:
In the bowl of an electric mixer fitted with the paddle attachment, blend the flour, butter, granulated sugar, and lemon zest on medium speed until the mixture resembles coarse sand.
In a small bowl, whisk 2 eggs and the egg yolks and add to the bowl of the mixer all at once. Mix on medium speed just until the dough comes together.
Turn the dough out onto a lightly floured surface, gently gather into a ball, divide in half and form two balls, wrap both in plastic wrap, and refrigerate one for 2 hours to 2 days and freeze the other for future use.
To make the filling:
In a medium saucepan, mix the apple juice and brown sugar. Add the cinnamon stick and bring to a low simmer over medium heat. Cook gently for about 15 minutes, or until reduced by half.
Add the apples, stir gently, and cook for about 5 minutes, or just until slightly softened and fork tender. Remove from the heat and set aside while you roll the crust.
To make the crostata:
Preheat the oven to 350 degrees.
Remove the dough from the refrigerator and let rest for about 20 minutes. On a lightly floured surface, roll the dough into a large sheet about ¼ inch thick.
Carefully transfer the dough to a baking sheet. It should nearly cover it and may overlap the sides. Spoon the apple filling into the center of the dough.
In a small bowl, whisk 1 egg with 2 tablespoons of cold water. Brush the egg wash over the exposed edges of the dough and then fold them up and over the apple filling so that the dough encases the apples. It will not cover the apples. Make rough pleats or folds in the dough covering the fruit.
Brush the remaining egg wash over the dough-covered apples. Sprinkle with granulated sugar. Bake for 15 to 20 minutes, or until the crust is golden brown and the filling is bubbling.
Serve with caramel gelato or vanilla ice cream.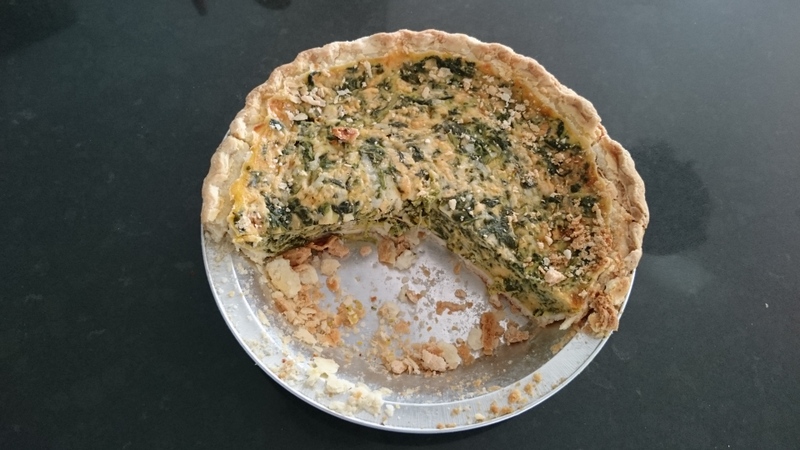 Karen's Spinach Pie
This is a recipe we adapted from Dana's mom, Karen, and can easily be made with or without the crust. It's similar to a Quiche Lorraine, but with no cream, chopped onions or bacon. The latter two items could be added if you wish.
Ingredients
1 pie crust, if using (see recipe above or use a frozen one)
1 tablespoon olive oil
1 pound fresh spinach, rinsed and dried,
or 1 10-ounce box frozen chopped spinach,defrosted and drained
2 cups shredded Swiss or cheddar cheese; you can even use cubed feta
4 large eggs
¼ cup milk
2 cloves garlic, minced
Instructions
Prepare your pie crust if using.
Heat the olive oil in a large saute pan over medium heat.
Preheat oven to 375 degrees.
Add garlic and cook for about a minute so it doesn't burn.
Add the spinach and cook until wilted, then let cool to room temperature in the pan.
Drain off excess liquid if there is any - really wring it out in a clean towel or cheesecloth.
Mix the eggs, cheese, and milk in a large bowl.
Add the spinach and garlic to the egg mixture and combine.
Pour it all into your baking dish or pie crust.
Bake until the top is slightly browned and the cheese mixture has set, about 30 - 45 minutes.
Cool for 10 minutes before slicing.