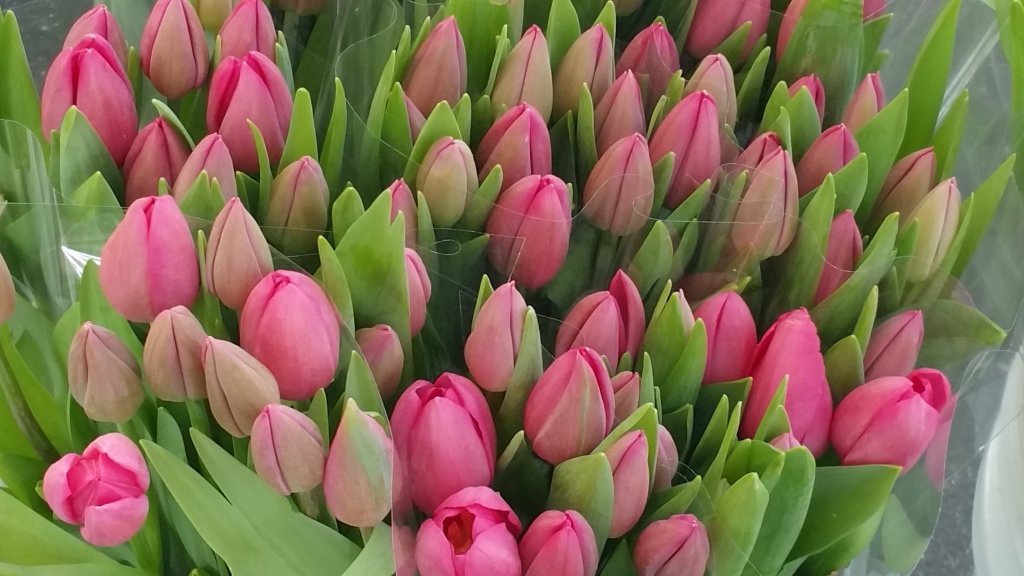 While we sympathized with our friends and family in other parts of the country as they endured the last frigid gasps of winter, and although we've had the mildest of seasons here in Santa Barbara, we still were brought up short by the sight of spring in all its glory popping up recently everywhere we looked.
Making its appearance at the farmers market two weeks ago were the most beautiful tulips and ranunculus, bursting with color.  Our garden freesia abounds, and fragrant lavender is on the way – a palette of pastels and jewel tones in every possible hue. Spring did arrive early; everything is already coming up roses, sunshine, and daffodils.  We even got a little tease of rain, just a few drops to dust things off, making the landscape look newly cleaned.
Spring vegetables are here also.  Asparagus and beautiful lettuces are everywhere.
Tulips and veggies — a classic seasonal combination!
So here's a recipe for an early spring dish to get us in the mood for lighter fare on our tables.
And while we're at it, here are some photos of the market flowers, just because.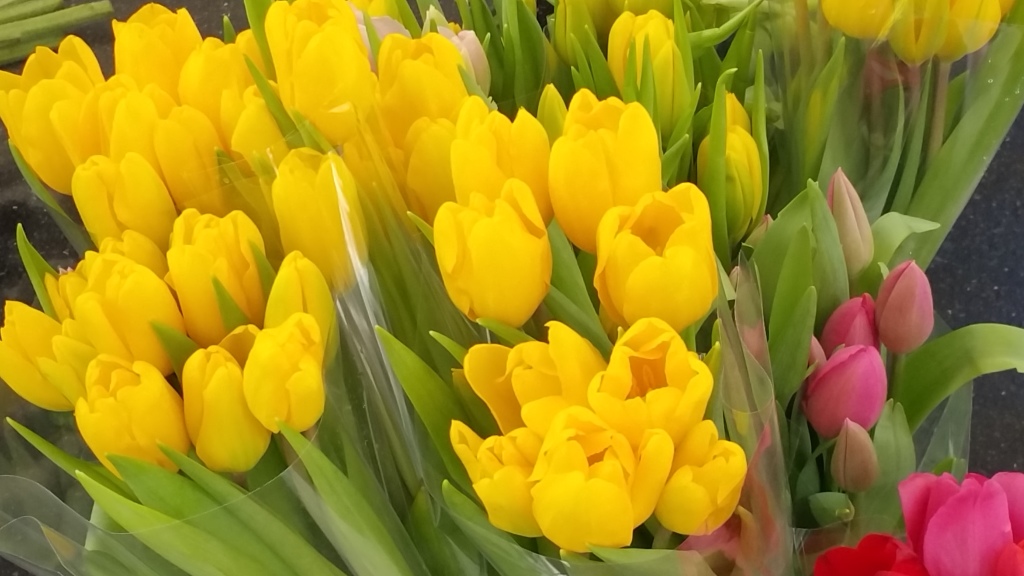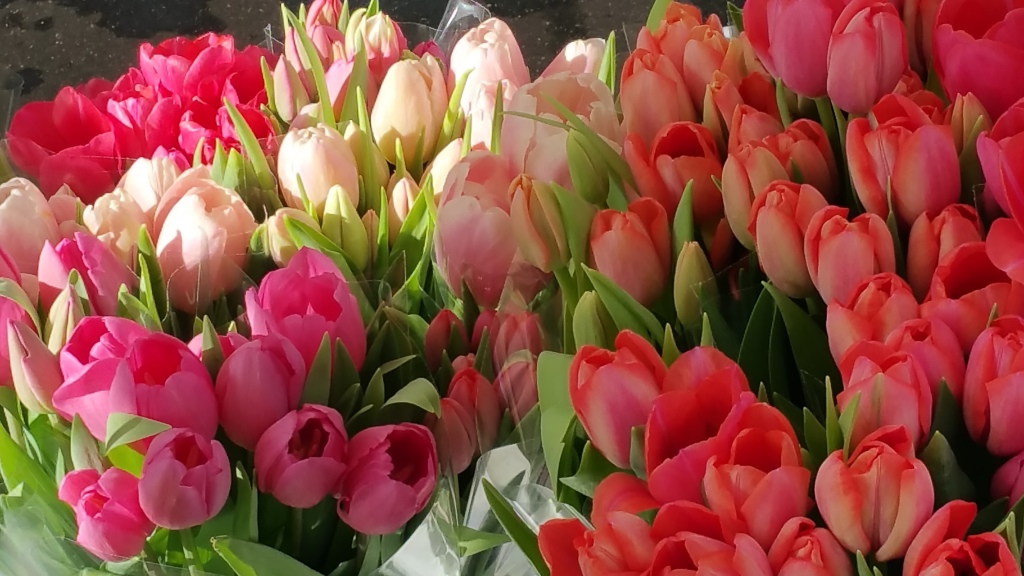 Joan's Santa Barbara Spring Salad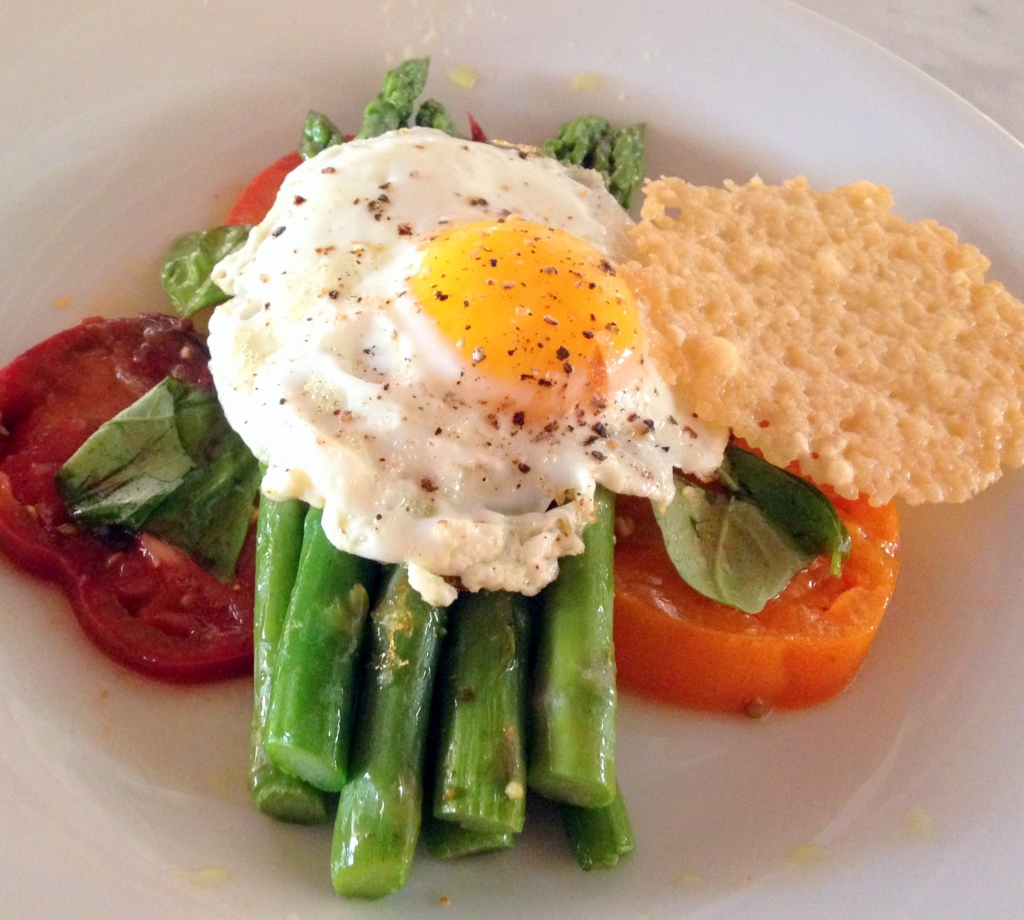 This dish turned out to be a lovely last minute lunch to share with our friend Jeanne. Feel free to double or triple the recipe and don't hesitate to serve for dinner. The frico is simply baked cheese and it forms a delicious cracker to accompany the salad. This is an easy salad, essentially asparagus, tomatoes, and a fried egg. Don't be deterred by the length of the recipe; it takes more time to explain than it does to actually create!
Ingredients
2 ounces Parmigiano Reggiano cheese, grated or shaved
1 bunch thick asparagus
Extra virgin olive oil for drizzling
Truffle salt, black or white (or other seasoned salt)
Freshly ground black pepper
1 - 2 large tomatoes, preferably Cherokee Purple or heirloom
Balsamic vinegar for drizzling
6 basil leaves, cut into chiffonade
1 tablespoon unsalted butter
2 large eggs
Kosher salt
Instructions
Preheat oven to 350 degrees.

For the frico:
Line a baking sheet with parchment paper. Place about 2 tablespoons of the Parmigiano Reggiano onto the parchment paper, creating a 2-inch diameter circle with a slight mound.
You should have enough for 6 rounds.
Bake for 6 to 8 minutes or until the mounds are golden and slightly crisp.
Cool in the pan for about 5 minutes. Carefully life crisps off parchment paper with a spatula and set aside.

For the asparagus:
Prepare a bowl of ice water and set aside.
Snap off the woody ends of the asparagus spears.
Fill a large saute pan halfway with water and then heat until boiling.
Add the asparagus and continue to gently boil for about 5 minutes until cooked through, but still crisp. Immediately put them into the ice bath and cool.
Remove from ice bath and pat dry.
Season with truffle salt and pepper, then drizzle with olive oil.
Slice the tomatoes and spread on a flat dish. Drizzle with olive oil and balsamic vinegar and season with salt and pepper to taste.
Add the basil leaves and turn gently to coat.
In a medium saute pan, melt the butter over medium-high heat.
For the egg:
Crack the eggs into the pan and cook for 2 to 4 minutes ("sunny side up").
Season to taste with salt and pepper.

To assemble:
Place 3 to 5 slices of tomato on the bottom of each plate.
Add 5 to 7 asparagus spears and drizzle with olive oil.
Top with the fried egg.