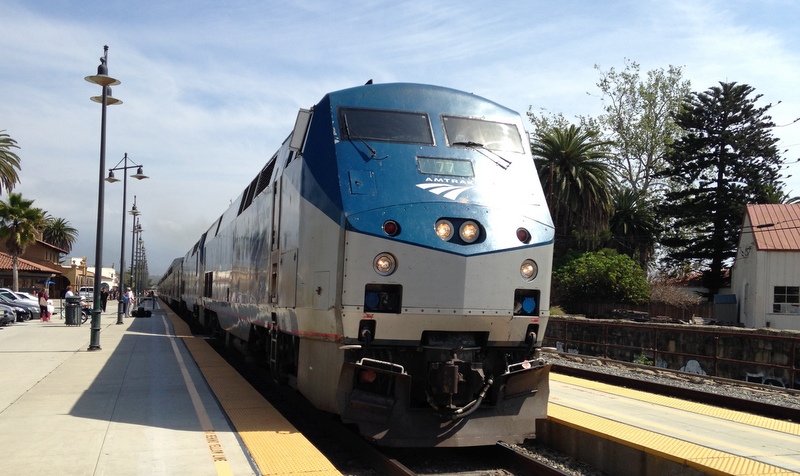 Last year the four of us took an extended trip together to eastern Europe, eventually parting ways at the Berlin underground station before heading off in separate directions.  Recently, we thought we'd pick up where we left off… on a train platform…  this time a little closer to home.  It was a big birthday for one of the Steves so we surprised him with a quick trip up to Paso Robles.  Joan arranged for us to have our own compartments on the train and we enjoyed the complete dining car experience!  Upon our arrival, we checked into the beautiful Hotel Cheval, owned by Robert and Sherry Gilson who are dear friends of ours in Santa Barbara.  The accommodations were just beautiful; a place of elegance and comfort in the middle of town.  The staff was so friendly and welcoming and the amenities were divine (like customized s'mores and cozy blankets in front of the outdoor fireplace at night!).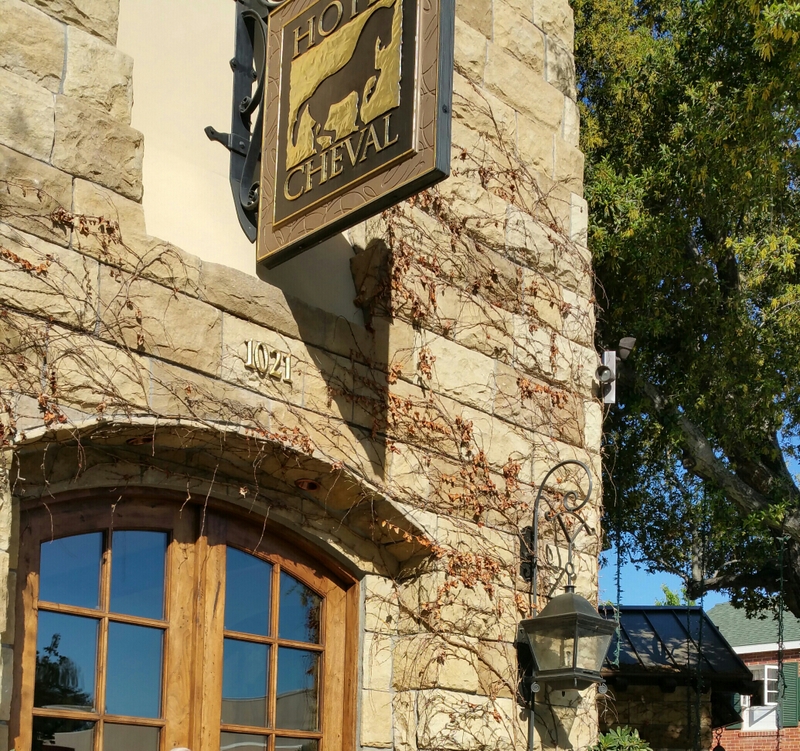 Just a few blocks away from the hotel is Il Cortile, an Italian restaurant where we went for dinner and may have had the best pasta this side of Italy — their veal ragu in a light tomato sauce was outstanding and we couldn't get enough!  Of course we asked for the recipe and were given a few hints, so we came up with our version below, based on their clues.
(Crushing the tomatoes with our hands over a sieve gave us the juice of the tomato without any of the pulp.  We believe that's the secret of their delicate sauce.)
Paso Robles is a wine mecca in central California, and it doesn't disappoint.  Beautiful vineyards and exquisite tastings create an allure that justifies its worldwide reputation.  We'll have more on our Paso experience in future posts but for now….
Buon appetito!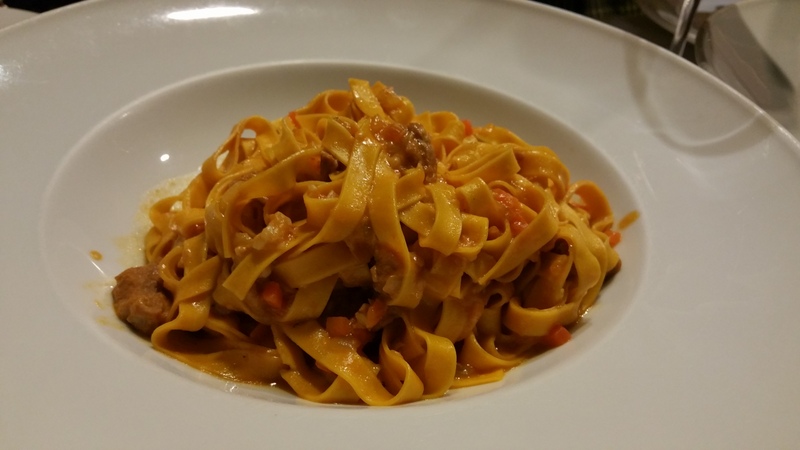 Veal Ragu with Pasta
This recipe is based on a specialty of Il Cortile in Paso Robles, pictured above. For our version, we used ground veal which breaks up quite easily into fine pieces, instead of veal cut into 1-inch cubes. We also used gemelli (a small braided pasta) instead of pappardelle. We loved the texture of the ground veal and how well the gemelli complemented the sauce, but feel free to try it with your own favorite pasta.
Ingredients
3 tablespoons olive oil
3 tablespoons unsalted butter
¼ cup finely diced onion
2 tablespoons finely chopped carrots
2 tablespoons finely chopped celery (optional)
¾ pound ground veal
1 cup white wine
1 can (28 ounces) whole canned tomatoes
Kosher salt and black pepper
Pinch of crushed red pepper (optional)
¼ cup ricotta
¾ pound gemelli, pappardelle, or pasta of your choice
Parmesan cheese for serving
Instructions
In a large pan over medium heat, saute the olive oil and melt the butter.

Add the onion, carrots, and celery and cook until onions are translucent, about five minutes.

Lower the heat, cover the pan, and let the vegetables cook until they become tender, about 15 minutes.

Add the veal, breaking it up with a wooden spoon. Stir occasionally and saute until the veal is just cooked through.

Add the wine and cook until the mixture is reduced by half, about 10 minutes.

Add salt and black pepper to taste. Add red pepper if desired.

Place a sieve inside a medium bowl and pour the can of tomatoes into the sieve. Squeeze the tomatoes by hand to release as much of the juice as possible.

Add the juice to the pan. Bring to a gentle boil, lower the heat, and simmer for 20 to 30 minutes.

Meanwhile, bring a large pot of salted water to a boil. Add the pasta and cook for 8 to 10 minutes, or until al dente.

Loosely drain the pasta, and a few minutes before adding the pasta to the sauce, stir the ricotta into the sauce to combine.
Transfer the pasta to the saute pan and toss with sauce to combine. Serve warm with Parmesan cheese and crushed red pepper.