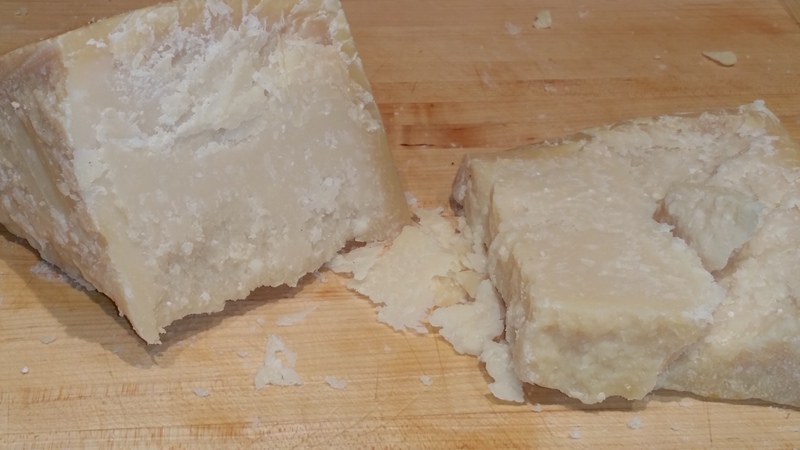 When our local Fresh Market got word from their corporate headquarters to suddenly pull up stakes in California, they held a week-long "goodbye" sale.  The meat department was sold out in no time; same with the produce and wine.  But the enormous, sumptuous cheese counter was up and running until the last moment so we took advantage of the amazing opportunity to buy huge hunks of Italian Parmesan, French Comté, and gorgeous Fontina, happily sharing the bounty with our friend Jeanne.
When we got home, however, although thrilled at our bonanza, we found dealing with the large wedge of Parmigiano-Reggiano rather daunting;  it was no small feat to cut it into three equal pieces!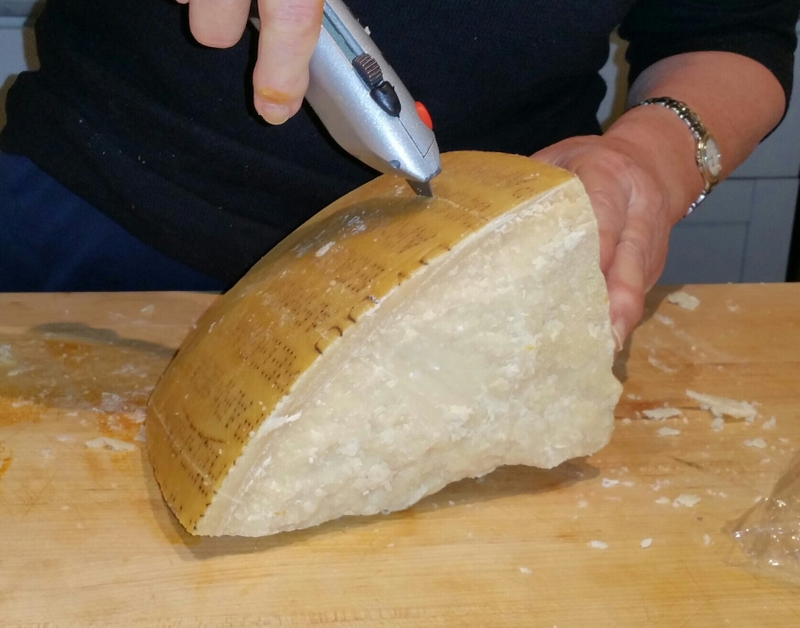 We tried all kinds of strange tools, using hammers, levers, knives, and eventually settling on a box cutter as the most effective instrument at our disposal. (For the record, here's our advice:  use the box cutter to score the wheel and weaken the edges, then use a sharp knife to pry it apart slowly and patiently.) It was quite a scene, both amusing and bizarre, and we decided to record our process, but the video turned out to look like a scary surgical procedure!  Ultimately, however, we came away with three amazing chunks of golden Parm.  We wrapped the outer rinds and tucked them in the freezer where they'll be ready to be thrown into a vegetable soup or a simmering tomato sauce.
It wasn't easy, but those shards of Parmesan proved to be worth every bit of labor.  In fact we've been using them in all kinds of ways:  in a bowl as a simple appetizer, with all our Italian pastas (see previous post on veal ragu), and grated over eggs, vegetables, or green salads.  
Of course, the Comté and Fontina divided in thirds easily, but as we looked at our nine blocks of cheese we felt a bit like parents the morning after Halloween surveying their children's candy haul: what were we going to do with all this cheese?
So here you go, three cooks, three cheeses, three recipes:
Joan uses all three cheeses in a one-dish recipe that's perfect for a special breakfast or brunch.
Jeanne shares her delicious mushroom and multi-grain gratin.
Rhona gives us an elegant cheese souffle.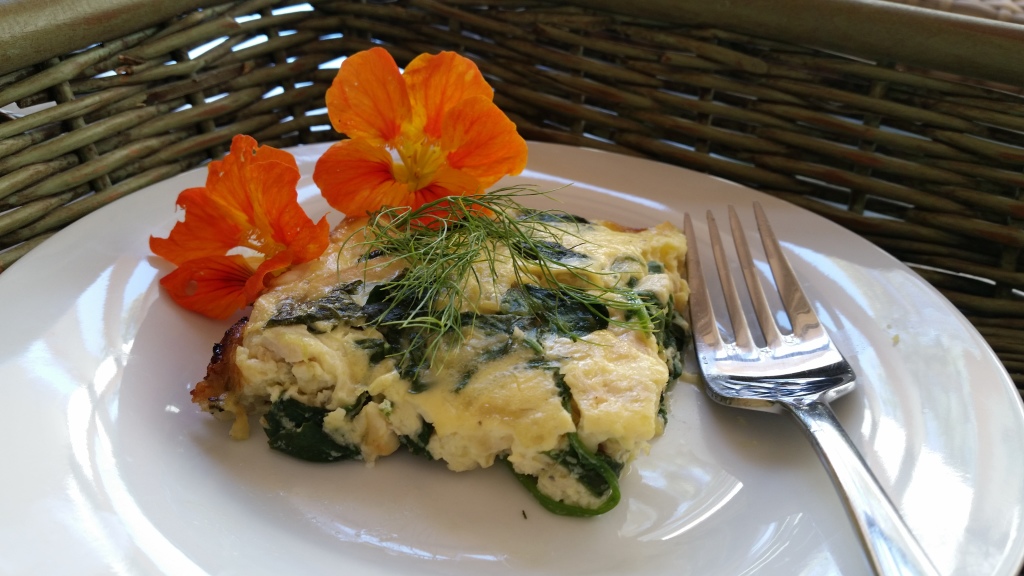 Joan's No-Crust Triple Cheese Quiche
I set out to find a recipe that incorporated all three cheeses and could include additions from my fridge. No one recipe quite fit the bill. So I cobbled together this recipe with a method that's easy, flexible, and delicious. Feel free to improvise substituting cheeses, meat (bacon or ham or sausage), greens (spinach, asparagus, zucchini, herbs, etc.). Get the idea?
Ingredients
1 tablespoon butter
1 tablespoon olive oil
1 small onion, diced
4 cups chopped kale, stems removed*
3 eggs
¾ cup heavy cream
Salt and ground black pepper to taste
¼ cup grated Fontina
½ cup grated Comté cheese
¼ cup grated Parmigiano-Reggiano cheese
1 cooked chicken breast, cut in small chunks
Pinch crushed red pepper, optional
Instructions
Preheat oven to 350 degrees. Grease an 8x8-inch baking dish or 8-inch round pie pan.
Heat the butter and olive oil In a medium sauté pan over medium-high heat. Add onions and sauté until soft and translucent, 5 to 7 minutes. Lower heat to medium and add the kale; toss and cook until wilted. Set aside to cool.
Whisk the eggs, cream, salt, and black pepper in a bowl. Stir in the Fontina, Comté and Parmesan cheeses, onion and kale mixture, and chicken. Pour mixture into the prepared baking dish or pan.
Bake until eggs are set and a knife inserted in the center comes out clean, about 35 minutes.
*I used Trader Joe's organic "Power of the Green" mixture of baby kale, chard and spinach. Use directly from bag into the pan.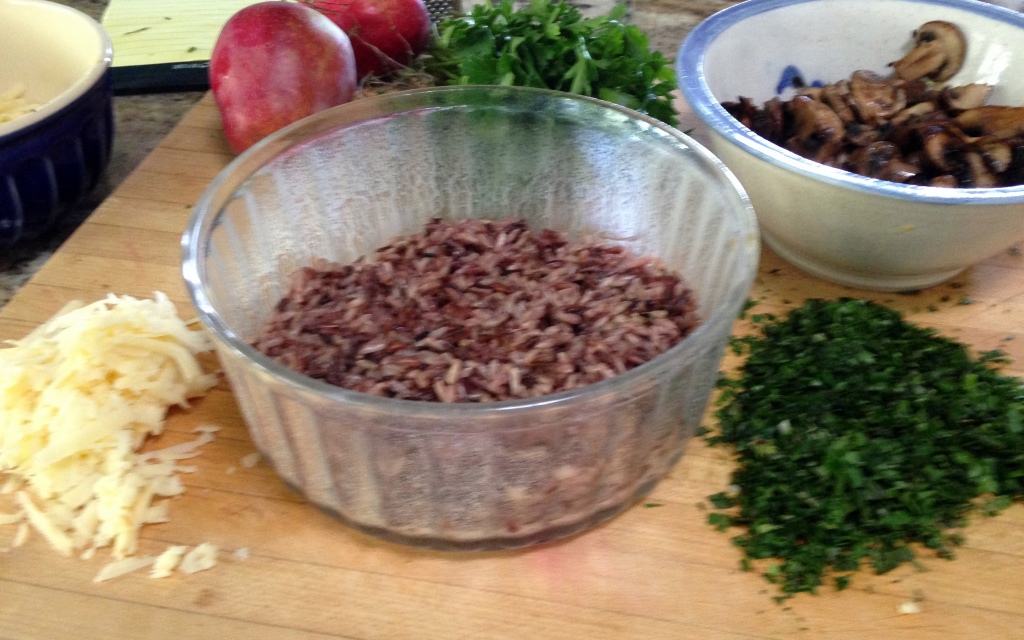 Jeanne's Mushroom & Multi-Grain Gratin
Ingredients
2 cups cooked grains (any combination of white, brown, or wild rice, couscous, quinoa or bulgur)
1 ounce dried porcini mushrooms
2 tablespoons butter
2 tablespoons olive oil
2 cups mushrooms (any variety) washed and sliced.
½ bunch green onions, sliced
½ cup sliced onions
2 cloves garlic, minced
½ cup choice of herbs (parsley, thyme, basil, oregano) chopped
Dried fruits or nuts of choice, optional
½ cup chicken or vegetable stock
½ cup cream
1 cup grated Parmesan cheese, divided
¼ cup grated Fontina cheese
¼ cup grated Comté cheese
1 cup bread crumbs toasted in 1 tablespoon butter
1 quart baking dish buttered or sprayed with cooking oil.
Instructions
Preheat oven to 350 degrees.
Pour boiling water over the porcini enough to cover and let stand for 30 minutes. Strain and reserve liquid. Chop strained mushrooms and reserve for later.
Melt 1 tablespoon of the butter and 1 tablespoon of the oil in a large sauté pan on high heat. Add the fresh and dried mushrooms; sauté until edges are brown. Place in a bowl and set aside.
In the same pan, add the rest of the oil and butter (1 tablespoon each) and the onions; sauté until soft. Add the garlic and herbs and sauté 30 seconds more. Toss together in the bowl with the mushrooms. Add any dried fruits or nuts if you are including them.
Mix stock, cream, and reserved mushroom liquid in a small bowl.
In the prepared dish layer half of the grain mixture, top with the mushroom mixture.
Sprinkle ½ cup Parmesan and the other two cheeses over the mushrooms. Top with the remainder of the grain mixture. Pour the stock mixture evenly over the grains. Mix together the remaining Parmesan with the breadcrumbs and sprinkle on top of the gratin.
Bake for 30 minutes or until the top is puffy and brown. Let set for 15 minutes before serving.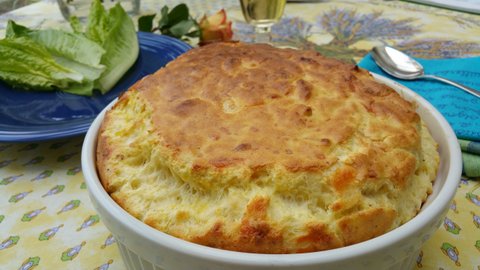 Rhona's Classic Cheese Souffle
Author: adapted from The French Cook, by Greg Patent
Light and fluffy, this is a quintessential French dish, perfect as a side or for lunch with a salad. The trick here is to fold the cheese into the sauce along with the beaten egg whites instead of stirring it in by itself; this insures the ideal texture. If you've been intimidated by the thought of making a souffle, try this ... done exactly as stated, it's a sure thing!
Ingredients
4 tablespoons unsalted butter, plus more for souffle dish
2 tablespoons finely grated Parmesan cheese, for souffle dish
1 cup milk, plus 1 tablespoon
4 tablespoons flour
½ teaspoon salt
¼ teaspoon ground black pepper
⅛ teaspoon grated or ground nutmeg
6 large eggs, separated, room temperature
Pinch of salt
¼ teaspoon cream of tartar
1 - ½ cups (4 - 6 ounces) grated Gruyere or Comte cheese
Instructions
Put the oven rack to the lower third position and set a baking sheet on the rack. Preheat the oven to 400 degrees.
Butter bottom and sides of a 1½ quart, 4-inch tall souffle dish and coat with the Parmesan.
Heat 1 cup milk in a small saucepan until bubbling but not boiling; keep warm.
Melt 4 tablespoons butter in a medium saucepan over medium heat. Stir in the flour with a wooden spoon and cook, stirring, for 2 minutes.
Remove pan from the heat and whisk in the hot milk; the sauce should be smooth.
Return pan to medium-high heat and bring to a boil, whisking constantly. Cook and whisk until very thick, about 2 minutes.
Remove pan from heat and whisk in the salt, pepper, and nutmeg. Whisk in the egg yolks one at a time, then drizzle the surface of the sauce with 1 tablespoon milk.
In the bowl of an electric mixer, beat the egg whites with a pinch of salt on medium speed until frothy, about 1 minutes.
Add cream of tartar and beat until soft peaks form. Increase speed to medium-high and continue beating until moist stiff peaks form, about 1 to 2 minutes.
Stir about one fourth of the egg whites into the bechamel sauce, then gently fold in the remaining whites, sprinkling in the grated cheese as you fold. Fold until no white streaks remain.
Transfer the batter into the prepared mold, filling it about ¾ inch from the top. (You may make it to this point about 1 hour ahead; just cover the dish with a large, upturned bowl.)
Set the souffle onto the baking sheet in the oven and bake until well-browned on top and puffed about 2 inches above the rim, and a wooden skewer inserted into the center comes out clean but moist, about 25 minutes.
Serve immediately -- it's beautiful now but will fall very quickly!
Save