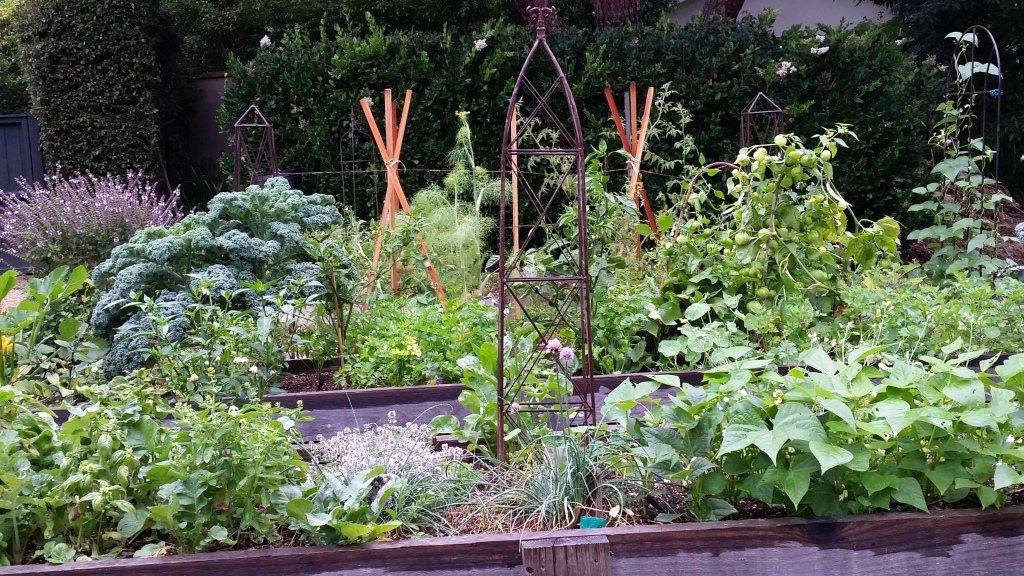 You may have noticed we've been absent for the past couple of months!  There's been a lot going on in our lives and frankly, there hasn't been much time for socializing or cooking, and unfortunately even for taking our daily walks. We're busy with wedding plans, dealing with knee problems, re-landscaping, and re-allocating our water.  Even our to-do lists have to-do lists.
But now summer is here, the markets and our gardens are exploding with beautiful produce, and we can't resist finding time to enjoy the apricots, peaches, and tomatoes that are thrilling us with their summer flavor.  We are, after all, food, friendship, and Santa Barbara, and as we watched the summer solstice parade last month and the July 4th fireworks down by the wharf the other day, we realized it's time to saddle up and ride back into town.
But things have changed.  We're desperately trying to lose those last 10 pounds for the upcoming wedding; we're going through our freezers and pantries to clear things out from our winter stash; we're eating simply — mainly lots of salads —  and we're having fun using the fresh fruits or vegetables we have on hand to put food on the table every day without a lot of fuss.
Here are some of the creative ways we've found for keeping it easy and enjoying the local bounty of the season.  Day One of our week of salads.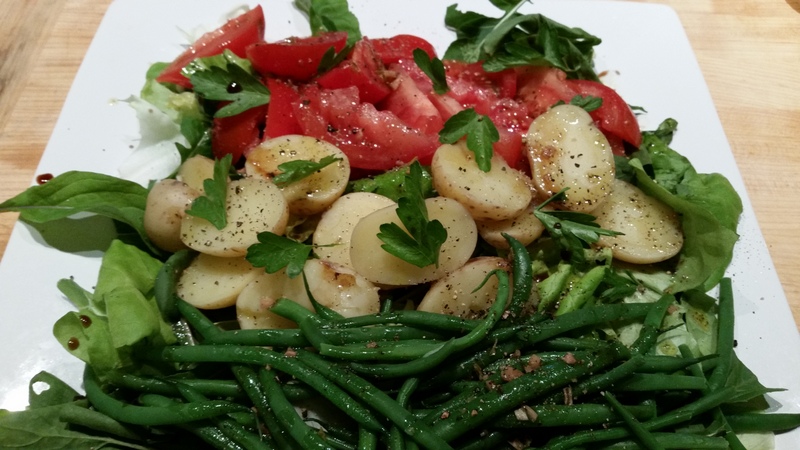 Classic Italian Mixed Salad
This is a classic Italian salad that takes advantage of fresh from the garden summer tomatoes, green beans, and new potatoes. We plated this as a composed salad to resemble an Italian flag, but it's just fine to put all the ingredients in a bowl and toss with the dressing. Serve this with another Italian classic, pork chops prepared Milanese-style for a satisfying dinner.
Ingredients
Salad
6 small potatoes, Yukon gold, red, or fingerling
½ - ¾ pound green beans
2 or 3 large tomatoes, cut in wedges
3 cups baby arugula, spring lettuce mix, or greens of your choice
Balsamic vinegar for drizzling
Dressing
¼ cup freshly squeezed lemon juice (preferably Meyer)
2 teaspoons finely minced fresh oregano
Kosher salt and freshly ground pepper to taste
½ cup extra-virgin olive oil
Instructions
Boil potatoes in salted water for about 15 minutes until tender. Remove potatoes with a slotted spoon and set aside to cool.
Return the water to a boil and add the green beans. Cook the beans for 4 minutes or until crisp-tender; drain and shock in a bowl of ice water. Drain when cool.
Meanwhile, in a small bowl whisk together the lemon juice, oregano, salt, and pepper. Slowly add the olive oil, whisking to incorporate.
Spread the arugula over the bottom of a large flat plate with sides.
Halve the potatoes and place across the top of the plate.
Next, add the tomatoes to the middle of the plate, and finish with the green beans at the bottom.
Pour the dressing evenly over the salad. Sprinkle with freshly ground pepper and kosher salt. Finish with a drizzle of balsamic vinegar.