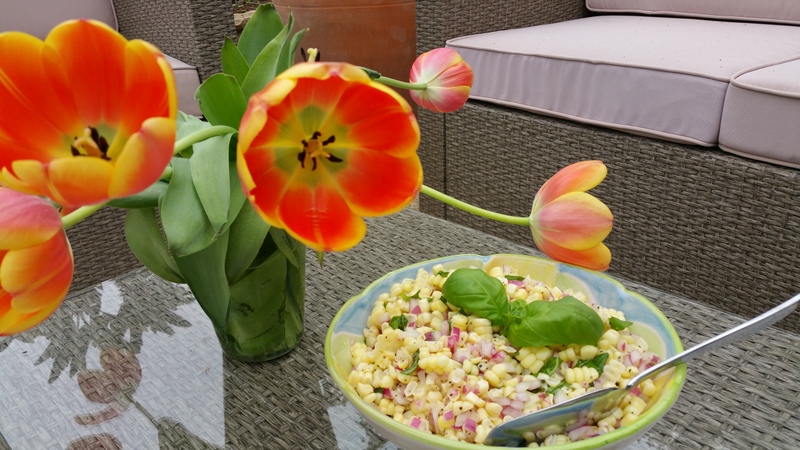 Summertime salads traditionally feature fresh basil and gorgeous red tomatoes, always delicious.  But a more unusual pairing takes advantage of fresh corn which is now in its peak season.  And when it comes to finding a dependable recipe with great flavor, no fuss, and colorful presentation, there's nobody like Ina Garten, author of the Barefoot Contessa cookbooks.  For Day 3 of our Week of Salads, we go to our go-to entertaining guru.  This is adapted from one of her most popular recipes, a no-fail dish that makes a wonderful addition to any barbeque, and always gets requests for encores.

Fresh Corn Salad
Author: adapted from The Barefoot Contessa Cookbook by Ina Garten
Full of fresh garden flavors and crunchy sweet corn, this is the taste of summer. Don't be tempted to use frozen corn for this; it won't have the same punch.
Ingredients
5 ears of corn, shucked (you can use white, yellow, or a combination of both)
½ small red onion, chopped
3 tablespoons apple cider vinegar
3 tablespoons olive oil
½ teaspoon kosher salt
½ teaspoon ground black pepper
½ cup fresh basil leaves, cut into thin strips
Instructions
Prepare a bowl or fill a sink with ice water.
Boil a large pot of salted water and cook the corn for three minutes, then drain and immerse in the ice water to stop the cooking.
In a large bowl, combine the red onion, vinegar, olive oil, salt, and pepper.
When the corn is cool enough to handle, cut the kernels off the cob with a sharp knife.
Toss the kernels into the bowl with the onion mixture.
Add the basil, toss it all together, and serve cold or at room temperature.