It's Friday.  Growing up, that usually meant we were having fish for dinner, observing a long defunct Catholic tradition of abstaining from eating meat on Friday.  But traditions die hard and I often find myself on Fridays preparing fish for the family.  Here in Santa Barbara, we're lucky to have a variety of fresh fish available and this salad can be made with any firm fish.   A meal in itself, it's a quick and easy way to put dinner on the table at the end of the work week.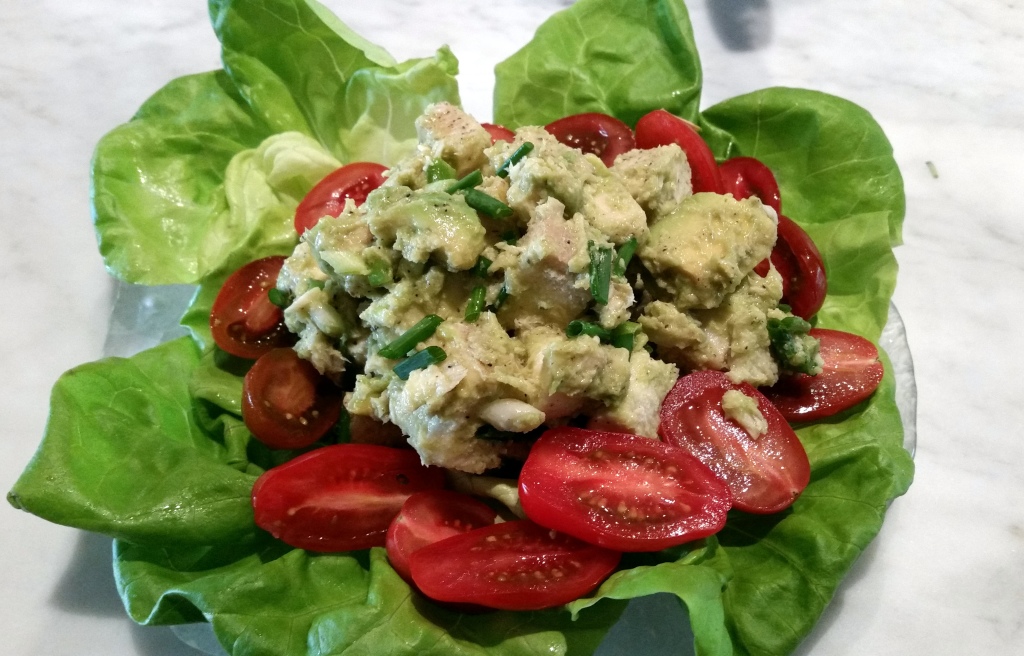 Asian-inspired Fish Salad
This is a versatile recipe that works well with any firm fish and a great way to use leftovers. Can be served as a first or main course or turned into an appetizer by dicing the fish and avocado instead of cubing and serving with crackers and/or endive leaves.
Ingredients
½ to ¾ pounds seabass or other firm fish, cooked and cut into ½-inch cubes
1 avocado cut in ½-inch cubes
5 scallions, thinly sliced
3 tablespoons extra virgin olive oil
Zest of 1 lime
3 tablespoons lime juice
1 teaspoon kosher salt
½ teaspoon freshly ground black pepper
1 teaspoon wasabi paste
2 teaspoons soy sauce
5 – 7 dashes tabasco sauce (optional)
Butter lettuce leaves
Sliced tomatoes
Minced chives for garnish
Instructions
Place the fish, avocado, and scallions into a medium-sized bowl.
In a small bowl, whisk together the olive oil, lime zest and juice, salt, pepper, wasabi paste, soy sauce and tabasco.
Add the olive oil dressing to the fish and avocado and mix carefully.
Serve on a bed of butter lettuce and surround with sliced tomatoes.
Finish with squeeze of lime.