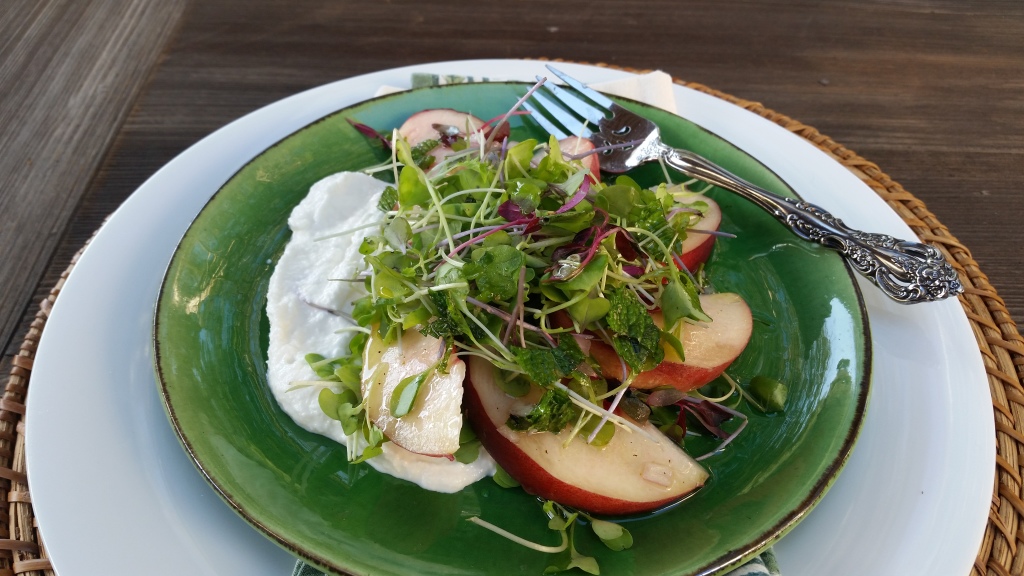 We've been hearing from you all week about how much you're enjoying our salad days and we love that you're sharing your own creative twists on our recipes.  Perfect!  That's the joy of cooking:  improvising and experimenting, right?  And salads are the perfect medium.  Change olive oil to walnut oil or add a little truffle oil if you have it.  Don't have the vinegar called for in a recipe?  Just use what you have, or even better, add a squeeze of fresh lemon or lime which always works in a peach . . . er, in a pinch :).
In this improvisational spirit, here's a recipe from Food and Wine magazine that we can't wait to make, and then the simpler version we made last night inspired by perfectly ripe peaches screaming to be eaten, burrata cheese heading toward its expiration date, and a tired and hungry cook.

Burrata Salad with Peaches, Pickled Pepper, and Pea Tendrils
We love the inspired preparation of burrata paired with the lush sweetness of fresh peaches and the slight bit of tartness from the pickled pepper.
Ingredients
Pickled Pepper
1 banana pepper or cubanelle pepper, seeded and thinly sliced into rings
⅔ cup Champagne vinegar
2 teaspoons kosher salt
Dressing
2 tablespoons red wine vinegar
2 tablespoons minced shallot
2 tablespoons extra-virgin olive oil
2 tablespoons grapeseed oil
Kosher salt
Pepper
Salad
Two 6-ounce balls of burrata cheese, patted dry and halved
½ cup small mint leaves
8 cups pea tendrils (4½ ounces)
1 cup small purslane sprigs or baby spinach or arugula
Kosher salt
Pepper
1 large, ripe yellow peach, pitted and cut into 12 wedges
Instructions
Make the pickled pepper: Place the pepper rings in a small heatproof bowl. In a small saucepan, boil the vinegar and salt, stirring, until the salt dissolves; pour over the pepper rings. Let stand at room temperature for 90 minutes. Drain.

Meanwhile, make the dressing In a small bowl, combine the vinegar and shallot and let stand for 30 minutes.
Slowly whisk in both oils until incorporated. Season with salt and pepper.


For the salad, puree 1 ball of burrata in a food processor until smooth and spreadable.

Spread the burrata puree in shallow bowls.
In a medium bowl, toss the mint, pea tendrils, purslane and pickled pepper rings with the dressing.
Season with salt and pepper and toss to coat.
Mound the salad in the bowls. Tear the remaining burrata into small pieces and arrange in the salads along with the peach wedges.

Make Ahead
The drained pickled pepper rings can be refrigerated for 1 week.
Here's our simple what's-in-the-fridge version:
Puree a ball of burrata in the food processor.  Smear a generous portion on a salad plate.  Add six fresh peach wedges and micro greens (or any other delicate greens you have).  Drizzle with your favorite salad dressing.  Ours used a little walnut oil and lemon juice with minced red onion, salt and pepper, and a sprinkle of sliced almonds.
Please continue to share with us your wonderful adaptations and serving suggestions in the comments below.  We love your input.