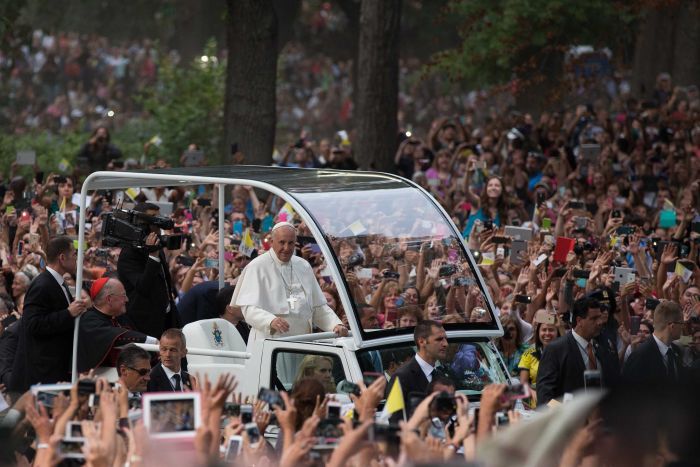 It's been a big week for monotheism.   First we had Rosh Hashannah, the Jewish new year, then Yom Kippur closing out those days of reflection and atonement.  And to round things off beautifully, we had a papal visit unlike we've ever seen, with adoring crowds lining the streets and packing the arenas to catch a glimpse of this most modern Holy Father.  We followed his ambitious schedule through days and nights of warmly greeting young children (with tender attention to those with disabilities), feeding the homeless, as well as meeting with the most powerful people on earth.  Catholic or not (we're both), we couldn't help taking his message to heart: let's get back to simple, unadorned goodness and empathy; let's care about and for each other and live by the golden rule; let's be good shepherds of our earth, let's remember the roots and definition of what it means to be a moral society and translate that into action, not just words…. an inspiring ecumenical call to our higher selves asking us to work for the greater good.
It was quite a visit and he has been an amazing guest.  So what do we have to offer this humble man who walks the walk of the righteous yet asks for our prayers so intensely?  Well, if he came over for dinner, we think he might like a soulful dish like this one, full of flavors that lift us into the realm of the divine, yet remind us that the least fussy can also be the most heavenly.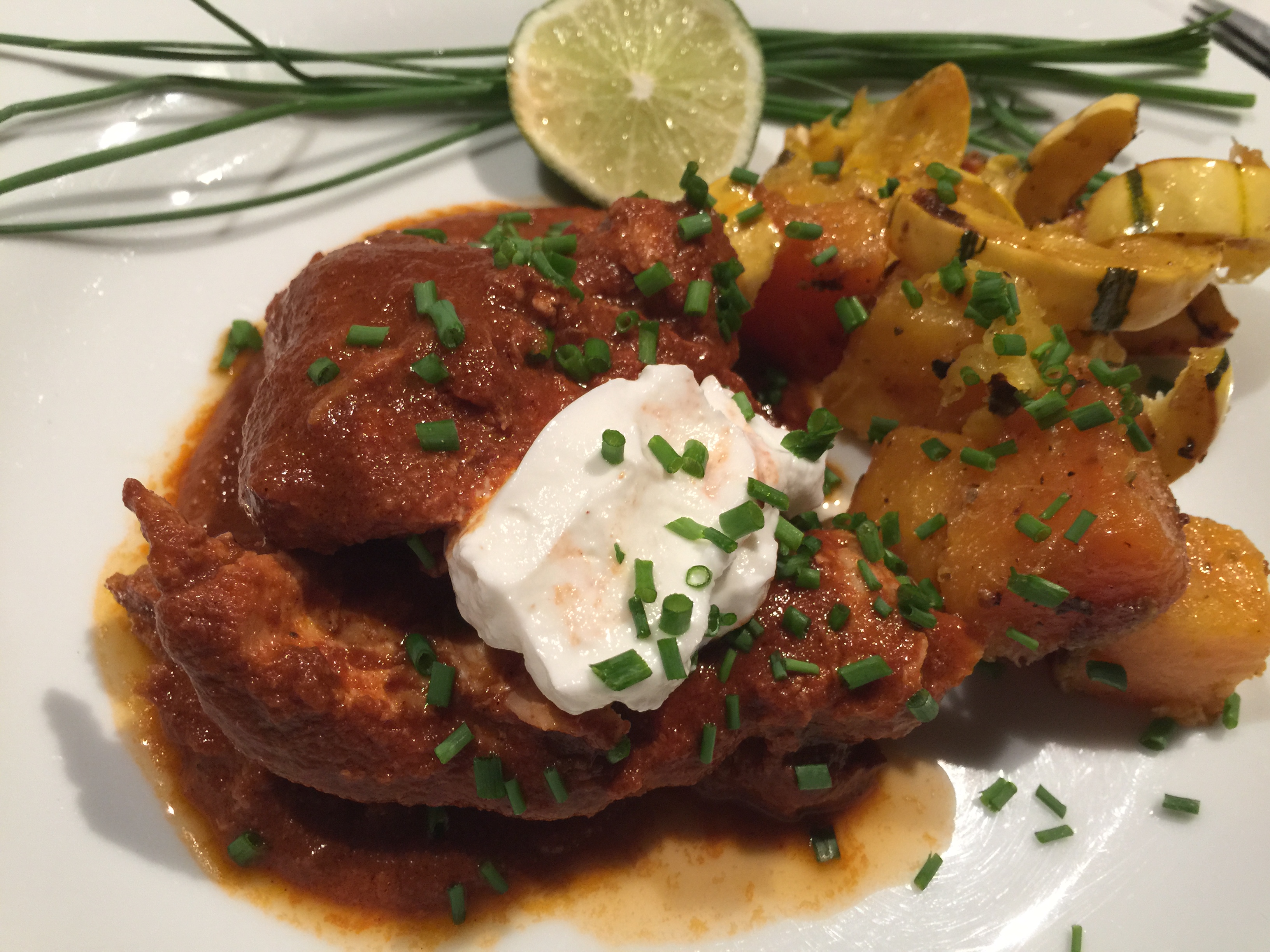 Chicken Mole
This is an easy and delicious slow cooker version adapted from a Martha Stewart recipe.
Ingredients
4 pounds boneless, skinless chicken thighs (about 12)
Coarse salt
1 can (28 ounces) whole tomatoes
1 medium yellow onion, roughly chopped
2 dried ancho chiles, stemmed or 2 heaping tablespoons ancho chile powder
1 large chipotle chile in adobo sauce
½ cup sliced almonds, toasted
¼ cup raisins
3 ounces bittersweet chocolate, finely chopped (1/2 cup)
3 garlic cloves, smashed and peeled
3 tablespoons extra-virgin olive oil
¾ teaspoon ground cumin
½ teaspoon ground cinnamon
Fresh cilantro (or parsley) leaves, for serving
Sour cream or yogurt, for serving
Instructions
Season chicken thighs with salt and place in a 5-to-6-quart slow cooker.
In a blender, puree tomatoes, onion, ancho and chipotle chiles, almonds, raisins, chocolate, garlic, oil, cumin, and cinnamon until smooth.
Add tomato mixture to slow cooker, cover, and cook on high until chicken is tender, 4 hours (or 8 hours on low).
Serve chicken and sauce topped with cilantro or parsley and a dollop of sour cream or yogurt.