There's so much talk about breaking out of your comfort zone… try new things, do something you've always feared, go someplace exotic…and normally, we'd say that's good advice for a life well-lived.  But sometimes it's nice to just nestle into the familiar, to revel in the coziness of home.  Autumn is a good time to re-evaluate, take stock (maybe make stock!), and whip up a dish you can create with your eyes closed. Chili.  Meat loaf.  Roast chicken.
Because sometimes being in our comfort zone is exactly where we want to be.  Here's an easy recipe for pork tenderloin that will work for both an easy weeknight meal or an elegant dinner party.  It's rich in fall flavors and deeply satisfying, whether the October air outside is crisp and chilly … or a steamy ninety degrees!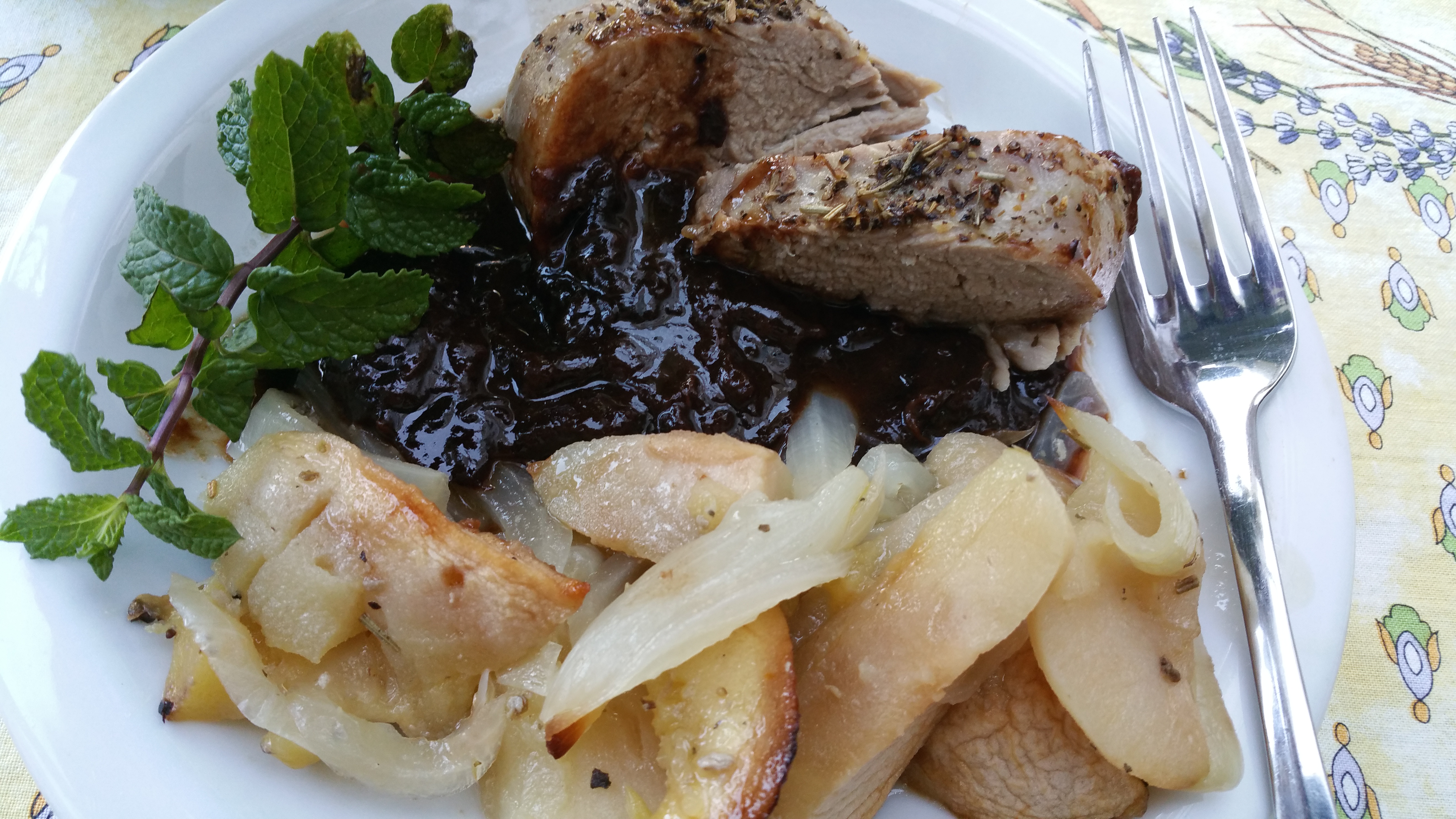 pork tenderloin with apples, onions, and prunes
Ingredients
8 ounces pitted prunes
½ cup water
2 tablespoons olive oil
2 - 3 carrots, peeled and medium-diced
6 large shallots, peeled and diced
2 tablespoons red wine vinegar
1½ cups red wine (we used Zinfandel)
2 tablespoons cold butter
2 - 3 pound boneless pork tenderloin
2 tablespoons olive oil
1 - 2 tablespoons Herbes de Provence (If you don't have that, use chopped thyme or basil)
1 teaspoon salt
½ teaspoon pepper
1 cup chicken stock, water, or white wine
1 large onion, peeled and thinly sliced
4 apples, peeled, cored, and cut into chunks
Instructions
Preheat the oven to 400 degrees Fahrenheit.
Place the prunes and water in a small saucepan, cover, and cook for about 10 minutes over medium heat.
In a skillet, heat the olive oil and saute the carrots and shallots over medium-low heat for about 10 minutes, until they start to brown.
Add the vinegar and red wine, then cover and simmer over low heat for about 20 minutes.
Strain the liquid into the saucepan that contains the prunes and discard the solids that remain.
Turn the heat up to medium and add the cold butter into the wine sauce until it's melted, then set aside.
Place the pork in a roasting pan.
Combine the olive oil and Herbes de Provence in a small bowl, then completely coat the meat with the mixture.
Pour the chicken stock, water, or wine into the bottom of the roasting pan.
Add the apples and sliced onion to the roasting pan, packing it all in tightly around the meat.
Cook uncovered for 1 hour, or until a meat thermometer reads 150 degrees.
Let rest for about 5 minutes before removing the meat to a cutting board and slicing into ½-inch-thick slices.
Reheat the wine sauce, then spoon some onto each plate and top with slices of pork roast.
Serve with the cooked apples and onions on the side.