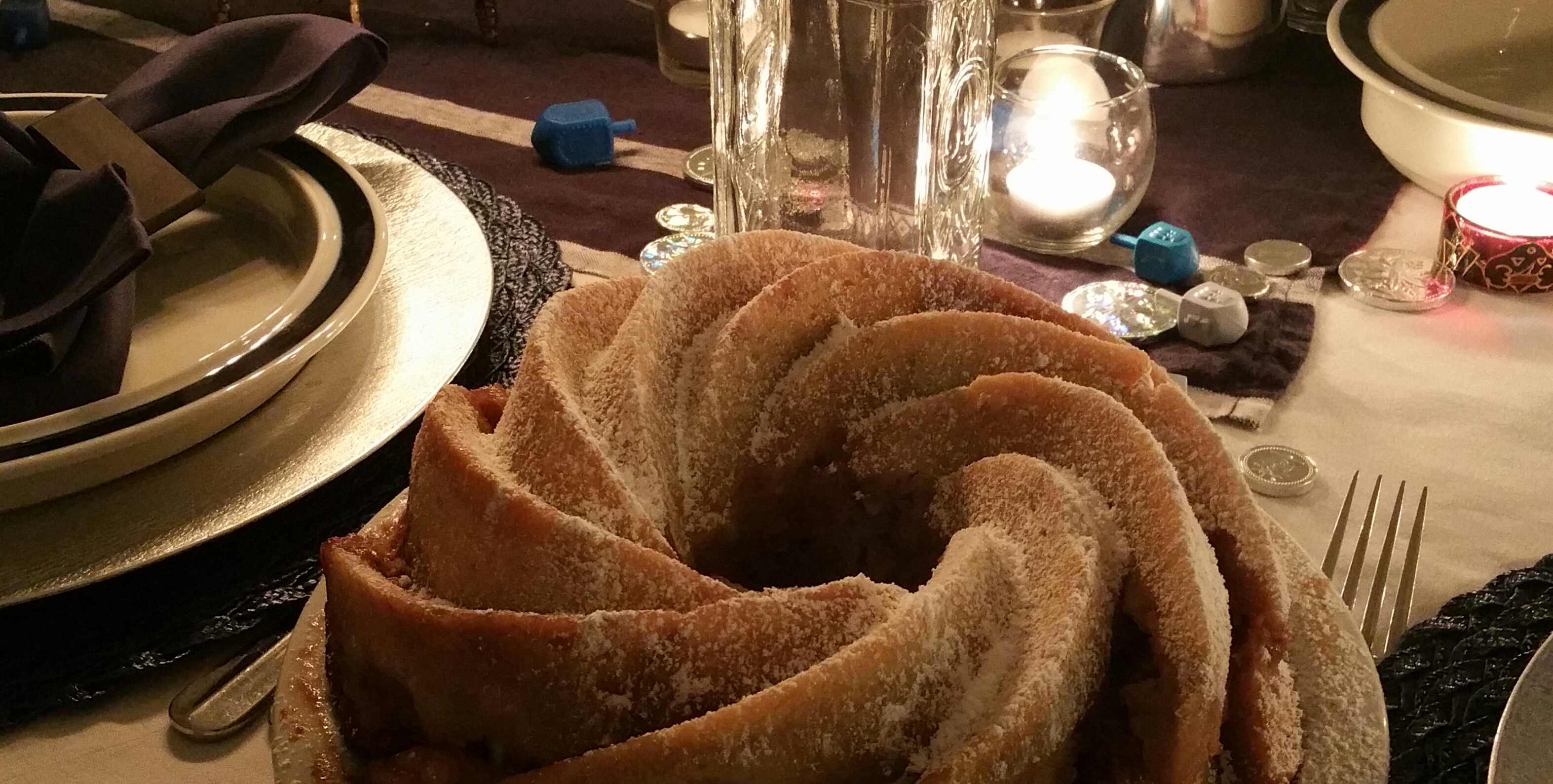 Hanukkah came early this year, with the first candle lit last night.  This holiday often seems to sneak up on us, somewhere between the Thanksgiving glow and the Christmas rush.   But at the heart of it all is the story, a story about the Maccabees of ancient times who, in rededicating their temple, had only enough oil for the lamp to burn a single night, yet it burned for eight nights. A miracle of hope and a festival of lights!
Fast forward a few thousand years and here we are celebrating with eight nights of candles, dreidels, and potato latkes!
We've posted recipes in seasons past for the traditional foods of Hanukkah – the savory brisket, the crispy latkes, and the sweet jelly doughnuts.  This year we decided to try a different dessert.  It's adapted from a French recipe and it's delicious, filled with chunks of apples, almonds, and walnuts – an old-fashioned cake that fits beautifully with the tradition of the holiday.
Happy Hanukkah to all – may your candles glow and twinkle, may your brisket be tender, and may the sweetness and light of the season remind us of the hope we all share!

Gateau de Hannouka
Author: adapted from Quiches, Kugels, and Couscous, by Joan Nathan
Cuisine:
French/Polish/Jewish
A thick batter and a combination of sweet and tart apples makes this very earthy cake perfect for any holiday table. I used a Bundt pan but a rectangular baking pan will do.
Ingredients
cooking spray
1 cup vegetable oil
5 apples (I used 3 Fuji and 2 Granny Smith), peeled, cored, and diced (I used a food processor but you can just cut them into ½-inch chunks)
Grated zest and juice of 1 lemon
⅓ cup walnuts, roughly chopped
1½ teaspoons cinnamon
2 cups all-purpose flour
1 teaspoon baking powder
⅛ teaspoon salt
2 tablespoons chopped almonds
1¼ cups, plus 2 tablespoons sugar
4 large eggs
¼ teaspoon almond extract
1 teaspoon powdered sugar
Instructions
Preheat oven to 350 degrees, and grease a Bundt pan or a 9 x 130inch baking pan.
Toss the apples into a large bowl with the zest and juice of the lemon, the walnuts, and the cinnamon and set aside.
Pulse together the flour, baking powder, salt, almonds, and 1¼ cups of the sugar in the bowl of a food processor fitted with a steel blade.
With the food processor running, add the eggs, oil, and almond extract, processing until just mixed.
Spoon ⅓ of the batter over the bottom of the pan. Scatter the apples on top and cover them with the remaining batter.
Sprinkle the top with the remaining 2 tablespoons sugar.
Bake for 1 hour or until a knife inserted into the middle comes out clean.
Cool in the pan for 10 minutes then, if you're using a Bundt pan, invert onto a platter.
When completely cooled, sprinkle with powdered sugar.