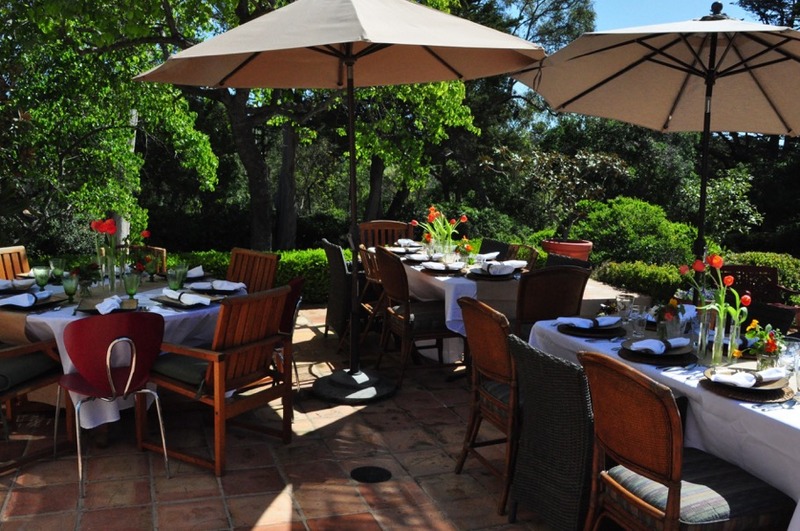 The Girlfriends Catering Company sprung into action once again to put on a beautiful bridal shower a few weeks ago for Rhona's daughter.  It took place outdoors in Joan's garden which was bursting with new spring blooms, then indoors for a delicious lunch and opening of gifts.  But most importantly, it was an afternoon where the bride-to-be got to reconnect with the amazing women who were all part of her life as she grew up, who knew her as a toddler and now see her as an adult.  The fact that she's getting married was almost secondary to the opportunity for hugs and even tears, as we all once again recognized a chapter of our lives transitioning into the next phase.
If many of us are in Act III, then perhaps she is in Act II, ready to start her own family, now replete with mixers and blenders!  The emotion took us all by surprise and gave the day a quality of intimacy and gratitude.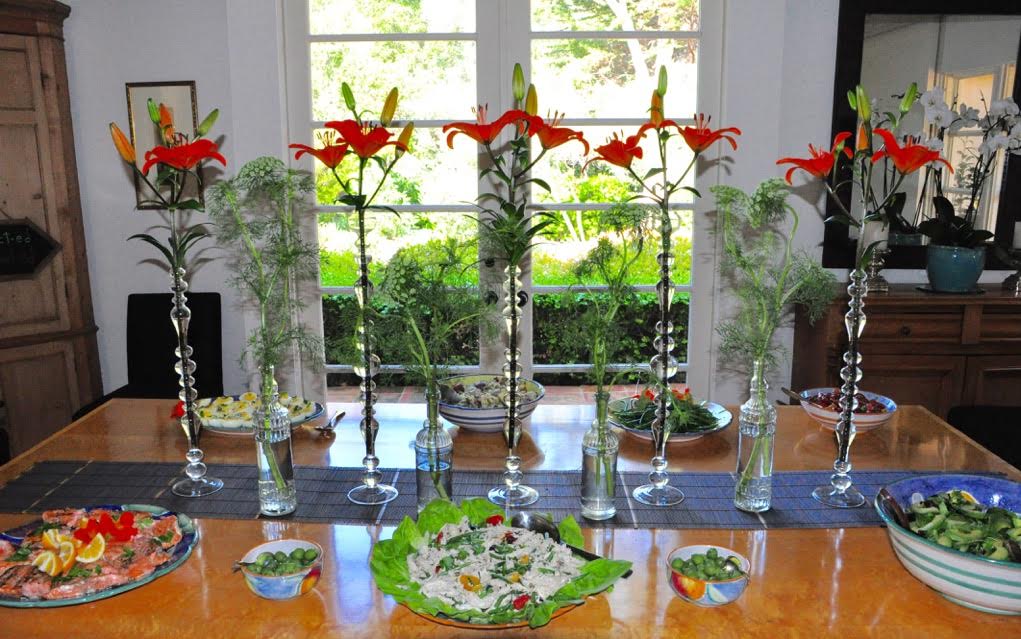 Knowing the bride as well as they did, the hostesses put together a menu rich in farm-to-table creations, with nothing that wasn't local and sustainable.  There were deviled eggs, a wild salmon platter, Mediterranean chicken salad, a bowl of fresh greens and a family-style potato salad.  There was a dessert table that was not only gorgeous but laid waste to the theory that women don't eat at parties — we couldn't help ourselves, so we helped ourselves!  To key lime pie, English trifle, strawberry shortcake, lemon bars, and an amazing chocolate cake that looked like something straight out of Bon Appetit and tasted like a hint of heaven.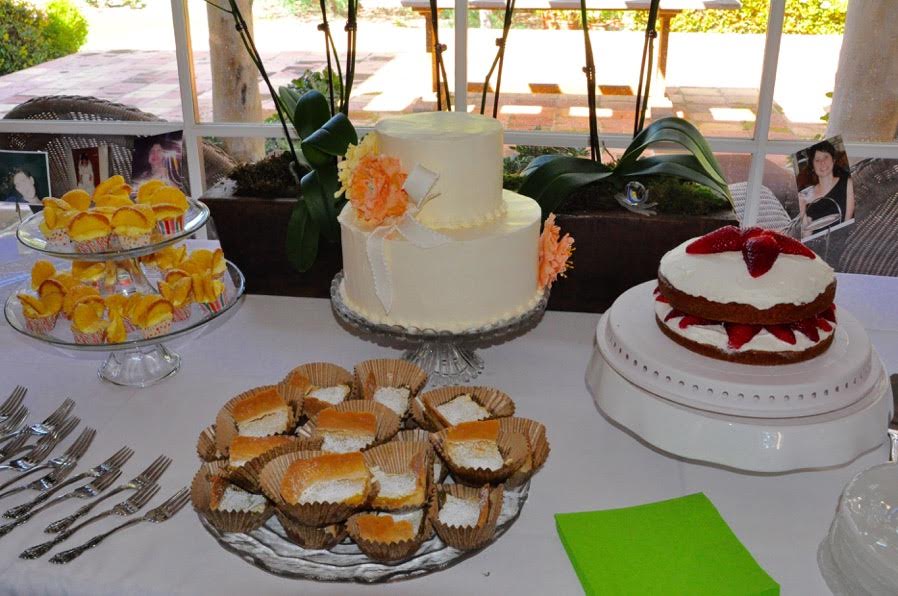 Here's the recipe for that fantastic key lime pie…  tart and delicious with a whipped cream topping,  a perfect dish to grace any festive occasion.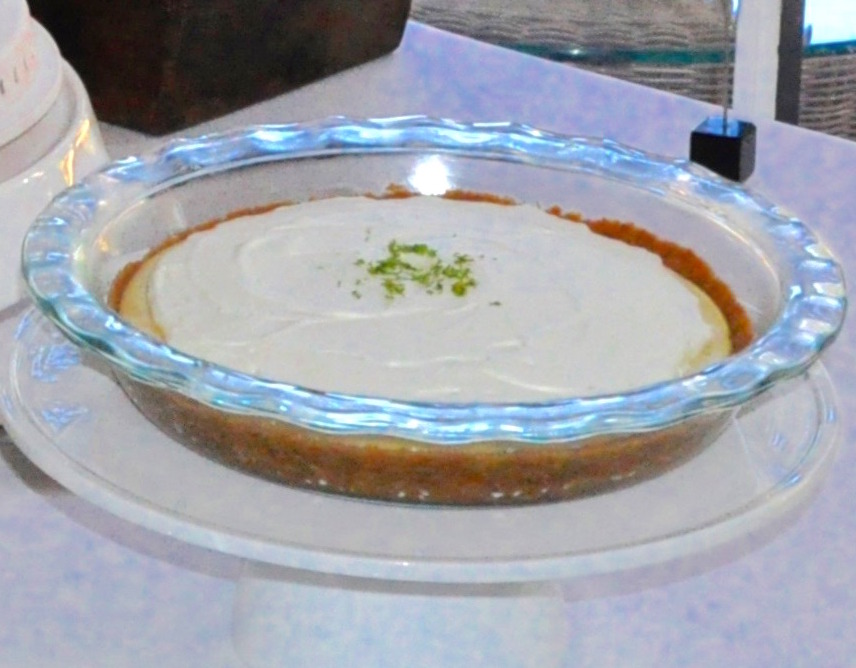 key lime pie with whipped topping
Ingredients
1½ cups graham cracker crumbs
(Or you can break up a package of graham crackers in a food processor, about ⅓ of a one-pound box.)
5 tablespoons butter, melted
⅓ cup sugar
3 large eggs, separated
2 teaspoons lime zest, plus 1 more teaspoon for sprinkling on top at the end (optional), about 2-3 limes (If you can find Key limes, all the better!)
1 14-ounce can sweetened condensed milk
⅔ cup freshly squeezed lime juice
¾ cup heavy whipping cream
1 to 2 tablespoons powdered sugar (or granulated sugar)
Instructions
Preheat oven to 350 degrees F. Butter or use a nonstick spray on a 9-inch pie pan.
For the graham cracker crust:
Combine graham cracker crumbs, melted butter, and sugar in the bowl of a food processor and pulse until combined.
Press the mixture into the bottom and sides of the pie pan and bake until set and golden, about 8 minutes.
Set aside on a wire rack; leave the oven on.
For the filling:
In a bowl, by hand or in an electric mixer with the wire whisk attachment, beat the egg yolks and 1 teaspoon lime zest at high speed until very fluffy, about 5 minutes.
Gradually add the condensed milk and continue to beat until thick, 3 or 4 minutes longer.
Lower the mixer speed and slowly add the lime juice, mixing just until combined. Pour the mixture into the crust.
Bake for 10 minutes until filling is set.
Allow to cool on a wire rack. (You can refrigerate or freeze it at this point.)
For the topping:
In a medium bowl, beat cream and sugar until soft peaks form.
Spread over the top of the chilled pie.
Refrigerate for 2 -3 hours so the cream sets before serving..
Sprinkle 1 teaspoon lime zest over the top (optional)