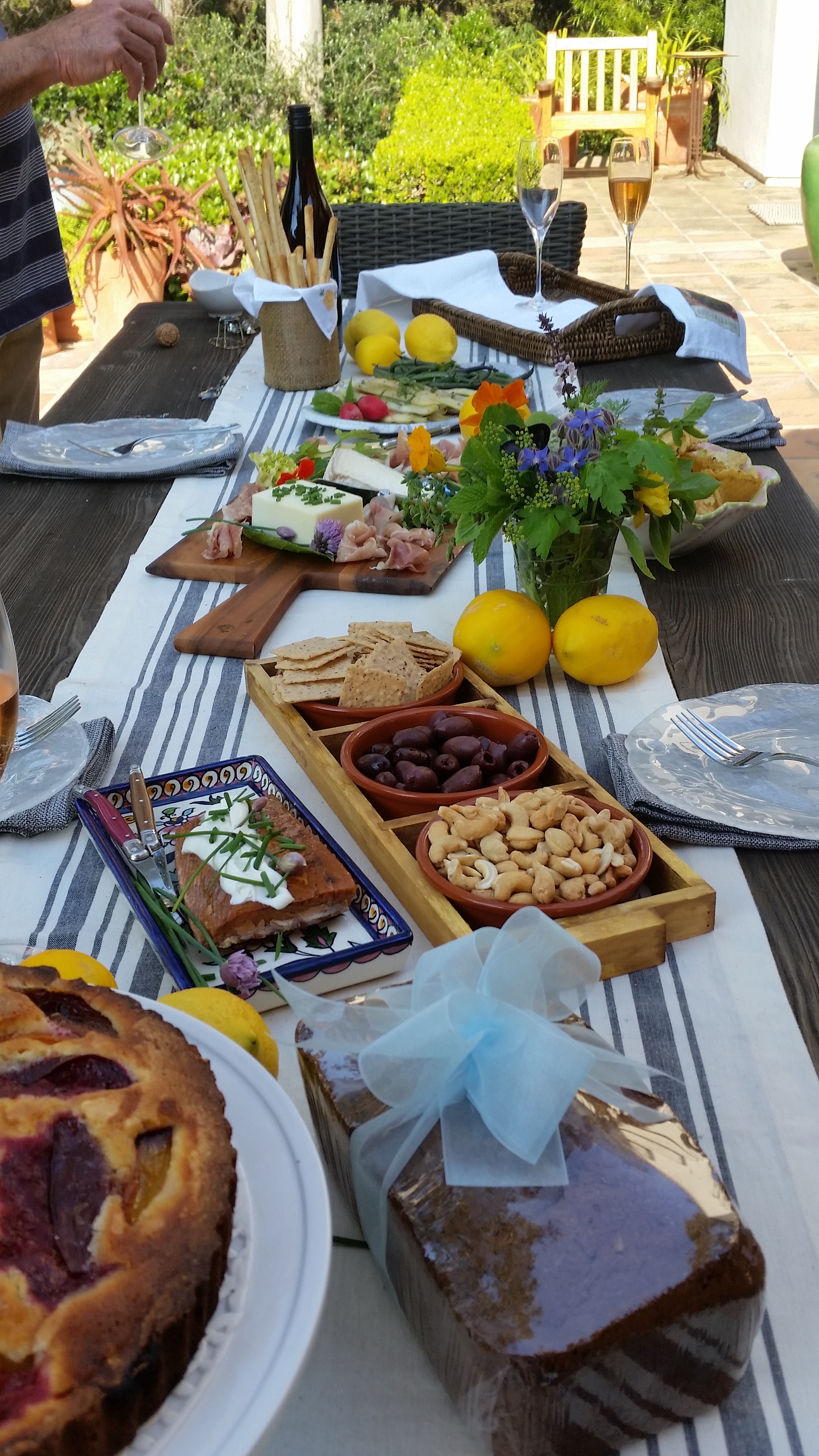 Summer is upon us, ushering in warm starry nights and an abundance of fresh and versatile fruits, vegetables, herbs, and flowers, that makes putting together an assortment of delicious plates easy and fun.  So when our good friends, Richard and Laurie, planned on stopping by early in the evening for a quick bon voyage glass of champagne to toast Richard's upcoming trip to Poland, it seemed the perfect time to take the toast outdoors.  We planned on "just an hour," but knowing how one conversation leads to another, I foraged through the kitchen for small bites to enjoy.  A few cheeses dressed with fresh herbs, a little prosciutto, smoked salmon with crème fraiche and chives, some yummy green beans picked up at the farmer's market the day before, all became part of an impromptu summer picnic. That left enough time to make this beautiful Apricot and Pluot Mosiac Cake from this month's Sunset magazine.  Just the right solution for my overly ripe apricots and pluots sitting on the kitchen island.  The cake not only looked fantastic, but turned out to be the perfect ending to a beautiful summer evening.
Safe travels Richard!

apricot and pluot mosaic cake
Ingredients
½ cup toasted almonds*
1¾ cups flour (I used gluten-free flour)
¾ teaspoon baking powder
½ teaspoon salt
¾ cup salted butter, softened
1 cup plus 2 tbsp. granulated sugar
2 teaspoons vanilla extract
¼ teaspoon almond extract
2 large eggs
½ cup whole milk
1¼ pounds mixed, firm-ripe apricots, pluots, and/or plums, pitted and sliced into ¾-in.-wide wedges
About 2 tsp. powdered sugar
Instructions
Preheat oven to 375°. Whirl almonds in a food processor until finely ground. Add flour, baking powder, and salt and whirl to blend.
In a large bowl, beat butter, 1 cup granulated sugar, the vanilla, and almond extract with a mixer until creamy. Add eggs one at a time and beat until well blended, then beat in milk (batter will look curdled). Stir in flour mixture until smooth.
Butter bottom and sides of a 12- to 13-in. tart pan with a removable rim. Spread batter level in pan. Randomly arrange fruit slices on their wide sides about ½ in. apart on batter and press into place. Sprinkle all over with remaining 2 tbsp. granulated sugar.
Bake until a toothpick inserted into center of cake (not in fruit) comes out clean, 35 to 40 minutes. Let cool on a rack. Loosen cake from rim with a knife and remove rim. Sift a light coating of powdered sugar on top and cut into wedges.
*Toast almonds in a 350° oven until golden, 8 to 10 minutes. Let cool before grinding.