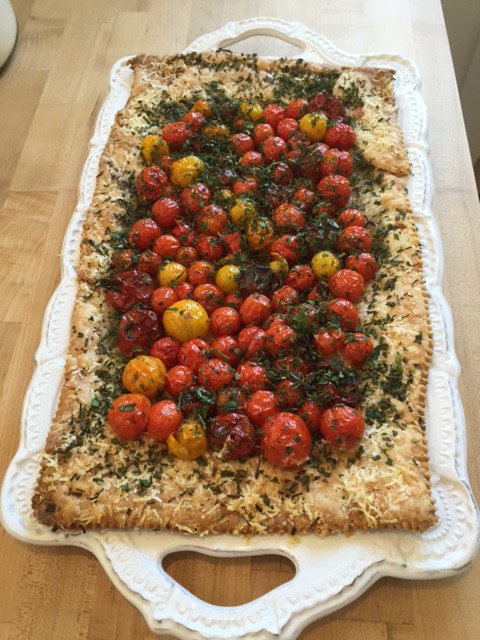 Va va voom!  Kaboom! Cue the fireworks!
This year's Fourth of July celebration started with a fabulous barbeque at Joan's house, complete with ribs, chicken, corn, ice cream, brownie pudding, and key lime pie.  But before we even took our first bites of all those goodies, a sexy tomato tart arrived, courtesy of our dear friend Carole.  It made a grand entrance and was almost too beautiful to eat.  Almost.  Here's the recipe.

Tomato Tart with Herbs
Don't be put off by the addition of anchovies, even if you don't normally like them -- you won't taste them and they will disappear in the mixture. Also, try not to be intimidated by the crust which is just a classic pate brisee. It's really easy and has inspired even the most tentative bakers among us [read: Joan] to try it because it was so delicious.
Ingredients
For the crust:
2½ cups flour
1 teaspoon kosher salt
1 teaspoon sugar
⅔ cup ice water
8 ounces cold unsalted butter, diced

For the tart:
½ cup grated Parmesan or pecorino cheese
4 tablespoons extra virgin olive oil
12 anchovy fillets in oil, drained and finely chopped
3 pounds cherry tomatoes
kosher salt and freshly ground black pepper, to taste
¼ cup finely chopped flat-leaf parsley
2 tablespoons finely chopped fresh chives
2 tablespoons finely chopped fresh oregano
freshly grated nutmeg
Instructions
To make the crust:
Before you begin, make a big cross shape with two pieces of plastic wrap.
Put all the dry ingredients (flour, salt, sugar) in the bowl of a food processor.
Add the cubes of butter and pulse, then slowly pour in the ice water until the mixture is the consistency of peas or gravel.
Dump the dough onto the plastic and wrap the dough, pressing it into a disk. Refrigerate for at least an hour. Remove a few minutes before rolling out for the recipe.

To make the tart:
Preheat oven to 400 degrees F.
Roll pastry into a rectangle, approximately 13" x 12". Place on a sheet pan lined with parchment paper.
Shower the pastry with the Parmesan or pecorino and bake for 15 minutes. Remove the pastry from the oven and cool briefly.
Toss tomatoes with the anchovies; add salt and pepper to taste. Spread the tomatoes evenly over the tart.
Combine the parsley, chives, oregano, and nutmeg and sprinkle evenly over the tomatoes.
Return tart to the oven and bake for another 25 minutes. Cool before sliding onto a tray or board to serve.
Save
Save