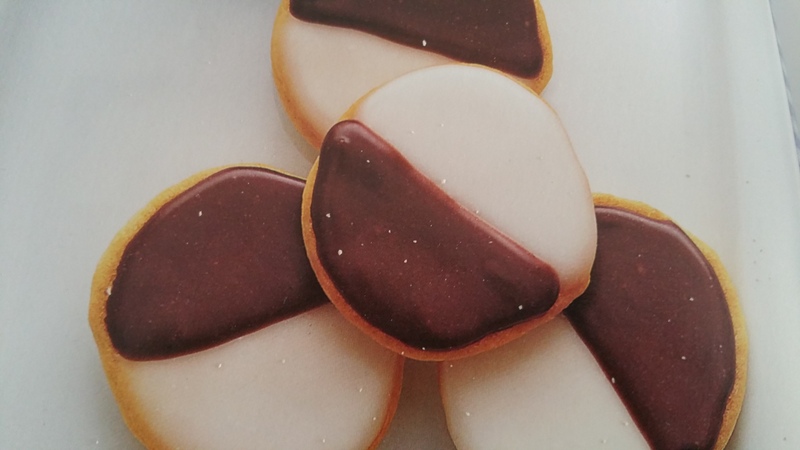 Everyone has a favorite cookie, be it from a traditional family recipe or a classic Tollhouse.  But for Rhona, the top choice hails from New York, and in the contest of cookies, there can be no better than the Black & White… (no true New Yorker would ever call it a "black and white cookie"… just simply a Black & White).
Besides, how many cookies do you know that speak to the idea of racial harmony? Two flavors side by side, better together;  a cookie for our time!
Lately we've spotted these beauties at local bakeries like Renaud's, or even Starbucks on occasion.  But nothing beats the real thing from a New York deli.  Until now… We have the recipe, courtesy of Martha Stewart, and it's easy as pie… actually much easier!
During a recent visit from granddaughter Lillian, we tried being creative and made "Pink & Whites"… why not? It's pink!  We even added rainbow sprinkles.  But it just didn't sing.  A fact is a fact.  And in our family, the Black & White is king.  All hail the king.

Mini Black & Whites
You can make big ones like you see in the deli cases, but we prefer them bite-sized. The buttermilk and lemon juice gives them the perfect tang and just the right flavor. They make a beautiful platter for a dessert table, if you can resist them long enough to get them out of the kitchen. Also, they freeze beautifully.
Ingredients
Cookies
1¼ cups all-purpose flour
½ teaspoon baking soda
½ teaspoon salt
6 tablespoons unsalted butter, at room temperature
½ cup granulated sugar
1 large egg
½ teaspoon pure vanilla
½ cup low-fat buttermilk
Icing:
2 cups confectioners' sugar
1 tablespoon plus 1 teaspoon light corn syrup
2½ teaspoons fresh lemon juice
¼ teaspoon pure vanilla
1 tablespoon water, or more if needed
1 tablespoon unsweetened Dutch-process cocoa powder
Instructions
Preheat oven to 350F degrees.
For the cookies:
Sift together flour, baking soda, and salt into a bowl.
Put butter in the bowl of an electric mixer fitted with the paddle attachment. Mix until creamy, about 2 minutes.
Add granulated sugar and mix until fluffy, about 3 minutes.
Mix in egg and vanilla, then mix in flour mixture, alternating with buttermilk.
Roll tablespoons of dough into balls; drop onto baking sheets lined with parchment paper, spacing 2 inches apart.
Bake, rotating sheets halfway through, until bottoms turn golden, about 10 minutes.
Let cool completely on sheets on wire racks.
For the icing:
Whisk confectioners' sugar, corn syrup, lemon juice, vanilla, and water in a small bowl until smooth. Add more water if needed, to achieve a consistency slightly thicker than honey.
Transfer half the icing to a small bowl and stir in cocoa powder here; thin with water if needed.
Spread white icing on half of each cookie's flat side and cocoa icing on the other half. Let stand until set, about 20 minutes.
Save
Save
Save
Save
Save
Save
Save
Save
Save