Oh the weather outside is frightful… well, actually, we just have a little rain, for which we here in Santa Barbara are very grateful.  So we get out our bulky sweaters and raincoats and pretend we're suffering through winter like the rest of the country.  Secretly, though, the weather gives us a great excuse to be cozy.  Cashmere, fireplaces, chili …and soup.  So here we go; starting off our week of soups with this simple and delicious recipe.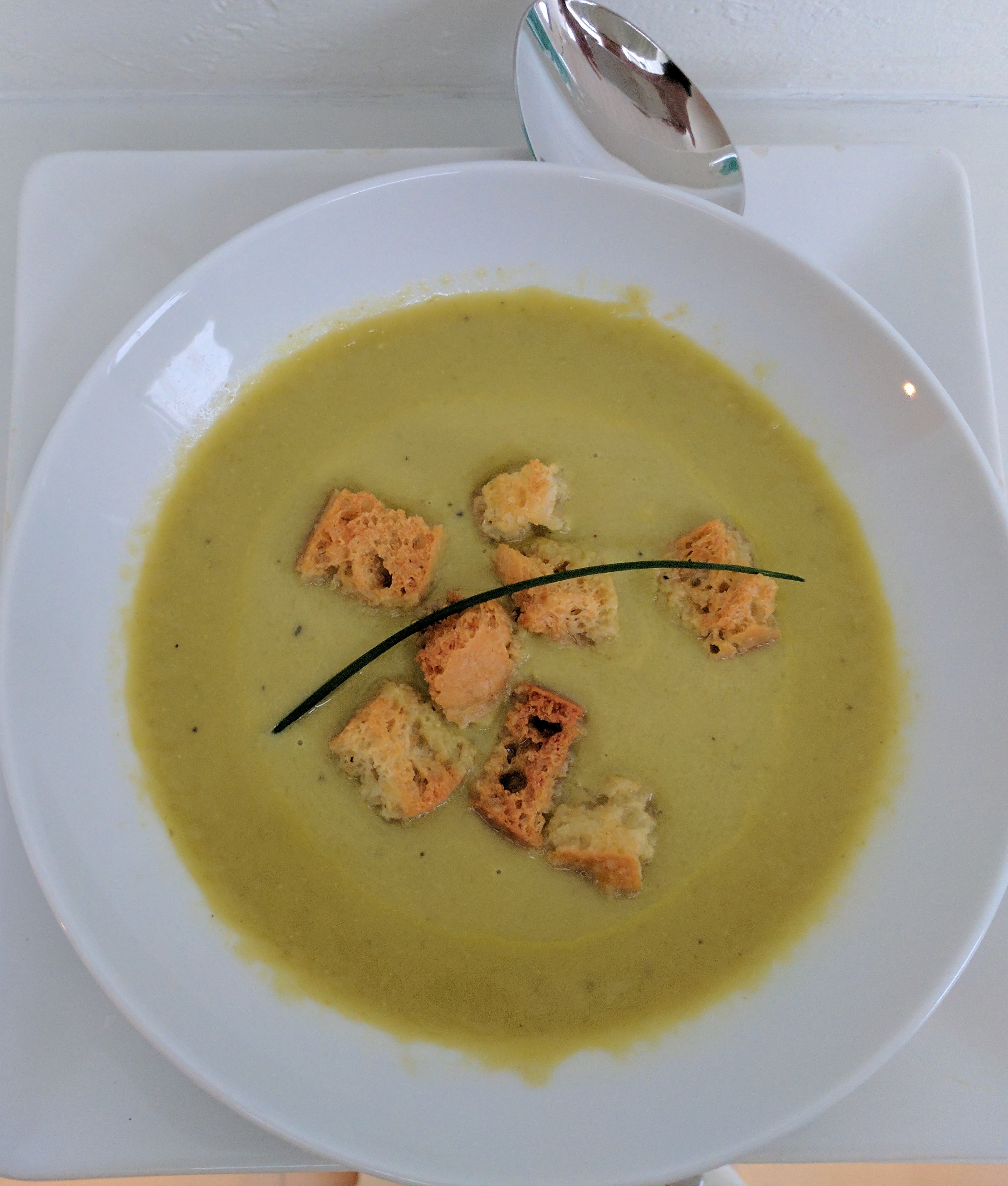 Creamy Asparagus Soup
Prep time:
Cook time:
Total time:
I like to get my produce at the farmers market; my husband likes to buy things on sale. Every now and then our shopping worlds collide. Like this week when he came home with 4 pounds of asparagus that was on sale at the farmers market! 4 pounds! Hence this soup. Despite its name, there is no cream needed and it comes together very quickly. You can use this recipe with spinach or broccoli too. The lemon juice splash at the end gives it a tang but isn't necessary, depending on your taste.
Ingredients
2 - 2.5 pounds of green asparagus
1 large onion, chopped
3 tablespoons butter
5 cups chicken stock
salt and pepper to taste
¼ teaspoon fresh lemon juice (optional)
½ cup heavy cream or creme fraiche (optional)
2 tablespoons chopped chives for garnish (optional)
garlic croutons for garnish (optional)
Instructions
Rinse asparagus, trim off bottom inch, then cut the rest of the stalk and tips into half-inch pieces.
Melt 2 tablespoons butter in a large pot over medium-low heat.
Add onion and stir until softened, about 5 minutes.
Add asparagus pieces and salt and pepper; stir and cook another 5 minutes.
Add stock, bring to a boil, then cover and simmer until asparagus is very tender, about 20 minutes.
Puree soup with an immersion blender or regular blender in batches until smooth.
At this point, if you want to add a little cream or creme fraiche, you can.
Bring soup to a boil and then add the remaining tablespoon of butter, whisking it in.
Add a splash of lemon juice if you want that extra tang, and garnish with croutons and/or chives.
Save
Save
Save
Save