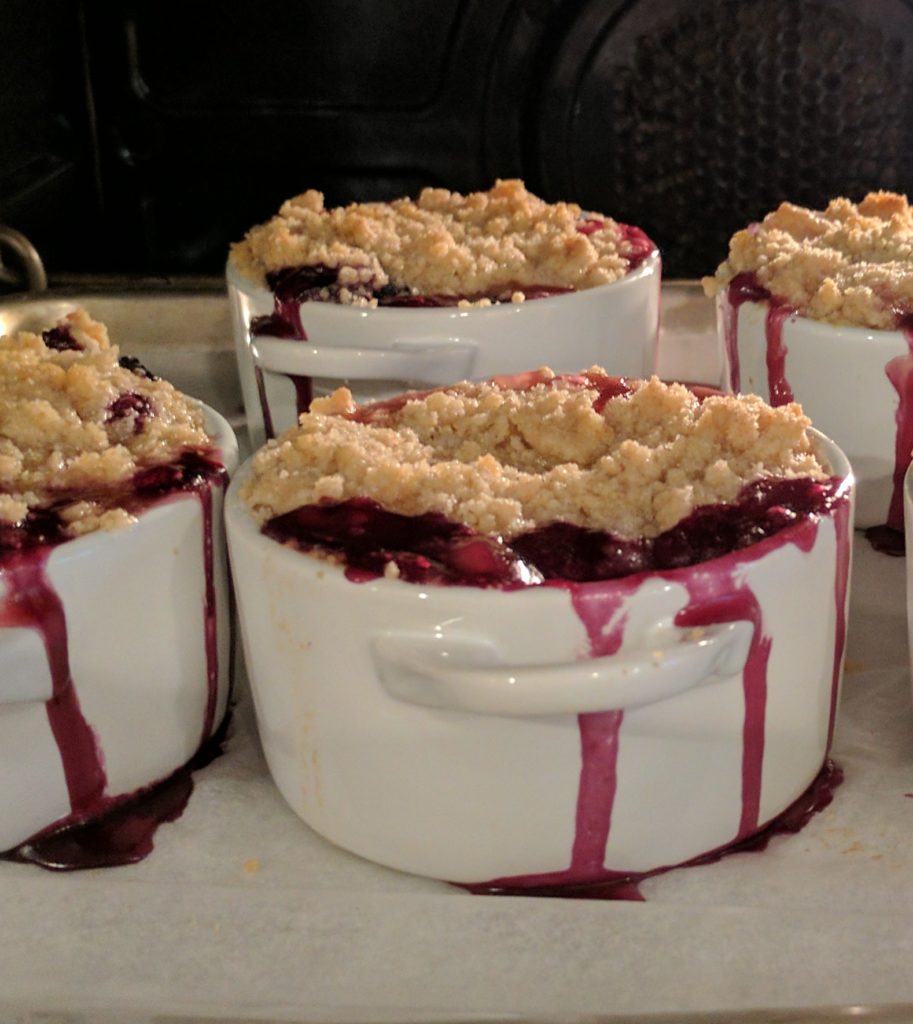 What's the difference?  And do we care?  They're all so delicious in summer when fruit is ripe and at its peak.  But for the record, here are their official definitions, all of which have to do with baking fruit:
A cobbler has a biscuit or cake batter topping that is spooned on so it looks like a cobbled road.
A crumble has a topping that does not contain oats, whereas a crisp is similar but DOES contain oats; both are sprinkled all over the top of the fruit.
A crostata is a rustic [read: forgiving!] cousin to a pie, very similar but without a top crust.
And for those still interested, let's not forget buckles and Bettys — the former is a cake that has fruit in the batter and a crumbly top, and the latter is similar but more crumbly and less cake-y.  Got it?
Here's Ina Garten's recipe for raspberry rhubarb crostata, which I've made three times in the past two weeks, as the rhubarb is quickly fading from the markets and we can't seem to get enough of the sweet and tart combination.  This is what's left of the one from yesterday, now being eaten right out of the dish by a certain someone whose name is Steve …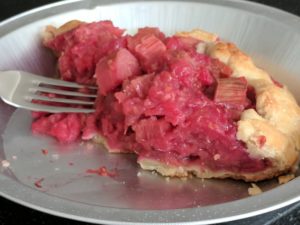 Add a scoop of ice cream or not, and call it whatever you like, this is a winner.
And don't get us started on tortes, tarts, and clafoutis  …

raspberry rhubarb crostata
This is lightly adapted from Ina Garten but we used less cornstarch and more fruit. Notice that you'll have enough pastry for two crostatas from this recipe, but only enough filling for one. The extra pastry can be refrigerated or frozen for another time. Of course, you can always double the recipe for the filling below and then you'll have enough for both pastry crusts.
Ingredients
For the pastry (makes 2)
2 cups all-purpose flour
½ cup sugar
½ teaspoon kosher salt
2 sticks (1/2 pound) very cold unsalted butter, ½-inch diced
½ cup ice water
For the filling (makes 1)
⅛ cup cornstarch (Ina uses ¼ cup), or omit it altogether, but if you do, you will get a soupier result
2 pounds fresh rhubarb, sliced ½-inch thick, about 4 cups
8 ounces fresh raspberries
⅔ cup white sugar
1 teaspoon gated orange zest
½ cup freshly squeezed orange juice
1 egg beaten with 1 tablespoon water for egg wash
1 teaspoon turbinado sugar (Sugar in the Raw)
Instructions
For the pastry, place the flour, sugar, salt in a food processor fitted with the steel blade and pulse a few times to combine.
Add the butter and and pulse about 15 times or until the butter is the size of peas. With the motor running, add the ice water all at once through the feed tube and keep hitting the pulse button until the dough just comes together.
Turn onto a well-floured board, cut in half, and form into two disks. Wrap and refrigerate for at least an hour (At this point you can wrap the second dough well and freeze for another time).
For the filling, if you're using cornstarch, place 3 tablespoons of water in a small bowl, whisk in cornstarch and set aside.
In a large Dutch oven or saucepan, combine the rhubarb, raspberries, sugar, orange zest, and orange juice.
cook over medium heat for about 5 minutes, until some of the juices are released.
Stir in the cornstarch, if using, and bring to a boil, lower the heat, and simmer for 2 minutes.
Refrigerate for 30 minutes until cool.
Preheat the oven to 425 degrees. Line a sheet pan with parchment paper.
Roll the pastry into an 11 or 12-inch circle on a lightly floured surface and transfer to the prepared sheet pan. Pile the raspberry rhubarb mixture onto the pastry, leaving a 1½-inch border all around.
Fold the border up over the filling and press lightly.
Brush the pastry with the egg wash, sprinkle just the pastry with the turbinado sugar, and bake for about 30 minutes, until the pastry is browned.
Cool for 30 minutes and serve warm or at room temperature.
Save