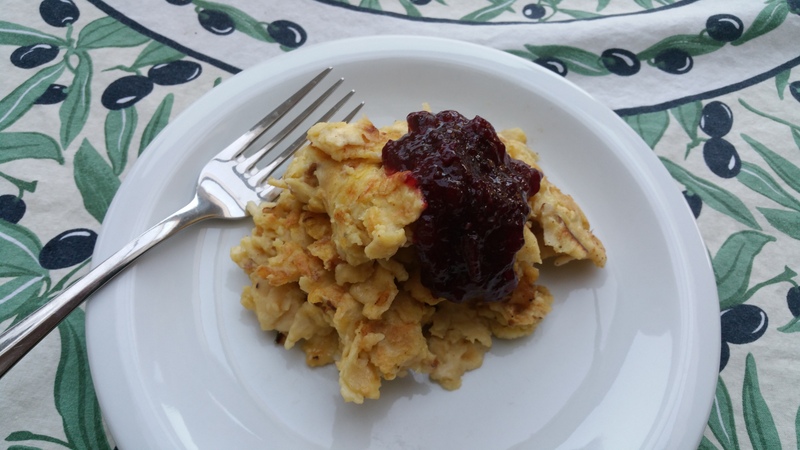 We're in the midst of Passover week and what better way to use up all that matzo left over from your seder than matzo brei (pronounced "matza bry"  … or in our friend Pam's house, "matzo Brian David," named for her younger son!)  
It's a delicious tradition that, like potato latkes at Hanukkah, or turkey on Thanksgiving, seems oddly to only appear at holiday time.  This dish is what my granddaughter calls "matzo eggs" because indeed it is basically scrambled eggs with softened pieces of matzo mixed in.
Serve it with a generous amount of salt and pepper, and with strawberry jam on the side (or homemade plum jam as we did this morning), and you'll be in brunch heaven.  Another Passover miracle.

Matzo Brei
Author:
Raymond Sokolov and Susan Friedland
Prep time:
Cook time:
Total time:
This recipe is from one of my favorite cookbooks, The Jewish American Kitchen.
Ingredients
3 matzos
4 eggs
3 tablespoons butter
salt and pepper
Instructions
Break the matzos in half and then in half again. Soak the pieces in hot water for 1 - 2 minutes.
Meanwhile, beat the eggs lightly with salt in a mixing bowl.
Remove the matzo from the water, and, with your hands, squeeze out as much water as you can. Add the matzo pieces to the egg mixture and stir it all together.
Heat the butter in a heavy skillet and when it starts to turn brown, add the eggs and matzos.
You can leave the mixture to set and then turn it as you would a pancake or omelet, or you can stir with a wooden spoon as you would for scrambled eggs.
Either way, the matzo brei will be ready within 5 minutes, depending on how well done you like your eggs.
Serve immediately with jam