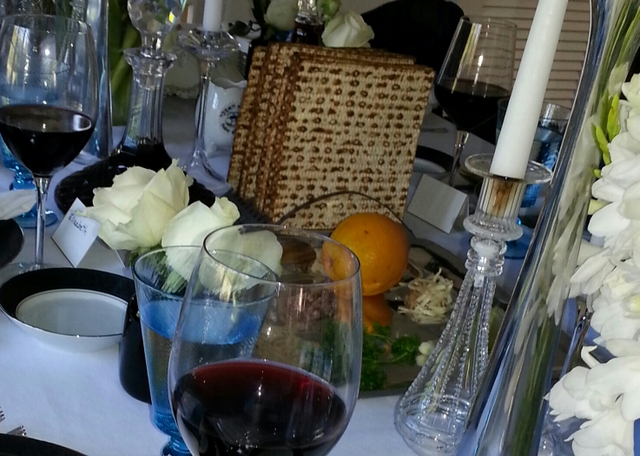 There's a catchy little song we sing at our Passover seder that has to do with being grateful for our blessings — the gist of it is that if we had only been given our traditions, it would have been enough, or in Hebrew:  Dayenu.
If we had not only been given our traditions but also our freedom, it would have been enough.  Dayenu.
If we had not only been given our traditions and our freedom, but also the food at our table, it would have been enough.  Dayenu.
You get the idea; it's a long list.  But when we gather with those close to us to commemorate these blessings, we add yet another dimension to the holiday:  the gift of community, of friendship, of family, and of home.  Indeed, it's something to celebrate: the place where we get together to reinforce these connections, the place of warmth and comfort.
Whether we are dipping parsley into salt water to remind us of the tears shed by the slaves of old, or we are dipping hard-boiled eggs into colorful dyes to create pretty baskets of sweets and toys for the children, this is the time of year where the bounty at our tables reflects the most basic of our traditions.
Last week those of us who celebrate Passover had braised brisket and chicken cutlets, matzo and macaroons, flourless chocolate cake and raspberry-topped cheesecake ; tomorrow those of us who celebrate Easter will serve glazed ham and potato salad, steamed asparagus and deviled eggs, coconut cake, and berry trifle.
Last week the children searched the house for the hidden matzo, the  "afikomen," and tomorrow, children will search the back yard for the hidden Easter eggs.  Our homes are the places we come together.  There's laughter, there's chaos, there's prizes, and there's fun.
Dayenu.
Passover Chicken Cutlets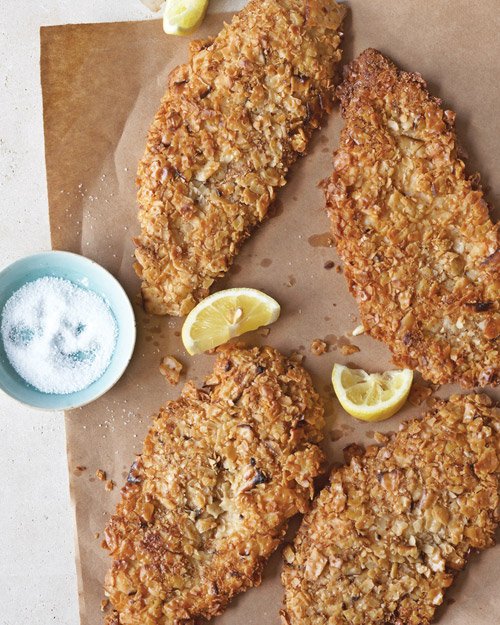 (photo by Martha Stewart)
1/2 cup vegetable oil
10 boneless, skinless chicken tenders (or breasts pounded thin), each cut in half
8 matzos, crushed into small bits, or 3 cups matzo meal
4 eggs
1 cup grated Parmesan (omit if kosher)
1 cup vinaigrette (or can use Trader Joe's Pear Champagne vinaigrette)
5 lemons, cut in wedges for serving
lemon sauce (optional)
honey (optional)
Pat each piece of chicken with a paper towel on both sides.
Prepare three shallow dishes. In one, whisk eggs; in the second, pour the vinaigrette; in the third, pile up the matzo.
Warm oil in a cast iron pan.
Dip chicken breast pieces one at a time first into the eggs, then the vinaigrette, then the matzo before adding to the pan.  Don't crowd the pan or the chicken won't get crispy.
Cook on medium-high for about 2 -3 minutes per side or until well-browned.  Drain on paper towels, then put cooked chicken on a baking sheet lined with parchment paper.
You can keep these at room temperature or warm them in a 200 degree oven for 15 minutes before serving.
Serve with lemon sauce, small dishes of honey, or cut up lemon wedges.
Lemon sauce:  On medium heat, melt 1 tablespoon butter and add 1/2 cup dry white wine, 2 lemons cut in half, 1/3 cup lemon juice, 1/2 teaspoon salt, 1/4 teaspoon pepper.  Boil over high heat until reduced by half, about 2 minutes.  Off the heat, add 2 tablespoons butter and combine. Serve alongside chicken tenders for dipping. Makes about 1/2 cup.
Deviled Eggs
1 dozen large or extra-large eggs
1/2 cup mayonnaise
4 tablespoons sweet pickle relish (optional — but good!)
4 teaspoons mustard
3/4 teaspoon salt
1/4 teaspoon pepper
Paprika, snipped chives, or parsley leaves
Prepare a large bowl of ice water and set aside.
In a large pot, cover eggs with cold water and bring the water to a rapid boil.  Immediately turn off heat, cover pot and let eggs sit for 10 minutes.
Working quickly and using a slotted spoon, immerse the eggs one by one in the bowl of ice water.
When cooled, peel the eggs and slice each in half lengthwise.
Remove yolks and put them in a large bowl with the mayonnaise.  Combine well, then add relish, mustard, salt and pepper.
Using about two teaspoons for the filling, or a pastry bag to pipe it in, put the yolk mixture back into the egg whites and sprinkle with paprika, chopped chives, or parsley leaves before serving.