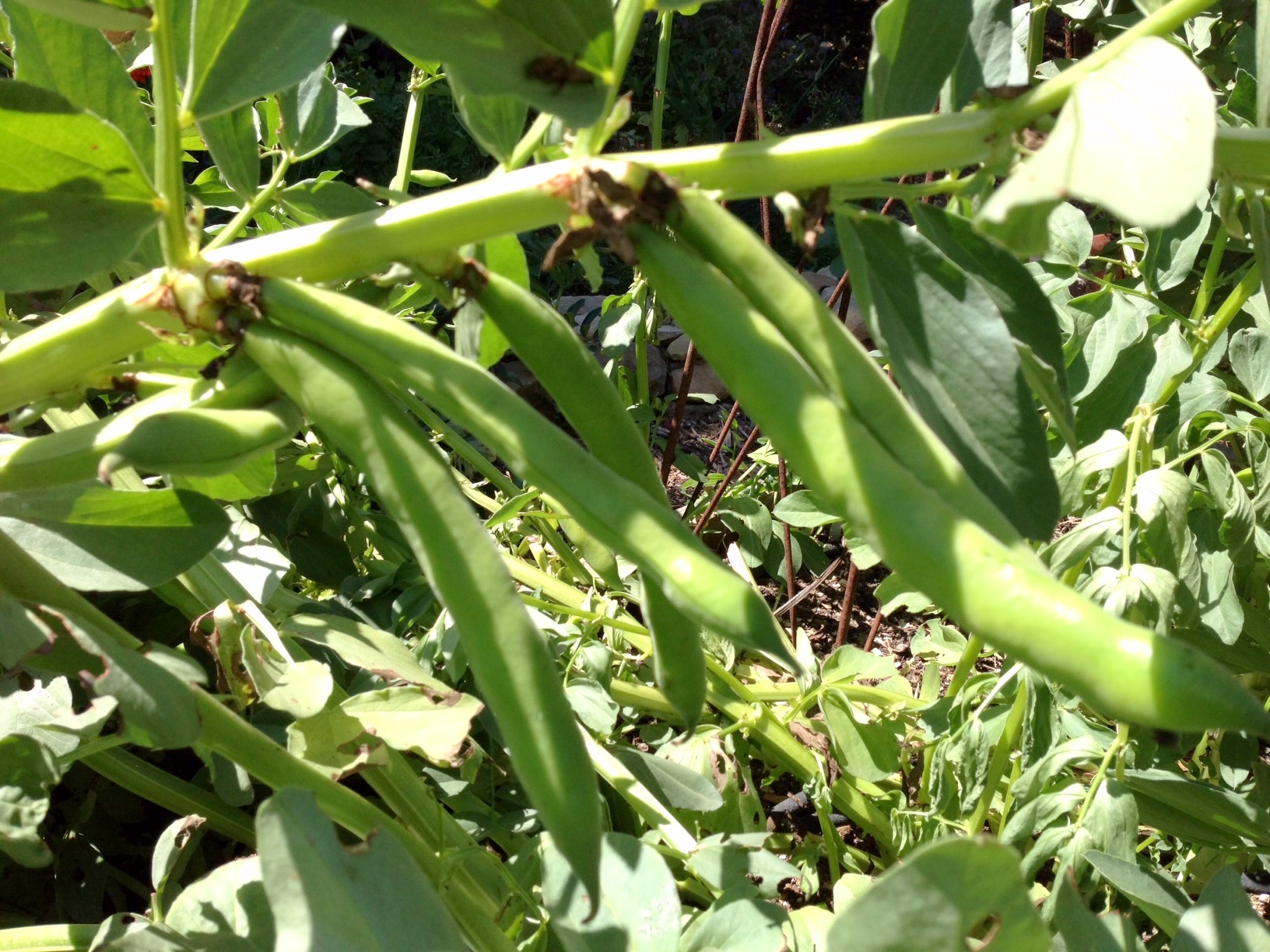 What made me think it would be a good idea to plant a cover crop of fava beans?   It seemed reasonable at the time to plant a few stalks; after all, how many beans could possibly grow on one stem?  Now as I wade knee-deep through the jungle of stalks in my garden and collect buckets of beans, I'm thinking that my daughter Elizabeth is right:  It's a good thing these little delicacies have a short season, otherwise we might learn to hate them.  Why?  Because after an extended wait, the quantities astound and the process exhausts – shelling, then blanching, then popping the fava beans out of their skins.  Listen to this little equivalency:  2 pounds of fava beans yields ½ cup of fava beans.  And that might be generous.  Preciously delicious turns to painstakingly punishing.  And much like zucchini, you can't give them away.  Our friend Laurie emailed today with the subject:  "drowning in fava beans."  Cross her off my distribution list!  Rhona already graciously demurred.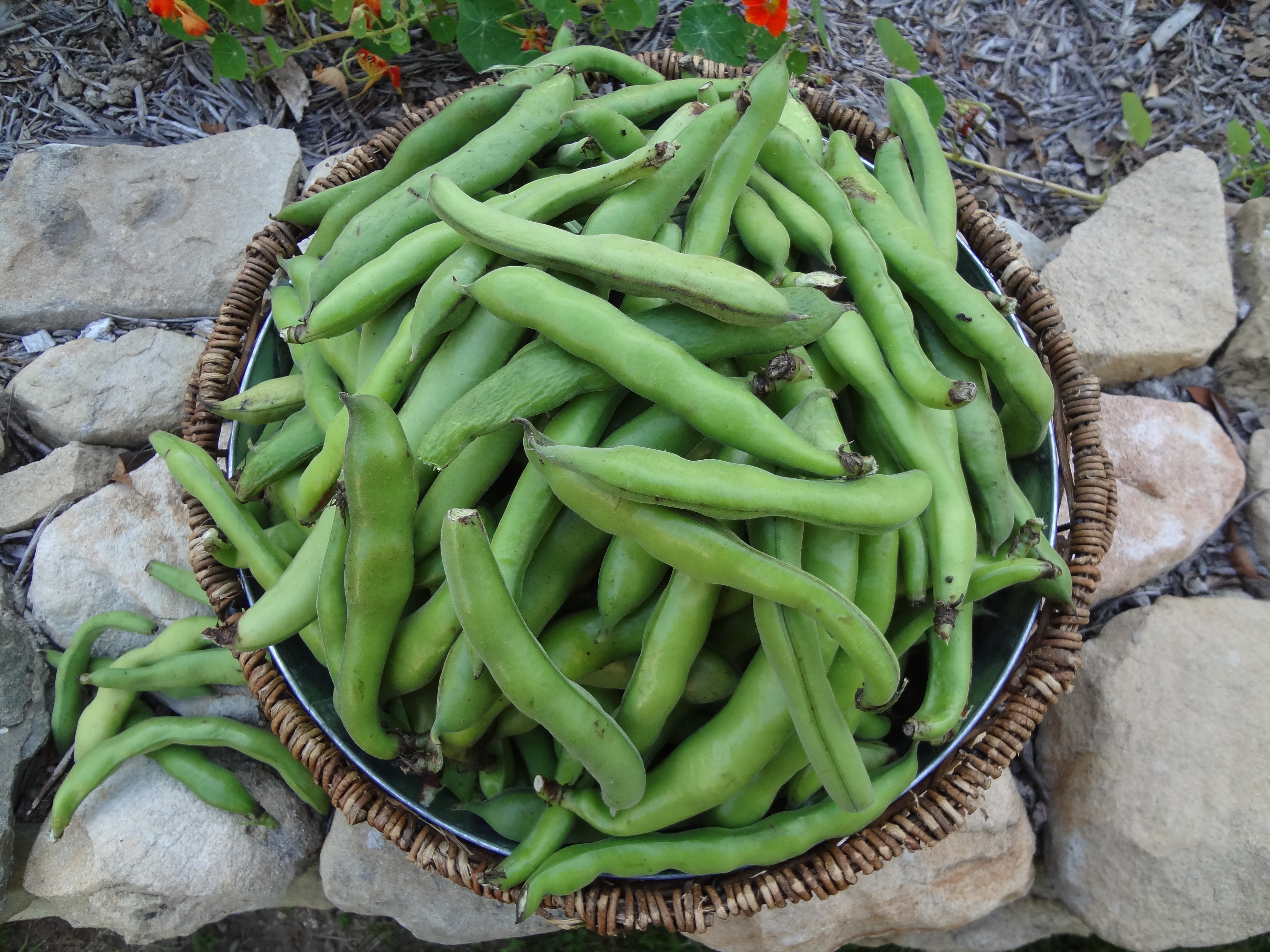 Perhaps I should show more appreciation for our bounty.  On the upside, now I have no excuse not to try all those fava bean recipes I've been collecting for the past few months.  So let me share a couple with you.  I only wish I could share my fava beans too – can't wait until the internet geniuses figure out how vegetables can travel in the cloud.
And the chianti?  I'll be fortifying myself with some before I venture back out to harvest the rest of the crop.  If there's any left over, I'll serve it with the recipes below.
Joan
Fava Bean Dip 
2 cups fava beans, blanched and skins removed
2 tablespoons plus 1 tablespoon extra-virgin olive oil
2 ripe Roma tomatoes, seeded and diced
2 cloves garlic, peeled and minced
2-4 tablespoons chicken stock, optional
½ teaspoon kosher salt
¼ teaspoon freshly ground black pepper
1-2 tablespoons freshly squeezed lemon juice
1 tablespoon fresh mint, minced
1 tablespoon fresh Italian parsley, minced
2 tablespoons freshly grated Parmesan cheese
Mint for garnish
Place fava beans in the food processor fitted with a steel blade and pulse until the fava beans are coarsely chopped.
In a medium frying pan, heat 2 tablespoons of the olive oil over medium heat.  Add the tomatoes and sauté for 3 to 4 minutes or until the tomatoes soften.  Add the garlic and sauté for 1 minute more or until fragrant.  If mixture is dry add a few tablespoons of chicken stock or water.  Stirring occasionally, cook the fava beans for an additional 3 minutes or until they are heated through and have a soft crunch.
In a small bowl, add the fava beans, cheese, mint, parsley, lemon juice, salt and pepper and mix to combine.  Adjust seasonings to taste.  Transfer to serving bowl, drizzle with olive oil and garnish with mint.  Serve warm or at room temperature with pita chips or crostini.
Fava Bean, Asparagus, and Arugula Salad with Shaved Pecorino
(adapted from Gourmet 2003)
1/2 pound medium asparagus, trimmed
2 cups shelled fresh fava beans (2 1/2 pounds in pods) or  shelled edamame (fresh soybeans)
2 tablespoons extra-virgin olive oil
1/4 pound arugula, coarse stems discarded
1/4-pound piece Pecorino Romano or  Parmigiano-Reggiano
2 teaspoons balsamic vinegar
Cut asparagus stalks on a long diagonal into  1/8-inch-thick slices, leaving 1-inch-long tips (reserve tips separately).  Blanch asparagus tips  (but not sliced stalks) in a 4-quart pot of boiling salted water  2 minutes, then immediately transfer with a slotted spoon to a bowl of ice and cold water to stop cooking.
Return water to a boil  and blanch fava beans for 3 to 4 minute until tender, then immediately transfer with slotted spoon to  ice water to stop cooking.  Drain asparagus tips and beans and gently peel skins from beans (it's not necessary to peel edamame, if using).
Toss beans and asparagus  (blanched tips and raw sliced stalks) in a bowl with 1 tablespoon oil and salt and pepper to taste, then divide among 4 plates. Toss arugula with remaining  tablespoon oil and salt and pepper to taste and mound on top of vegetables.  Shave thin slices of cheese over salad with a vegetable peeler, then drizzle with vinegar.